CLASS THREE
Class Three includes children from Year Five and Year Six
Class teacher: Miss Corinne Golightly. Teaching assistant: Mrs Chloe Orton
2017-18
Friday 23rd March
We had our whole school annual egg decorating competition. Here are some of the entries-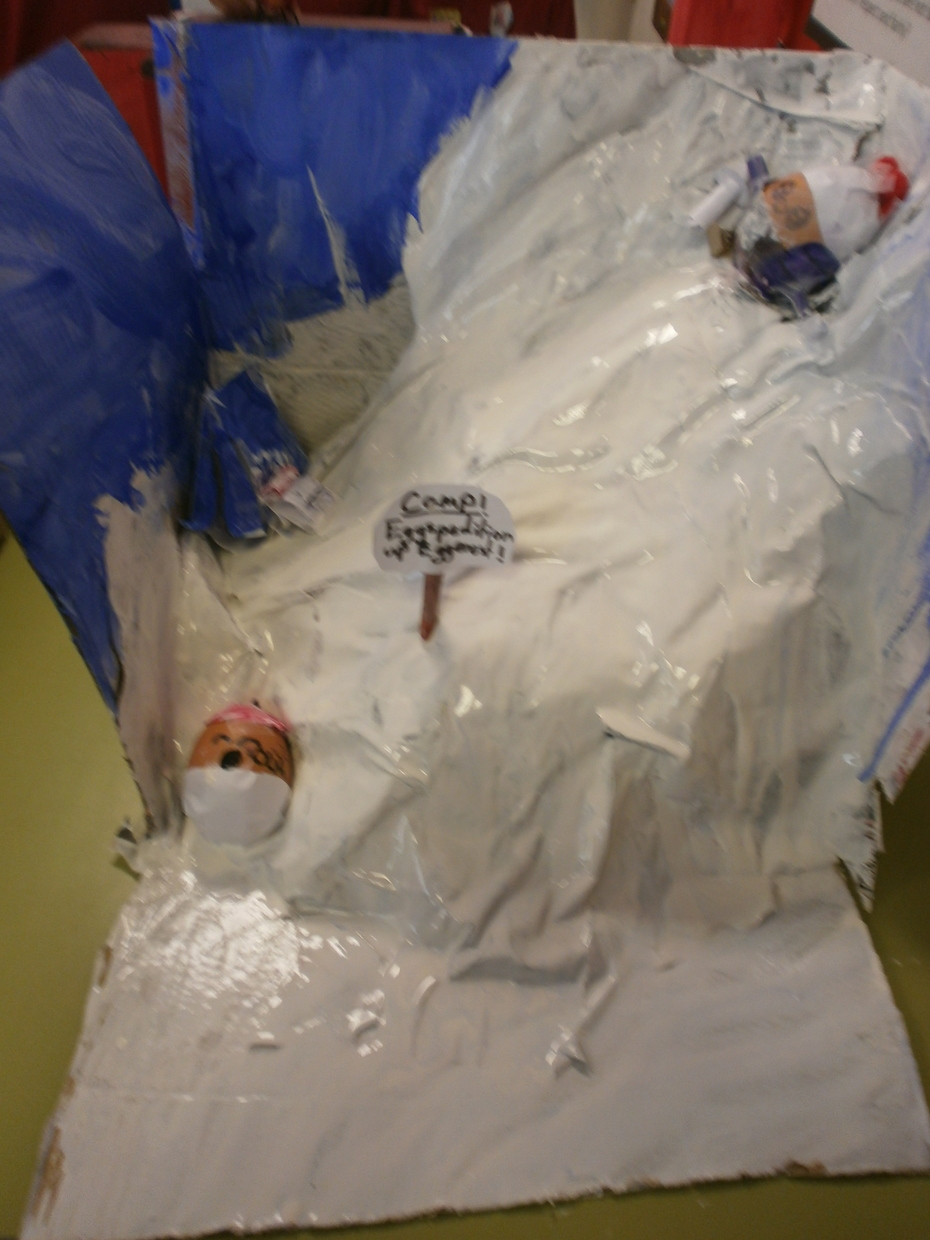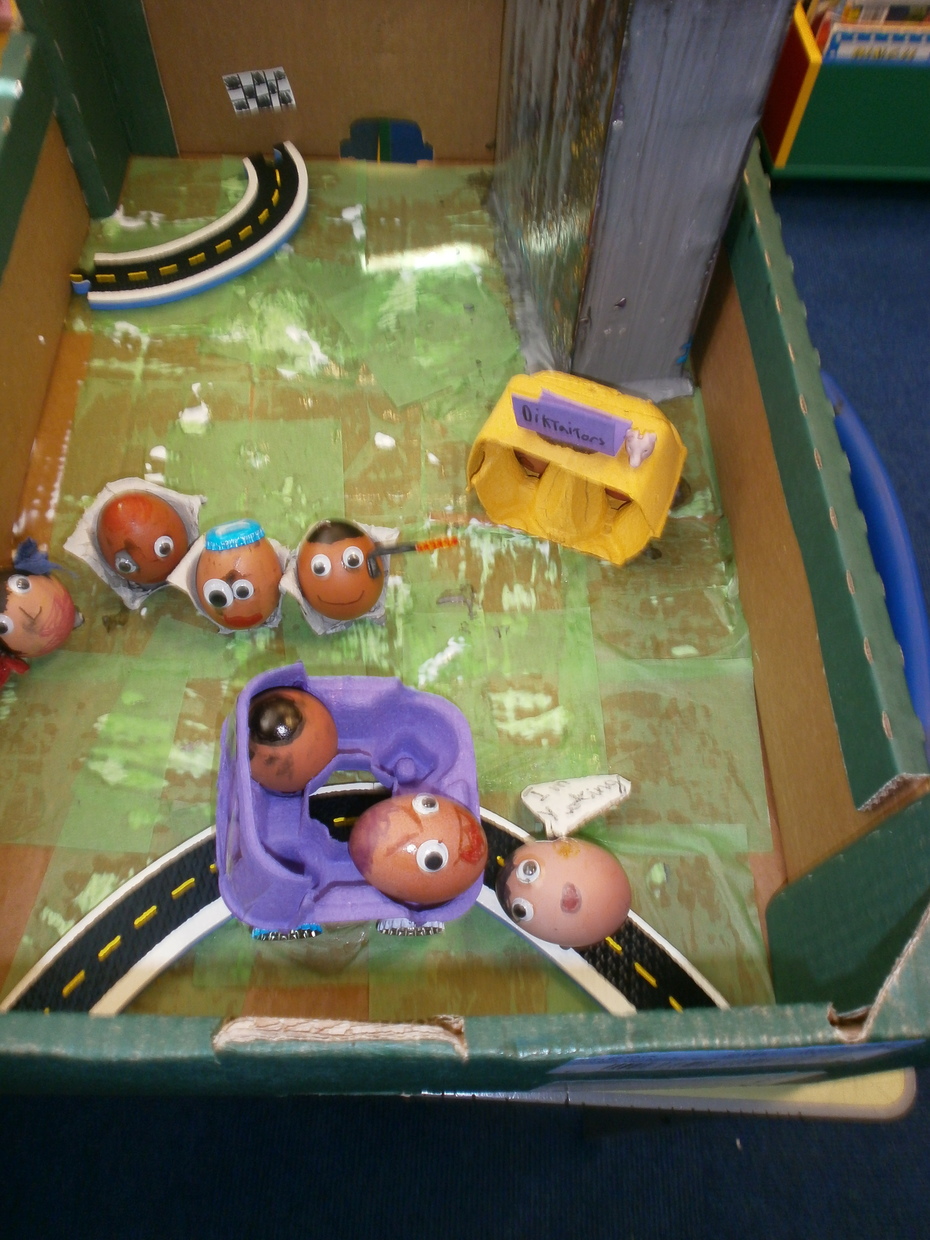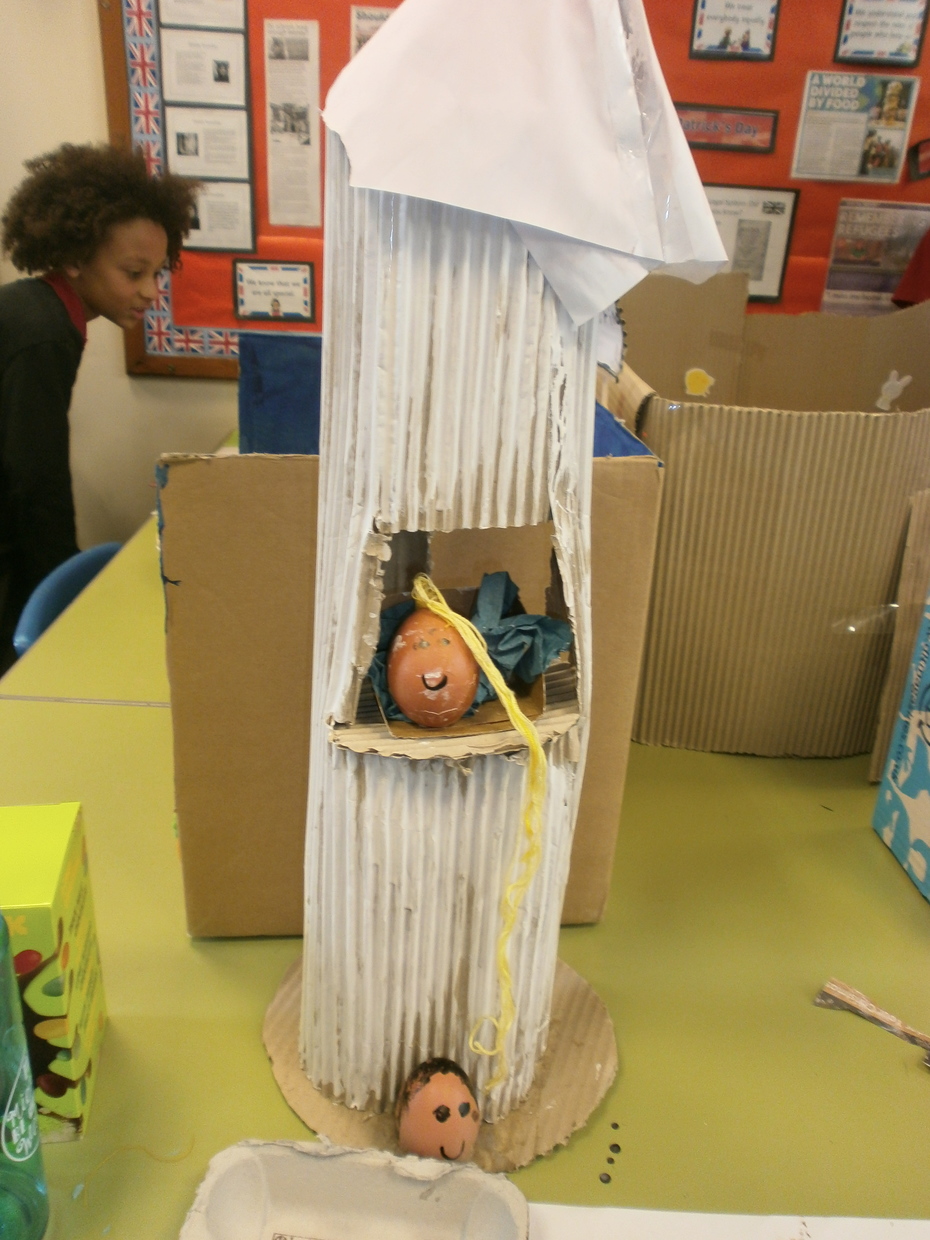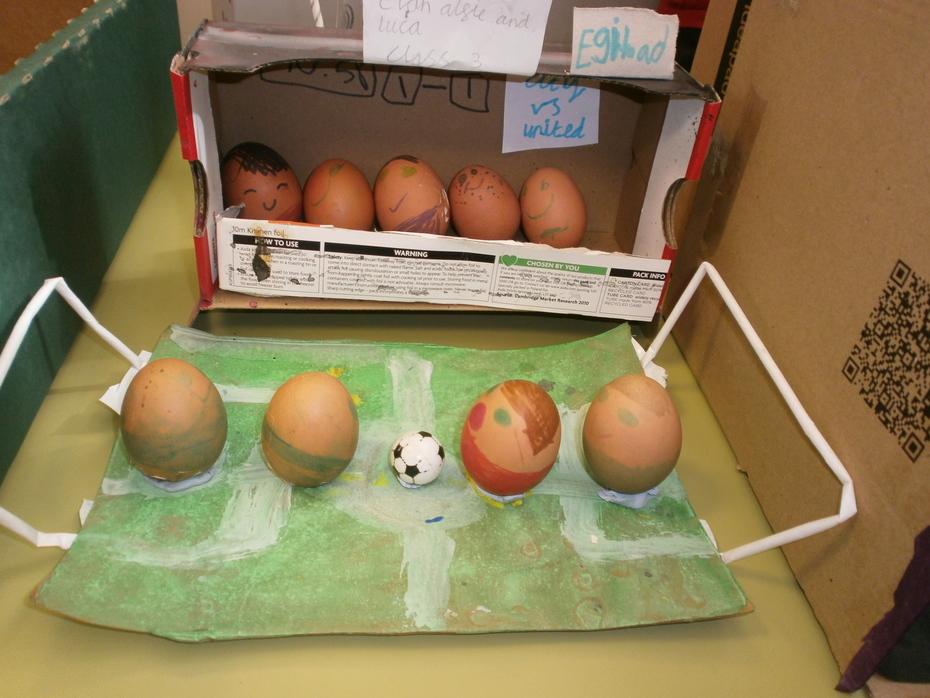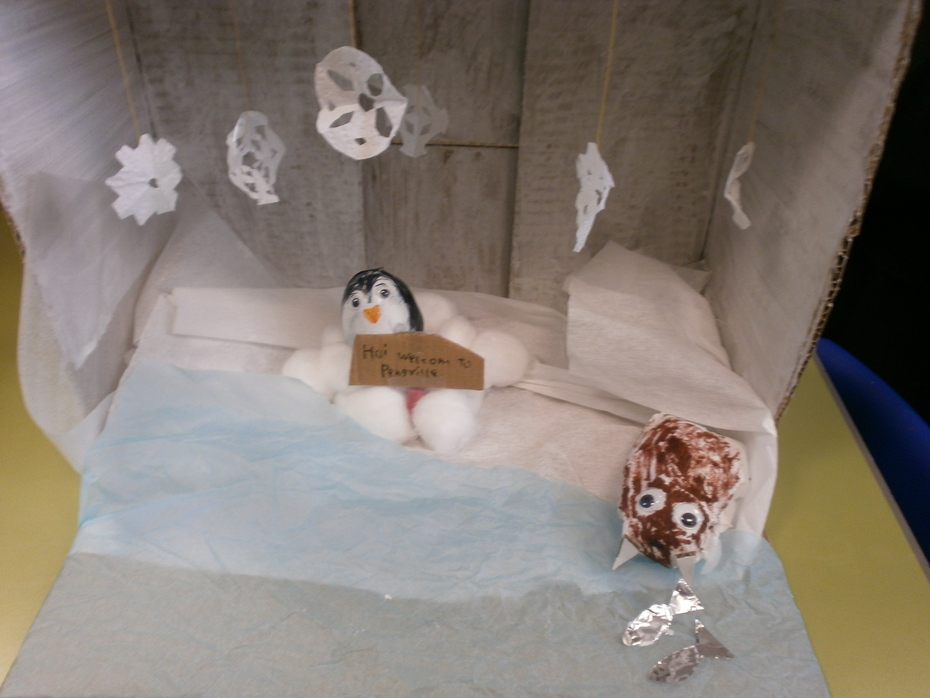 This week our Year 6 basketball team took part in the Derbyshire finals. We got through to this third level of the competition with lots of enthusiasm, team work and excellent behaviour. We are very proud of them all!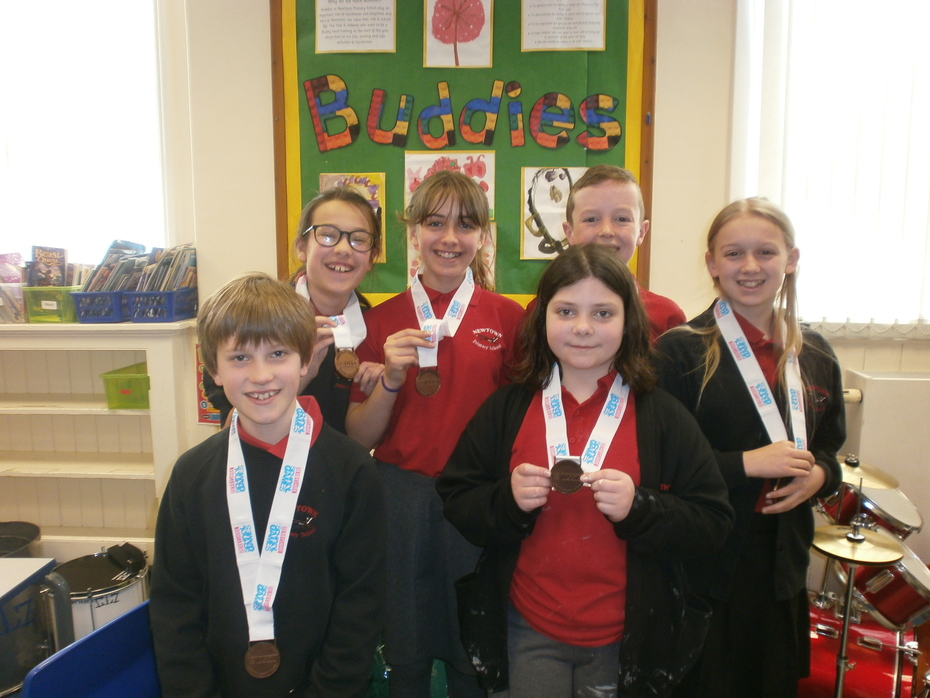 Year 5 had a visit to New Mills Secondary School as part of their transition visits and reported back that they had a fun day!
They also took part in an Easter activity afternoon at the United Reform Church with children from other schools in New Mills.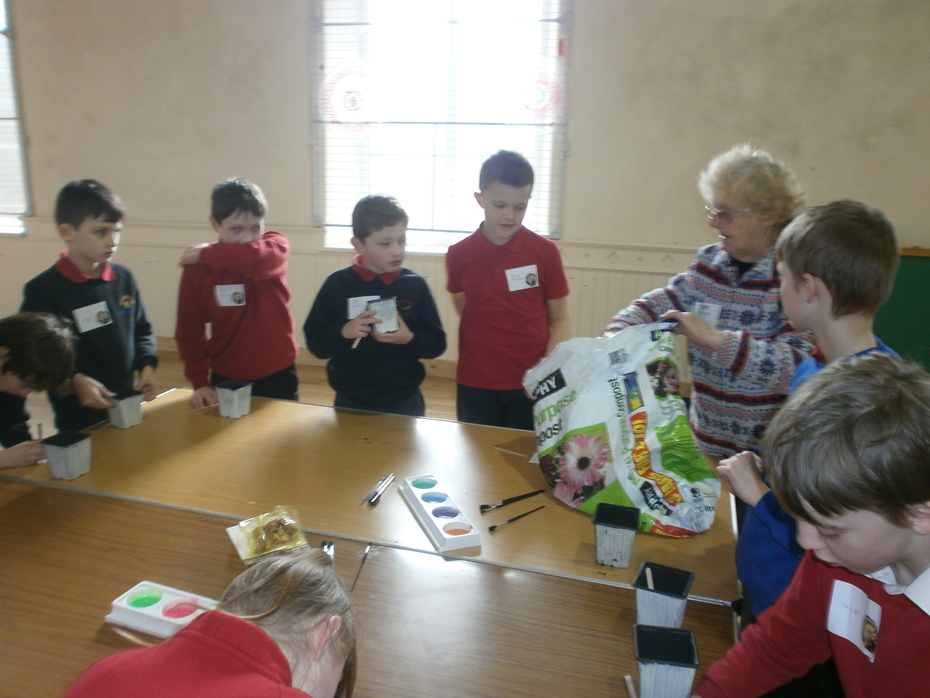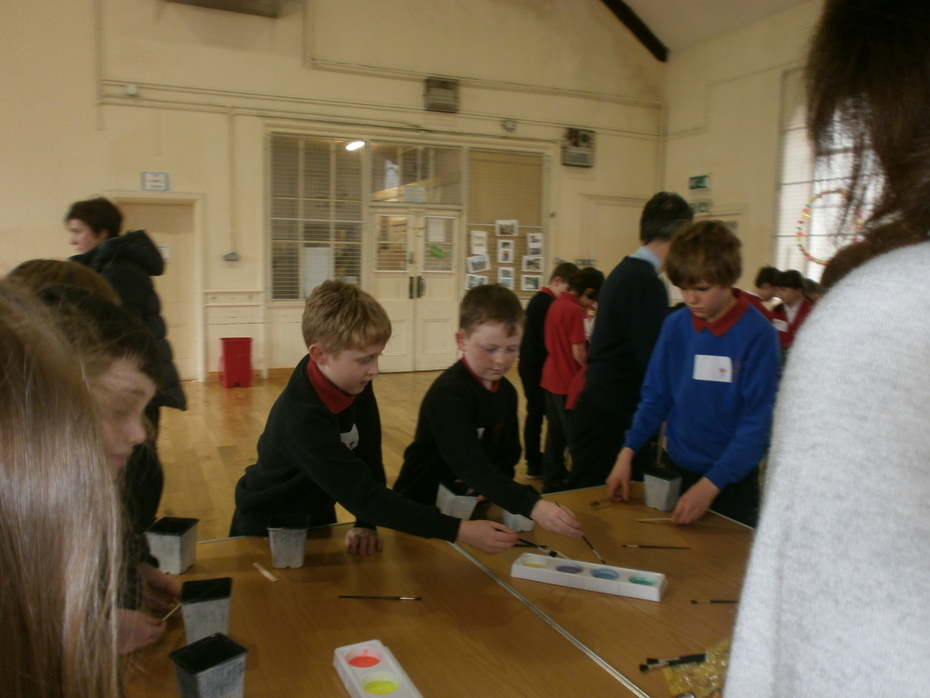 Friday 9th March
We celebrated World Book Day in school with some great costumes!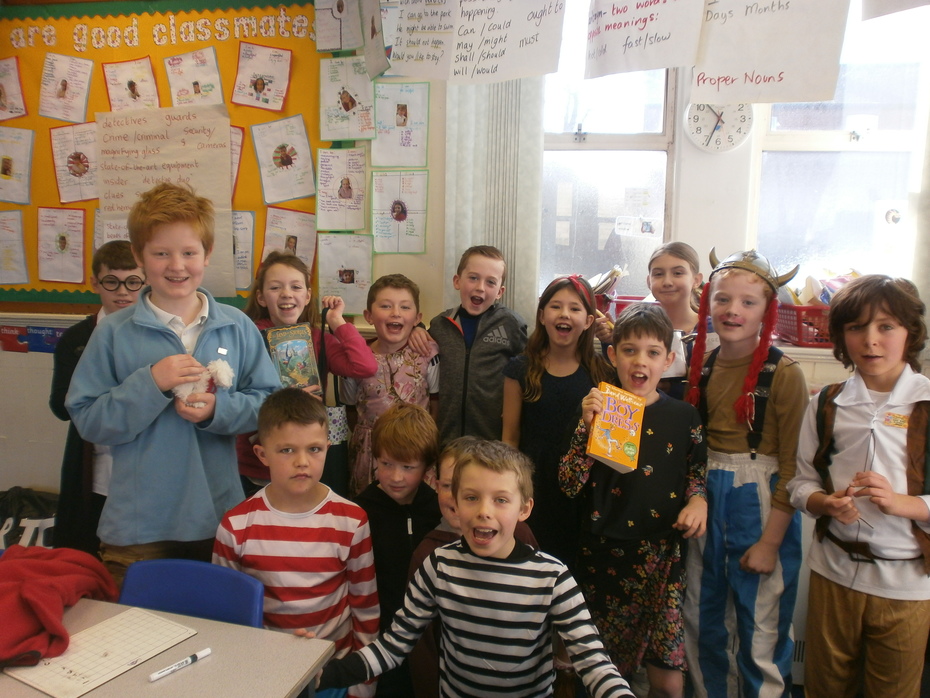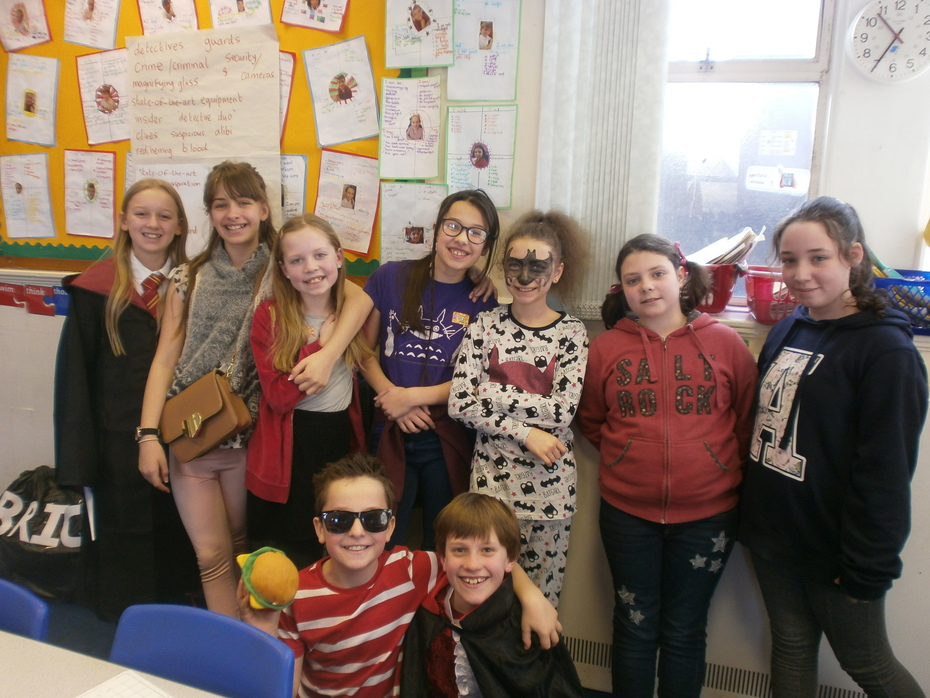 Tuesday 6th March
We visited Quarry Bank Mill at Styal where we had an exciting day finding out about what life was like for children who were apprentices in Victorian times. Here is a selection of some of the photos we took.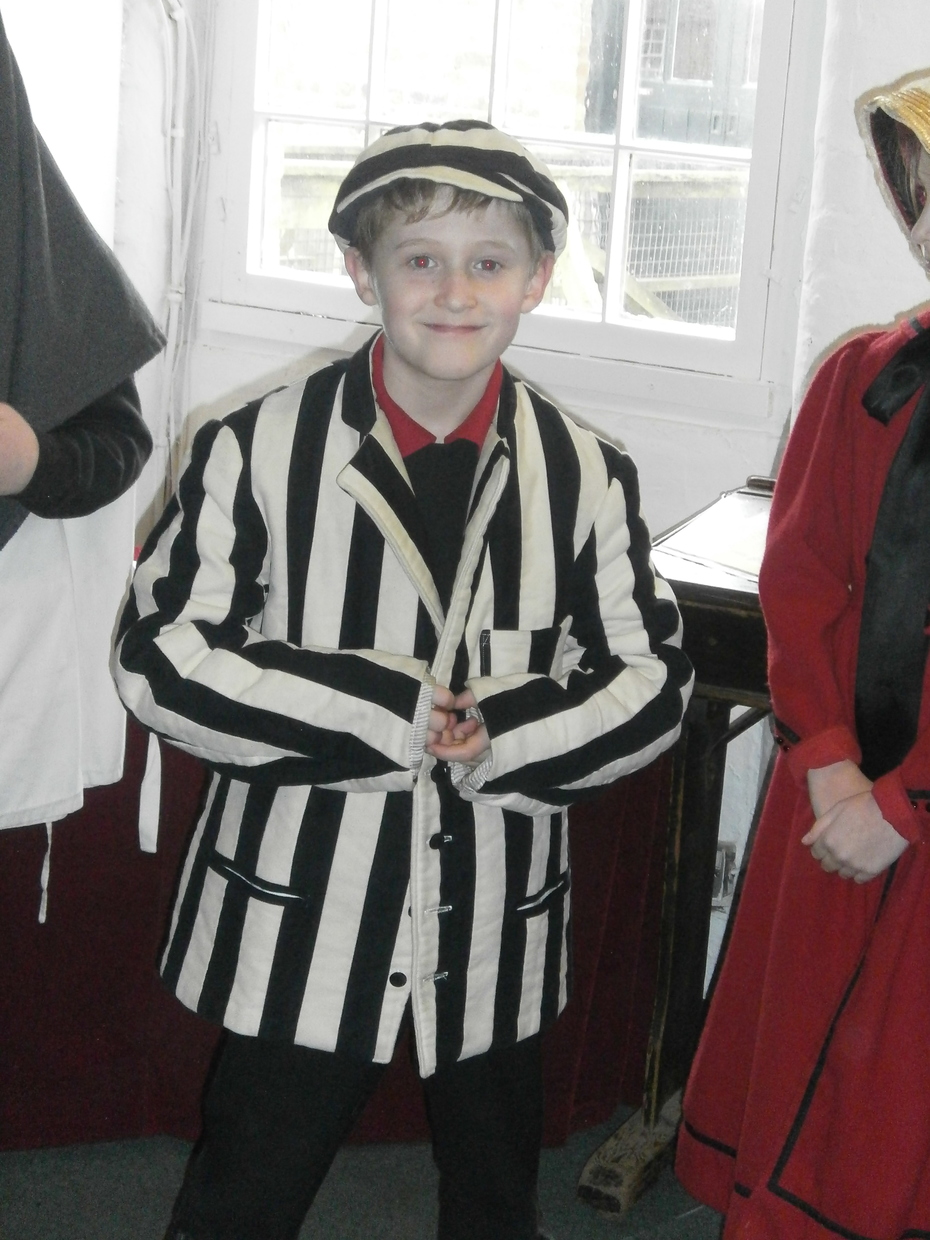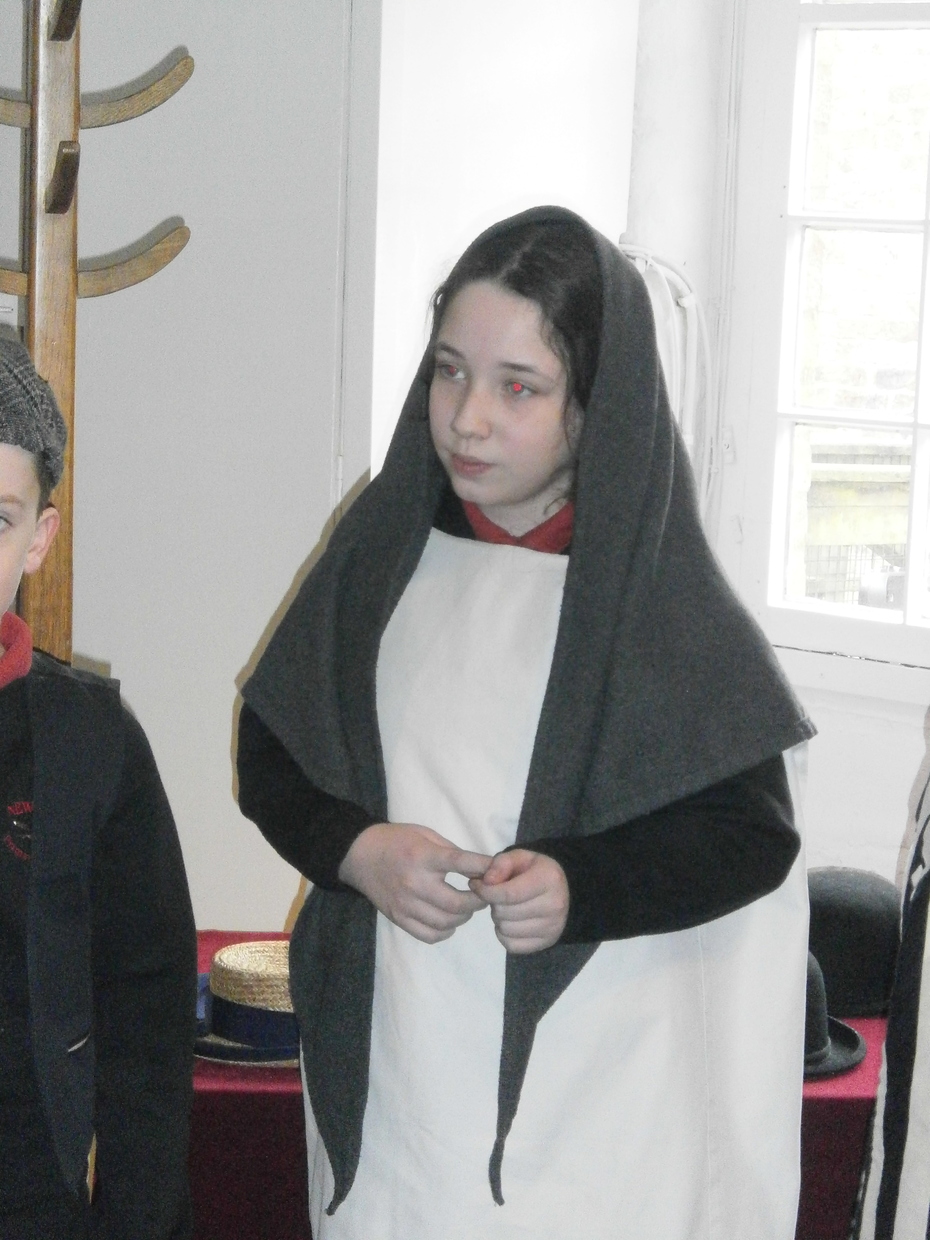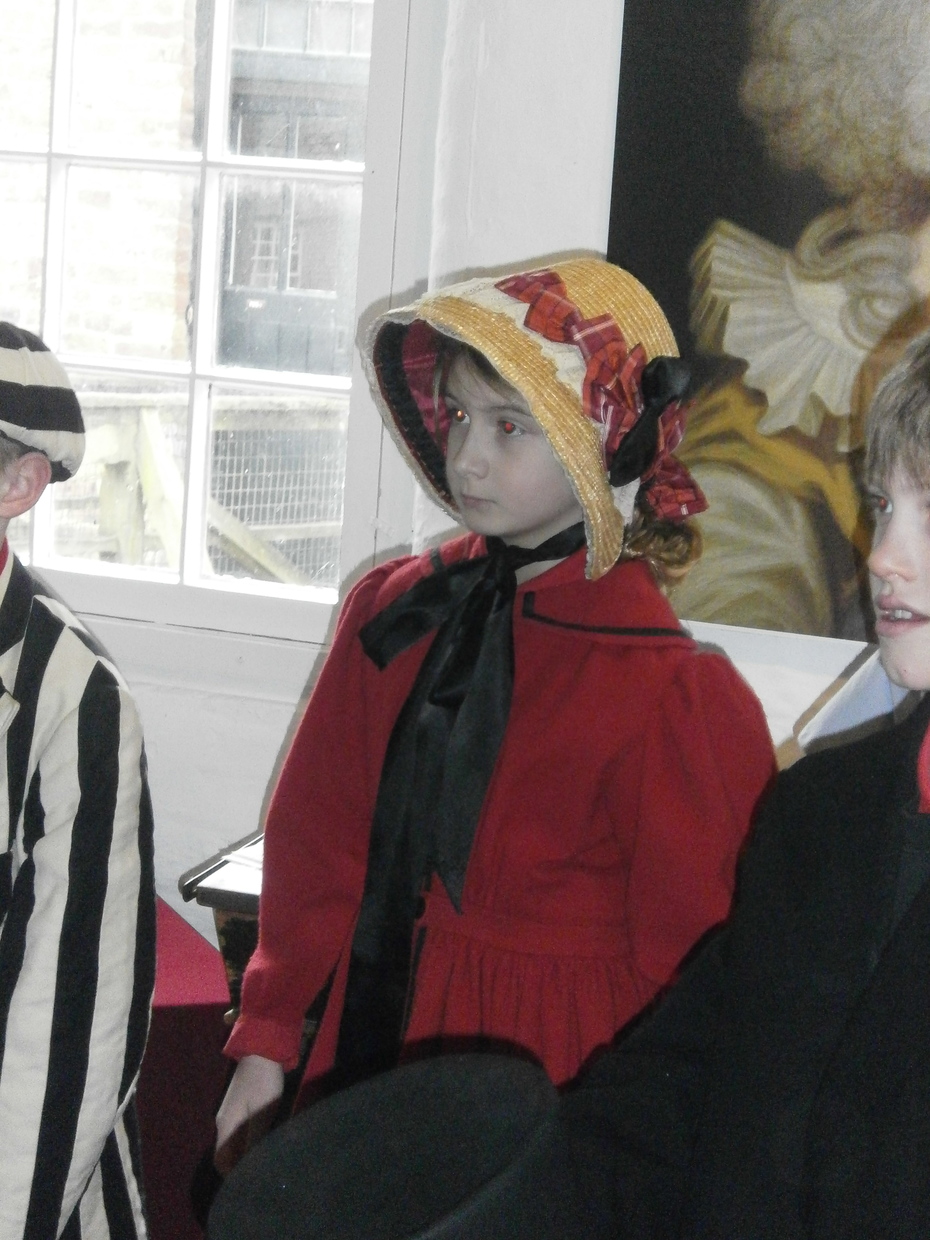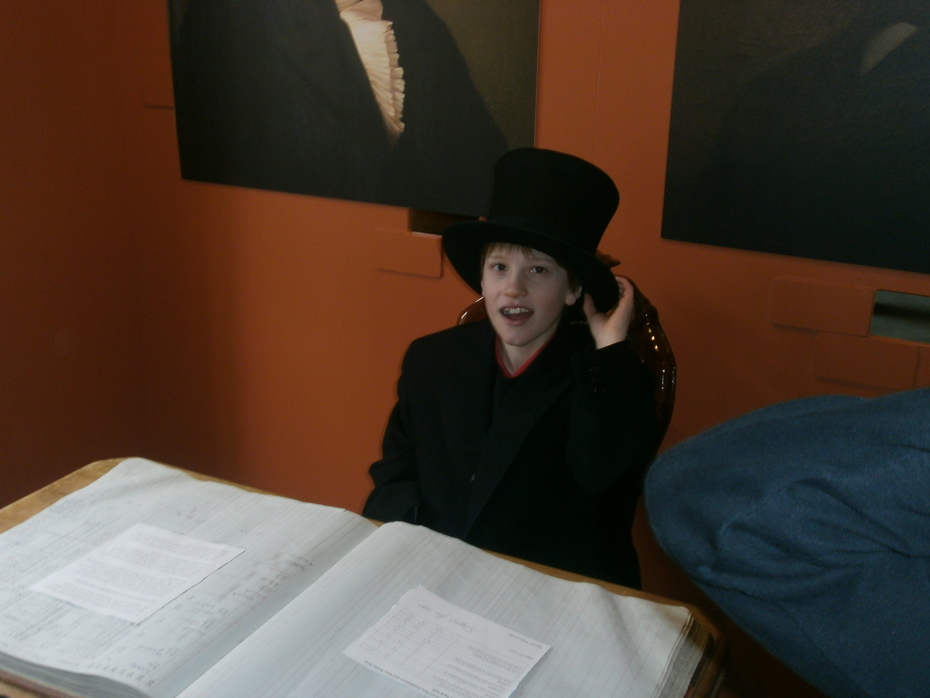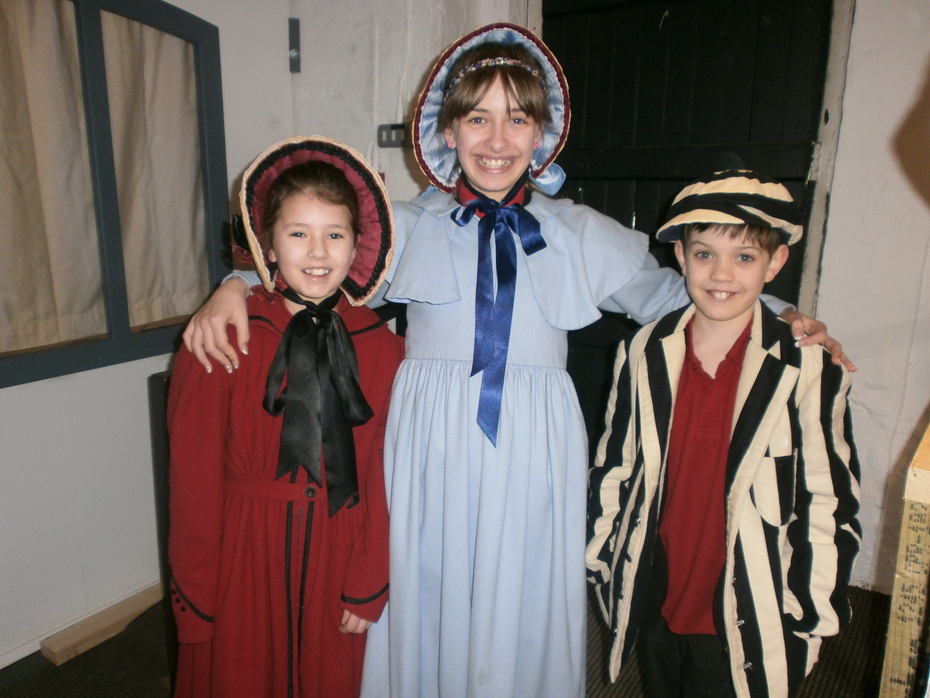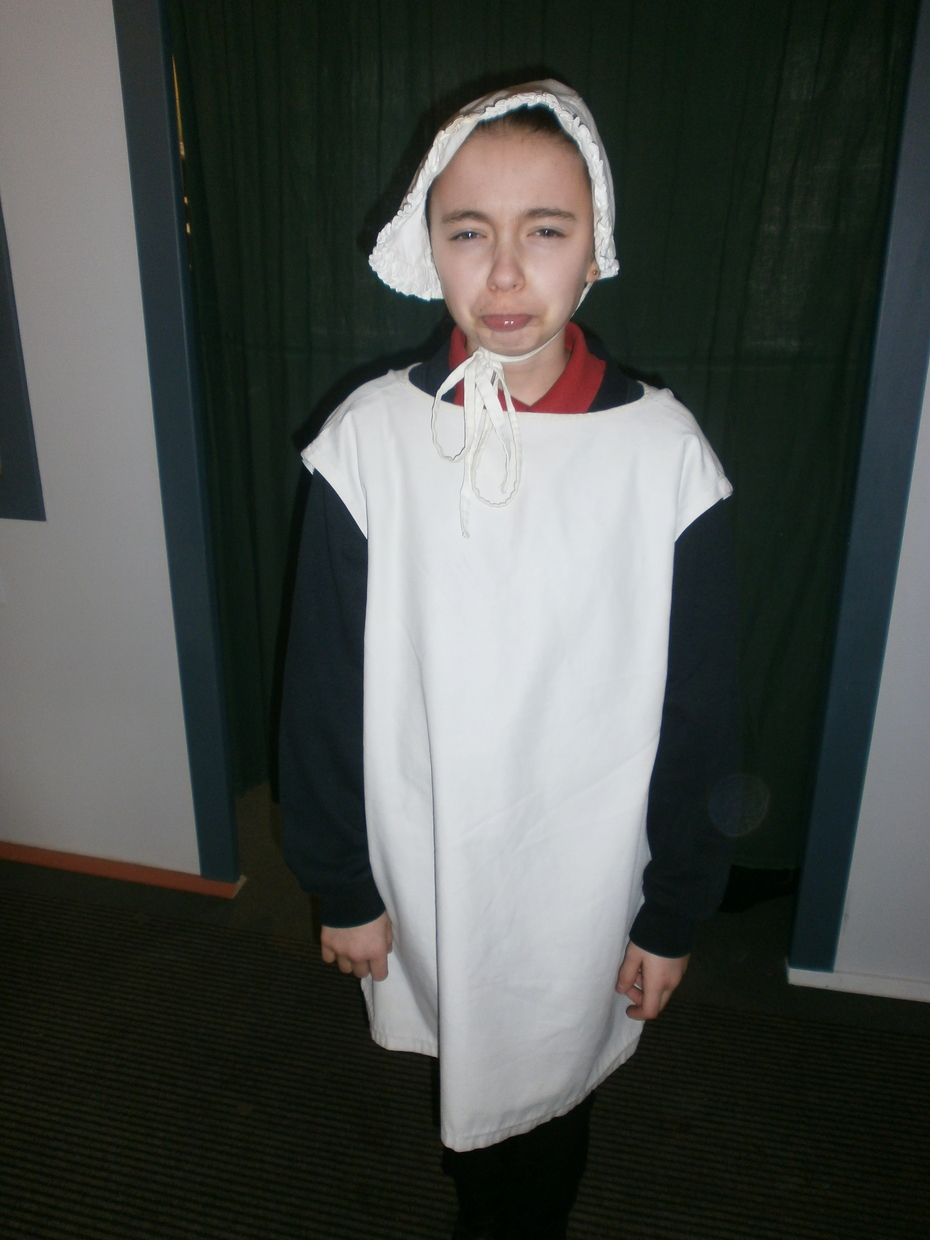 Monday 5th March.
Today we had an illustrator in school who showed us how to do some great pencil illustration ideas.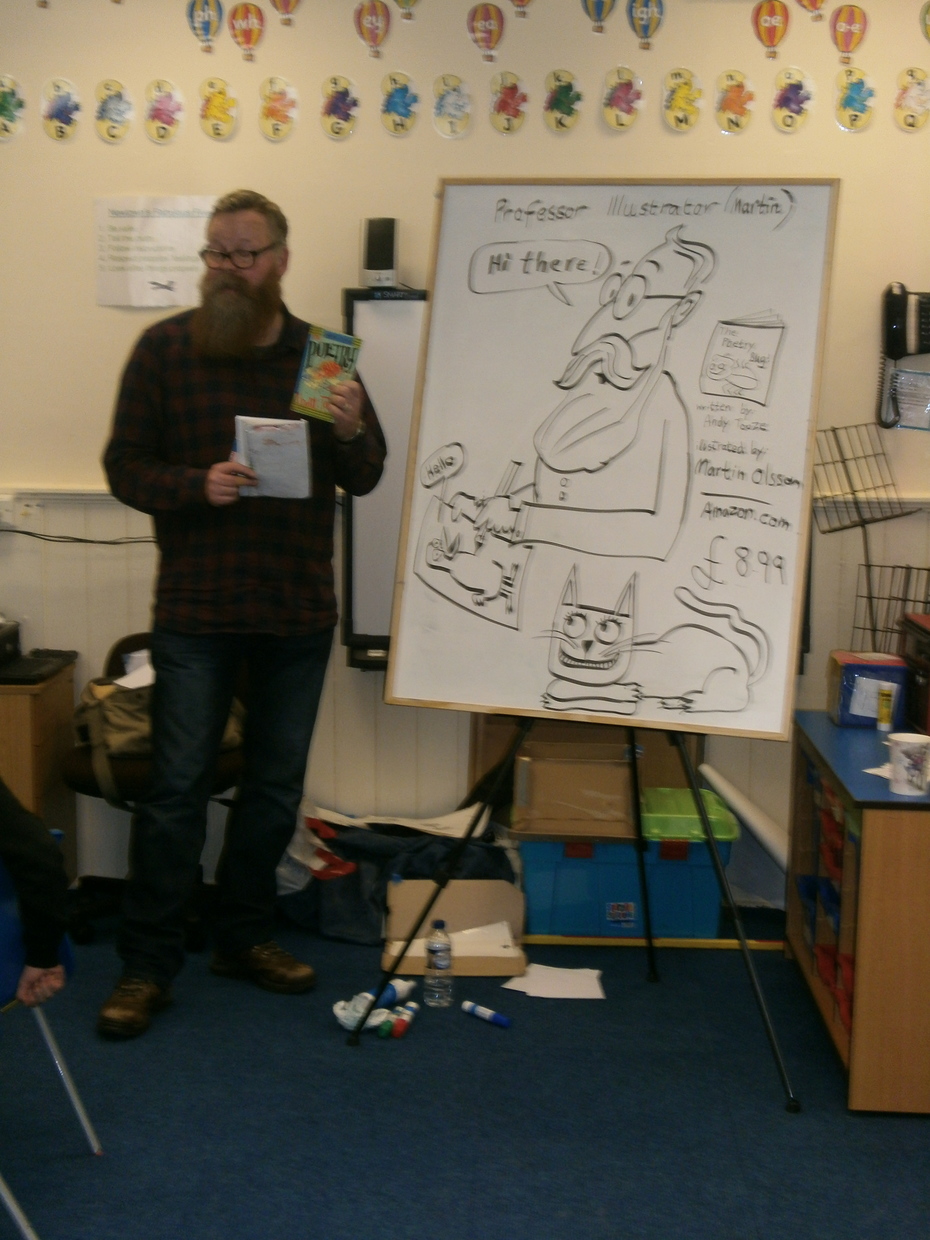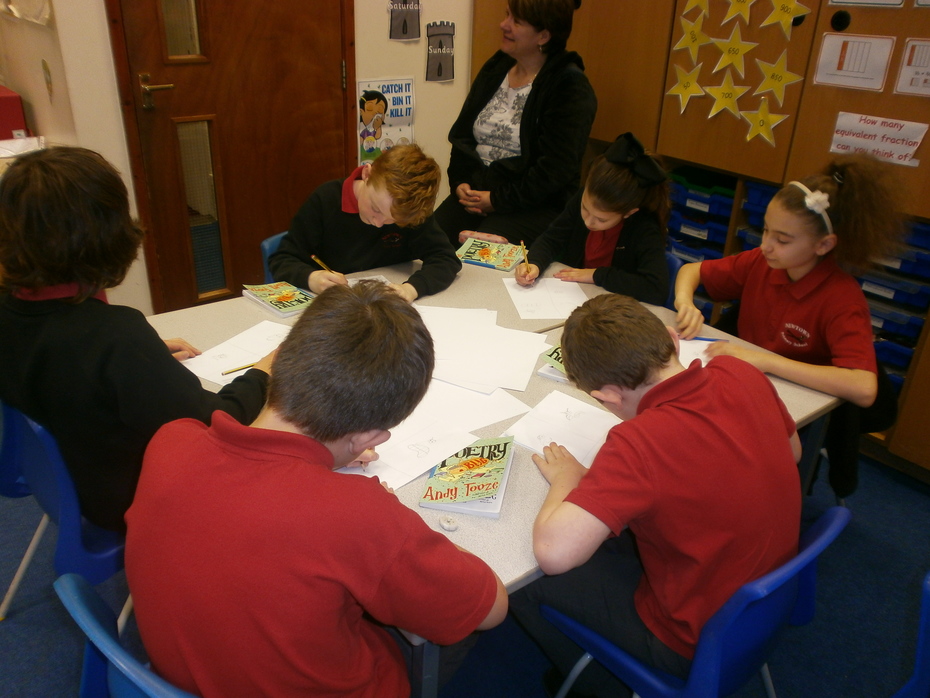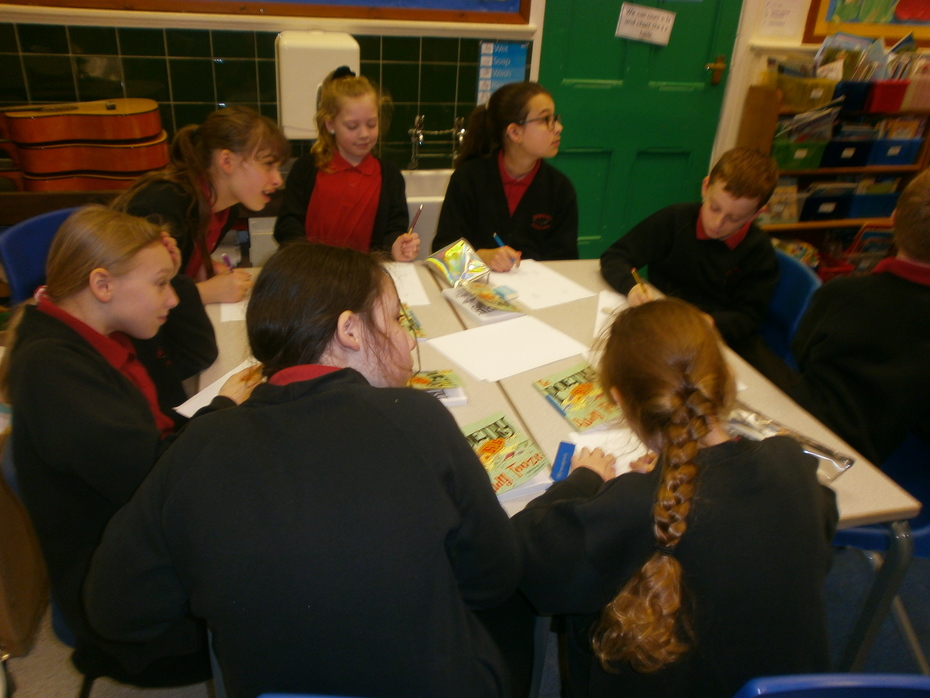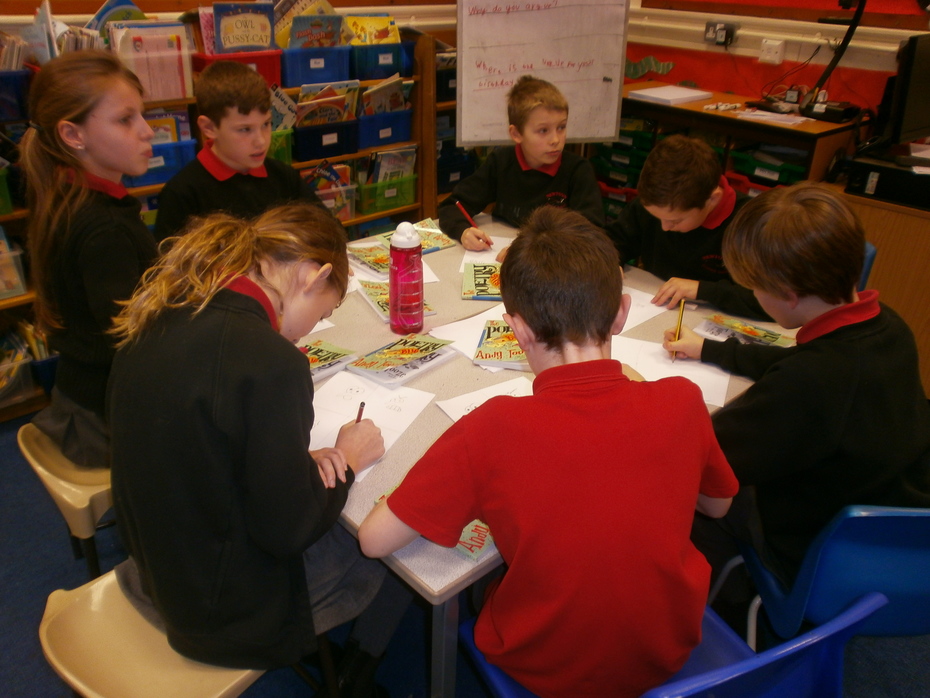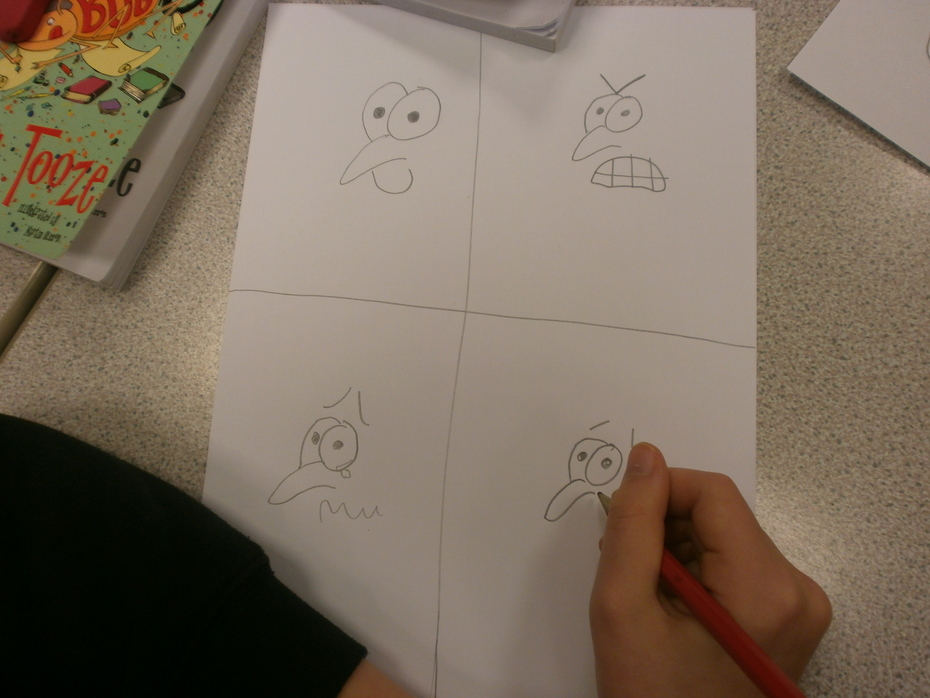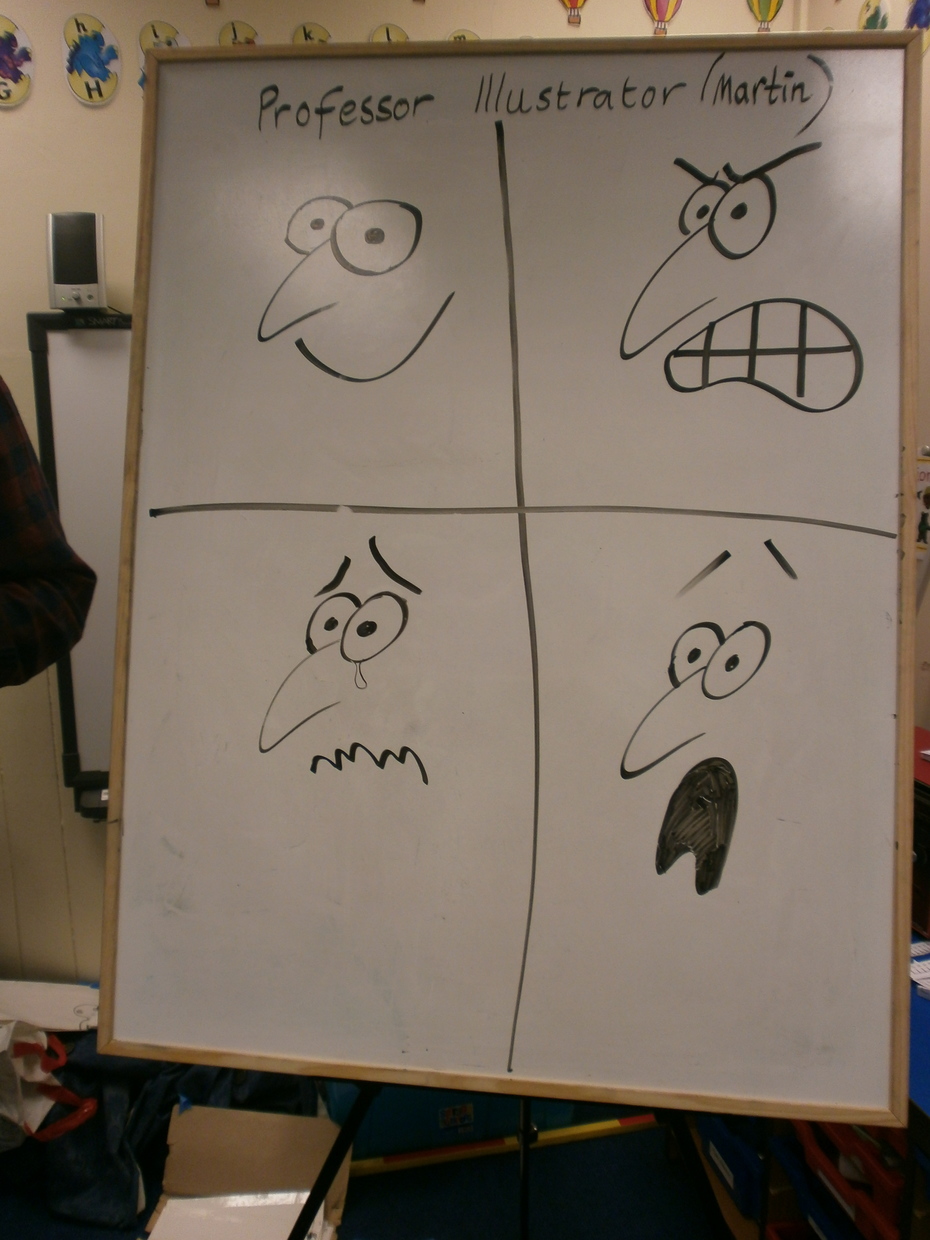 We have made models of Victorian bedrooms. Some were the homes of rich people and some were for poor people. Can you tell which we have made?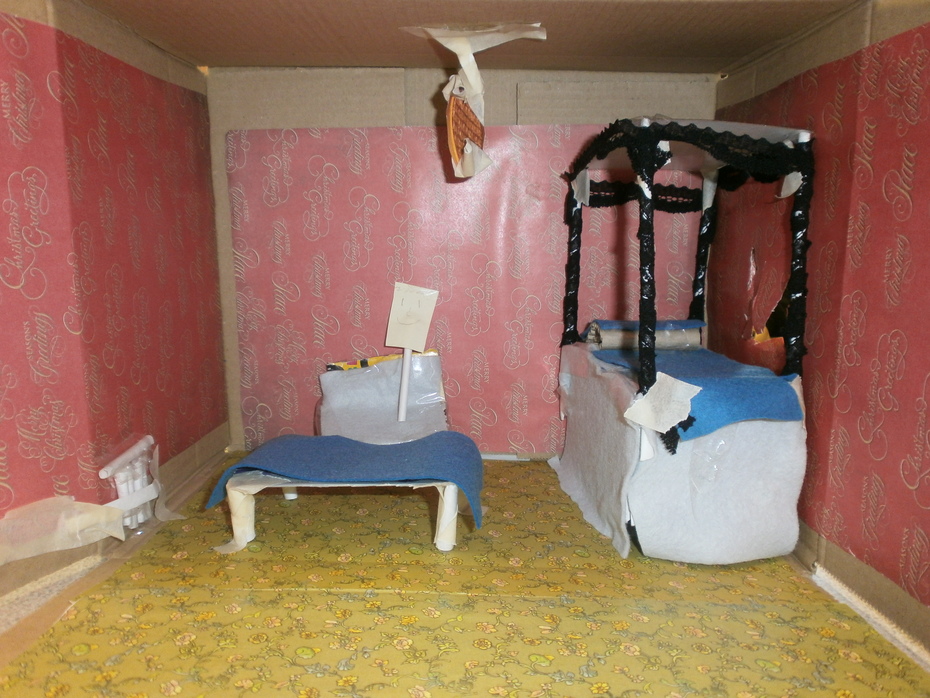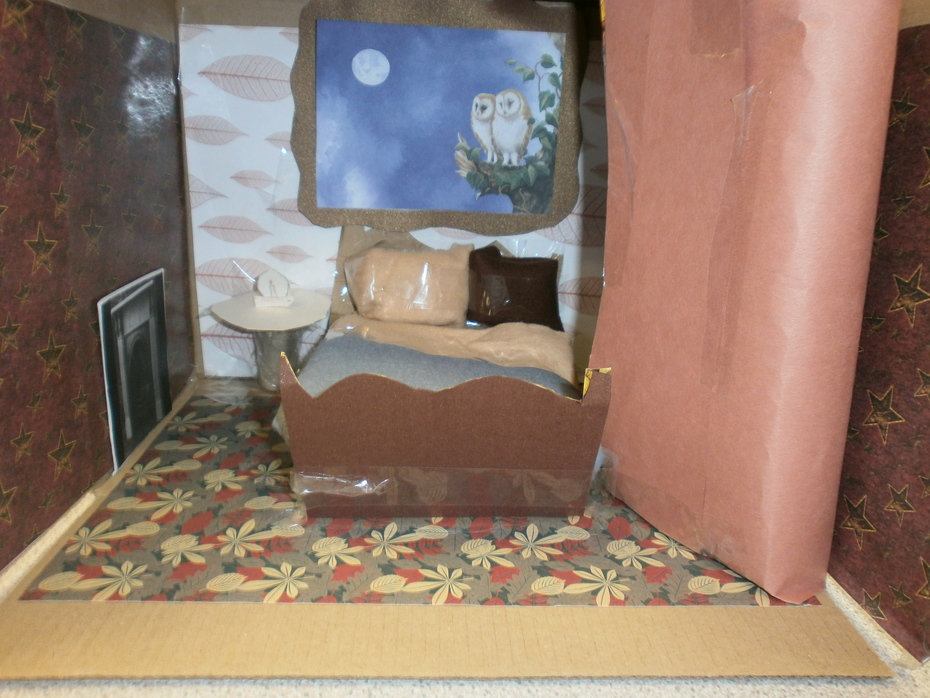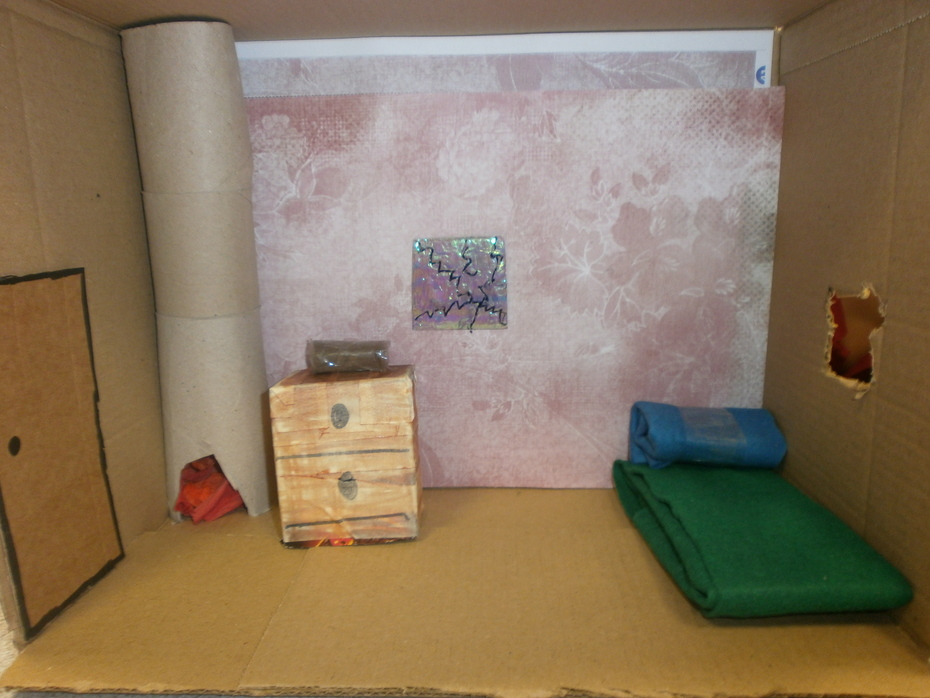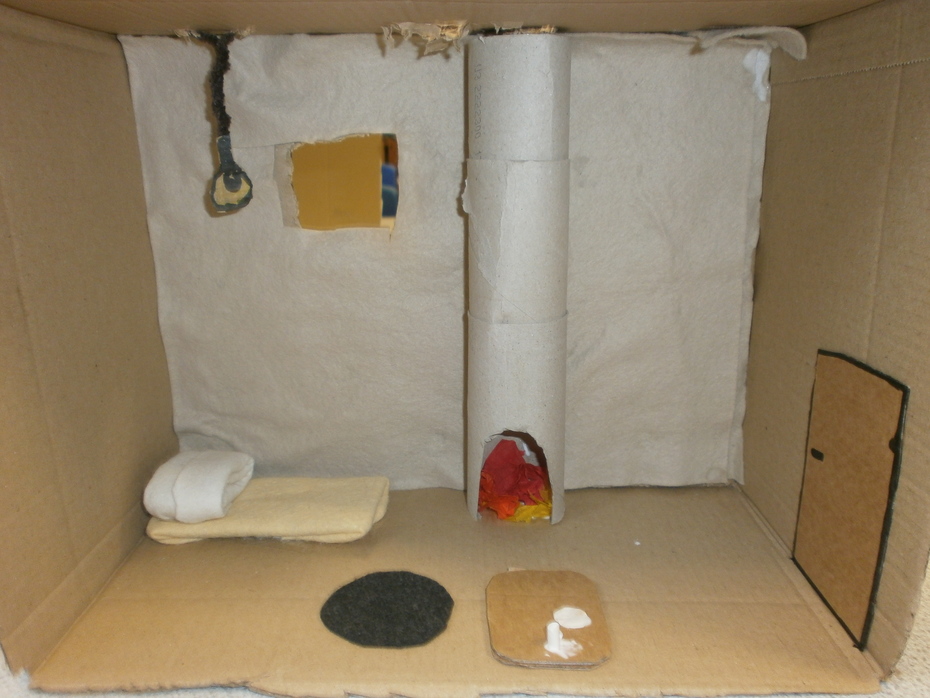 As part of our Victorians topic, we have drawn some portraits of Queen Victoria from her Diamond Jubilee.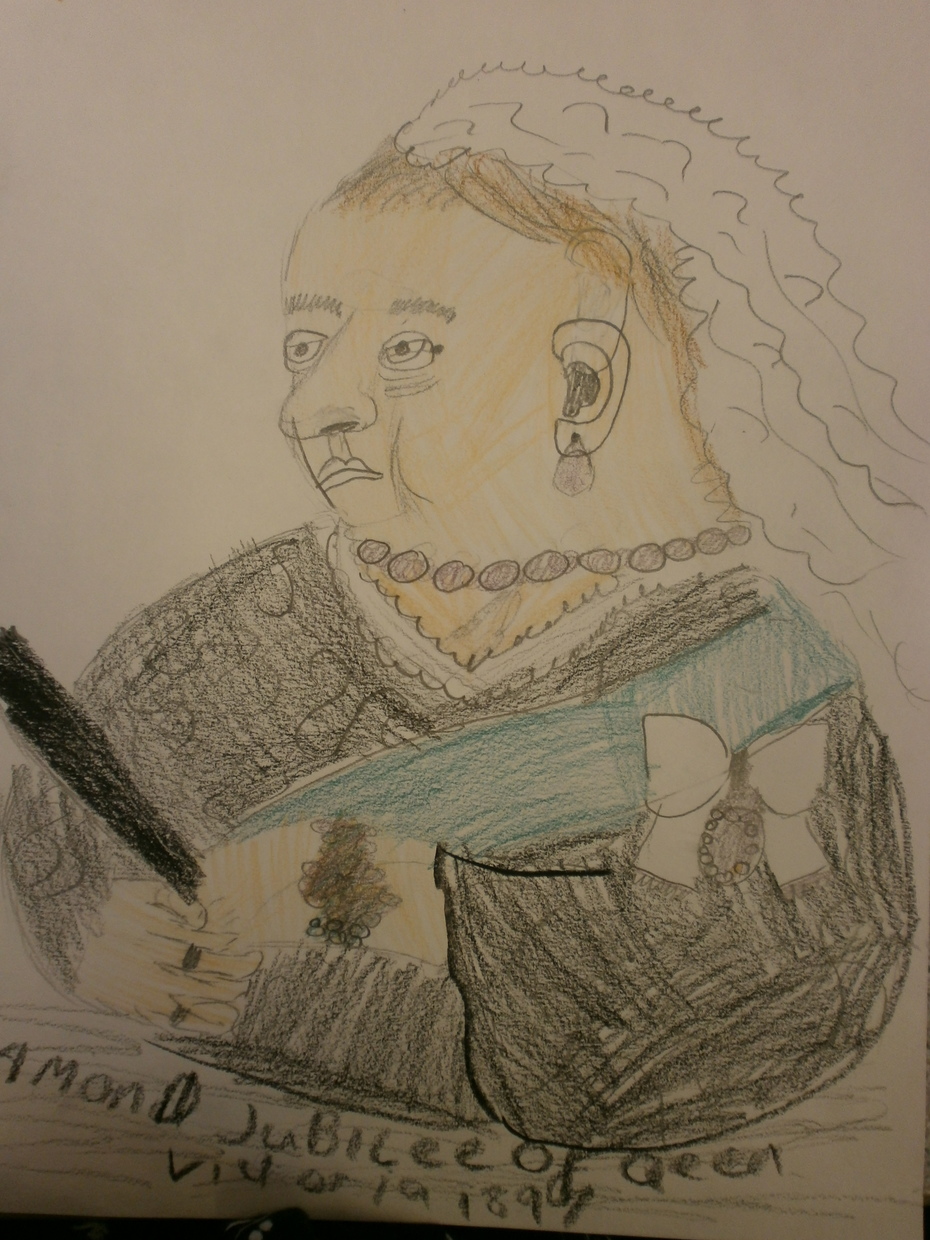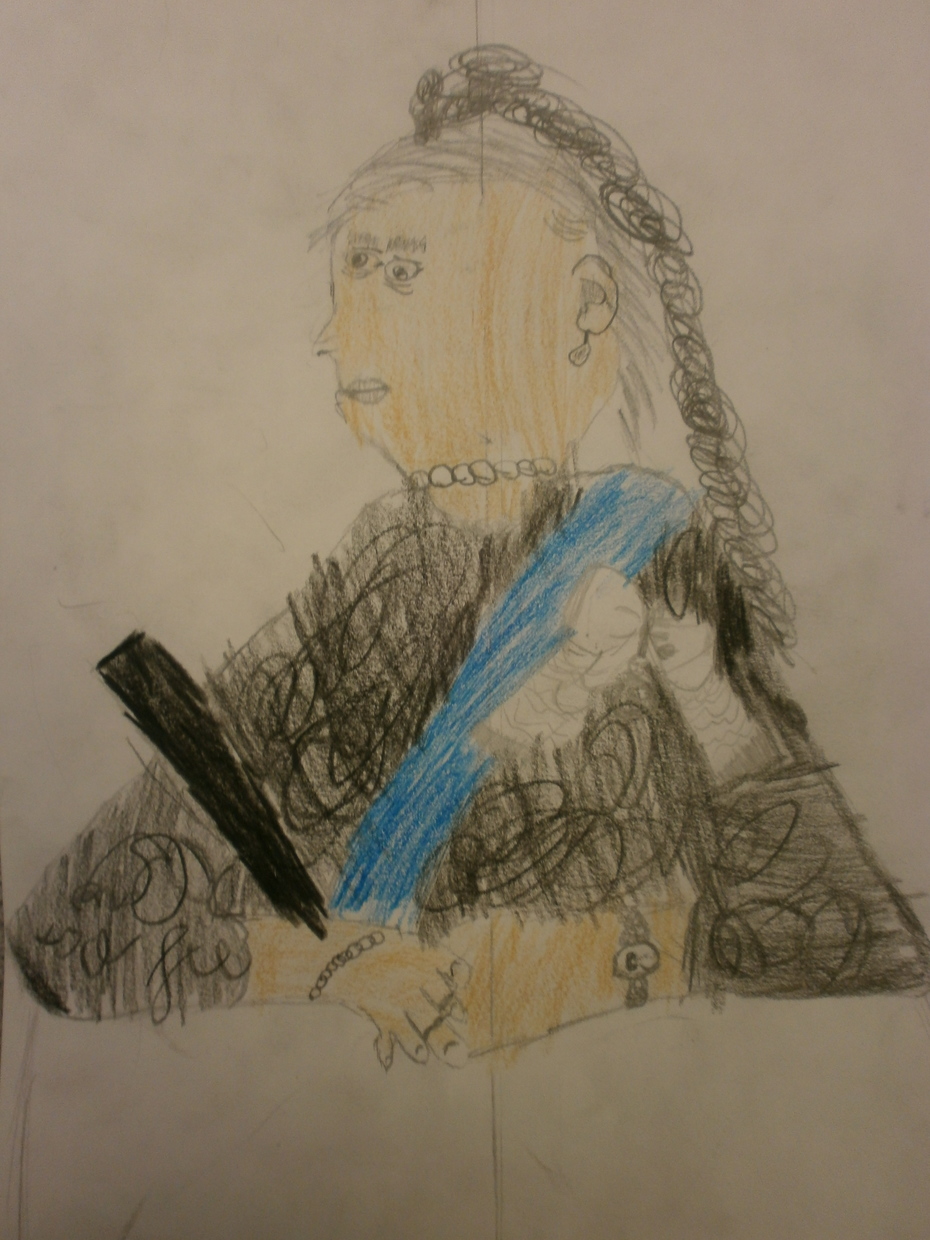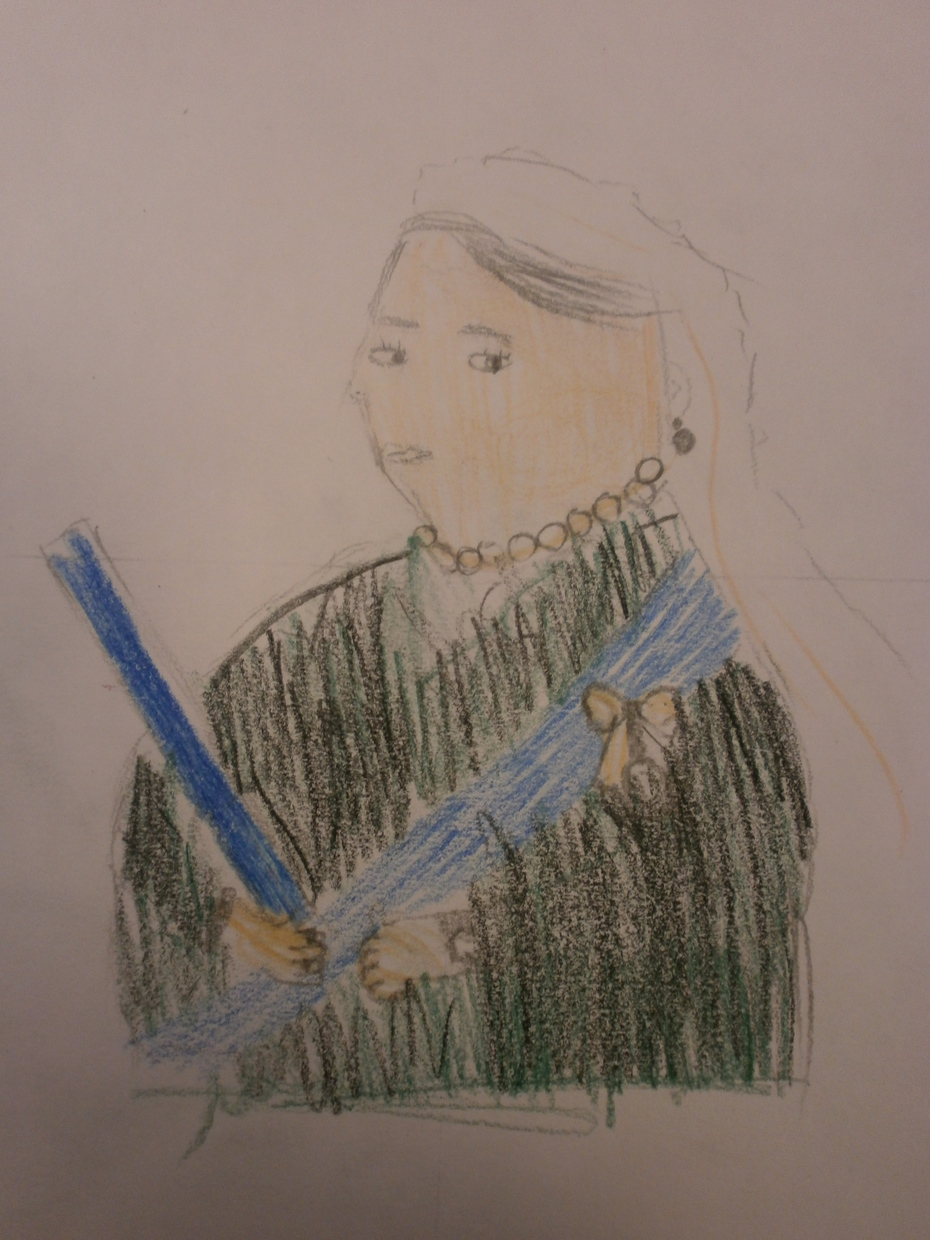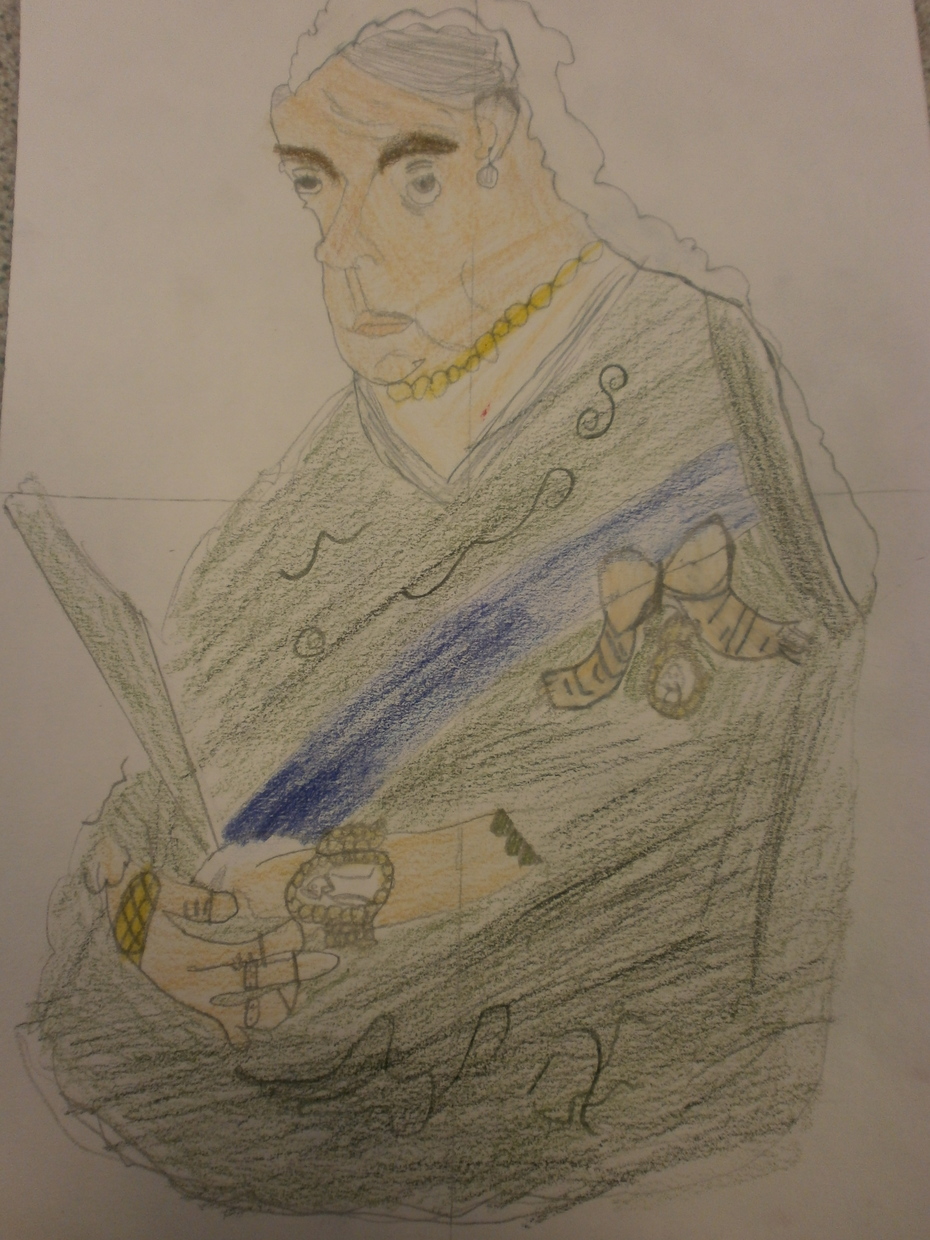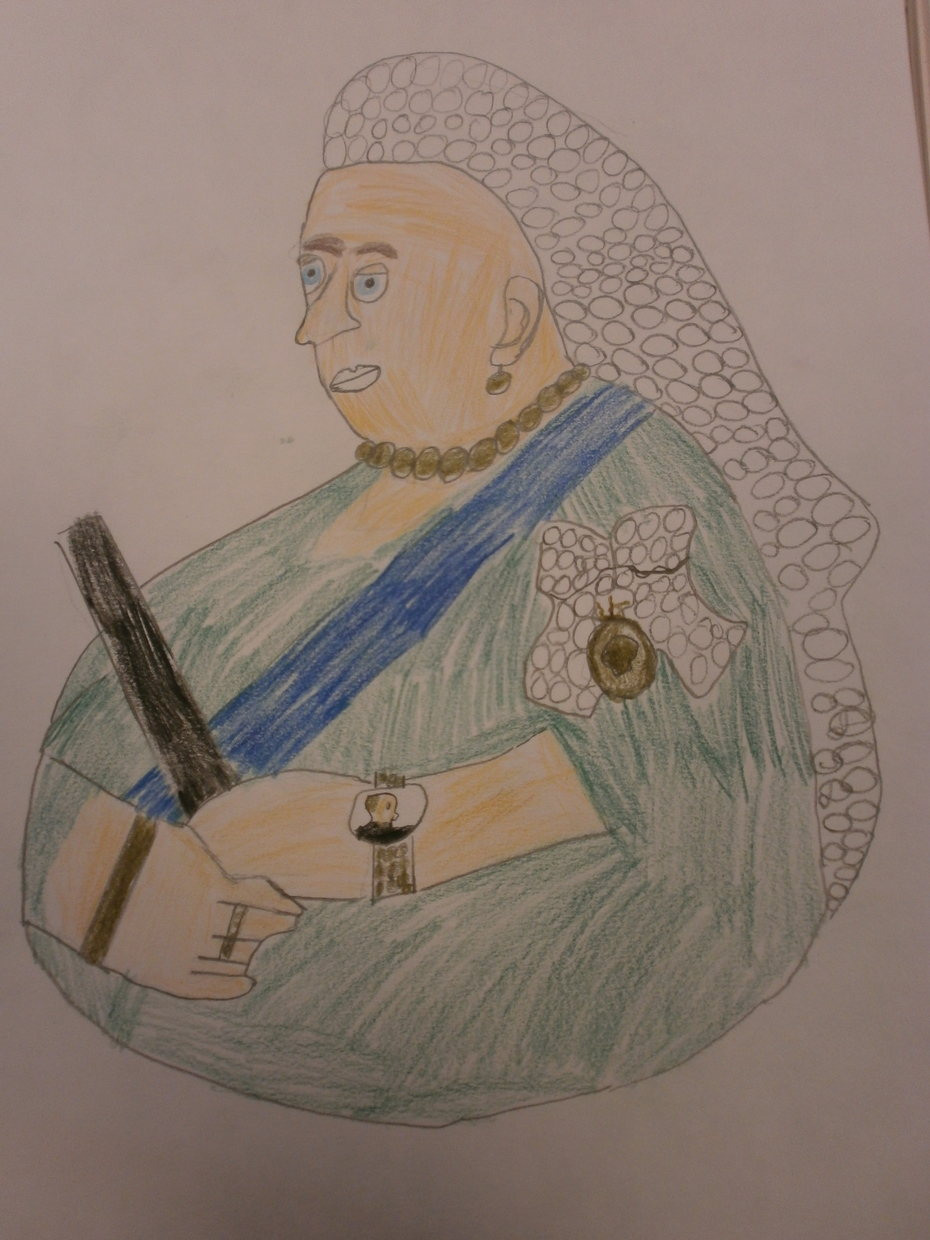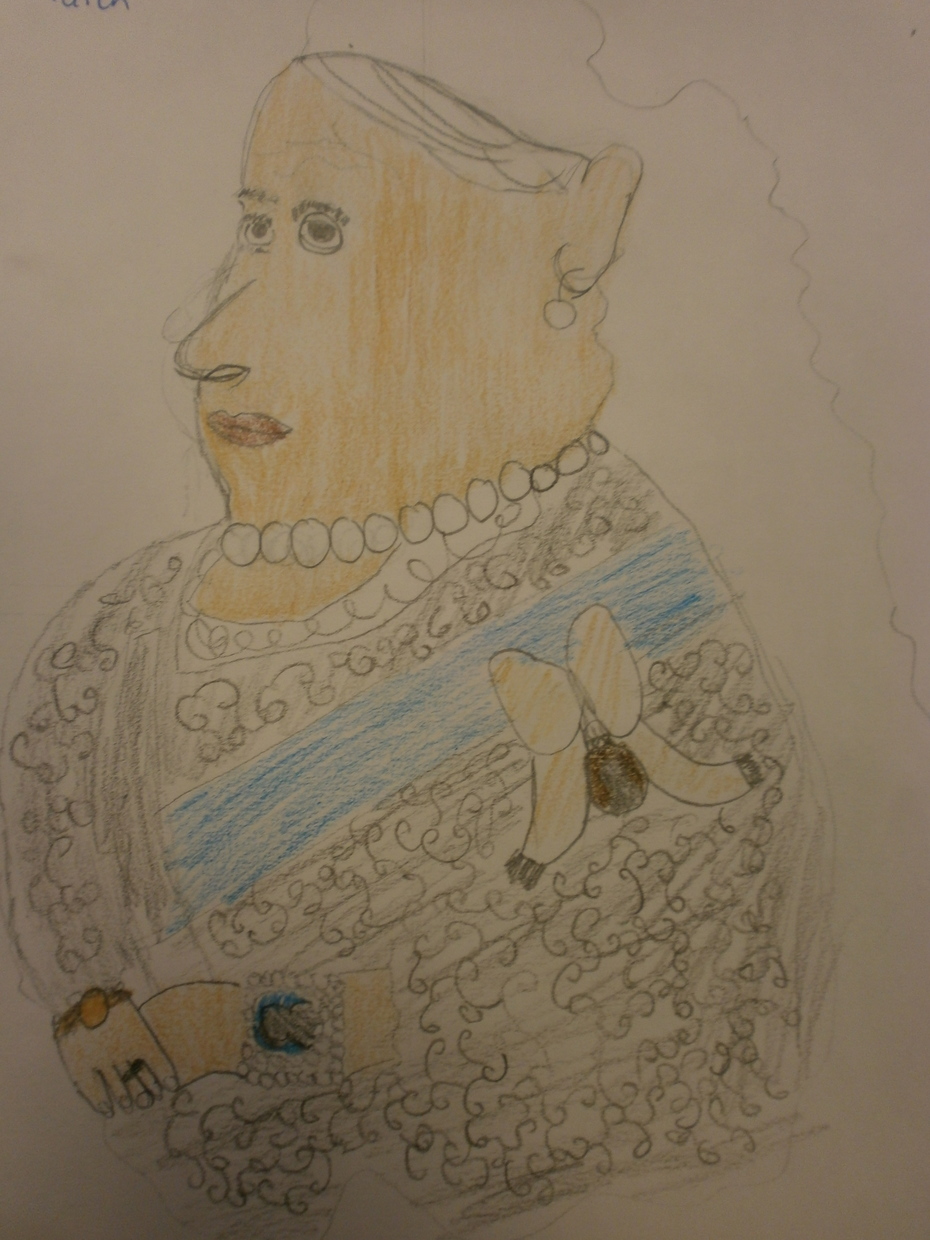 On 2nd Feb some children went to New Mills Leisure Centre to meet Dame Sarah Storey and learn to play boccia. We met up with Thornsett too.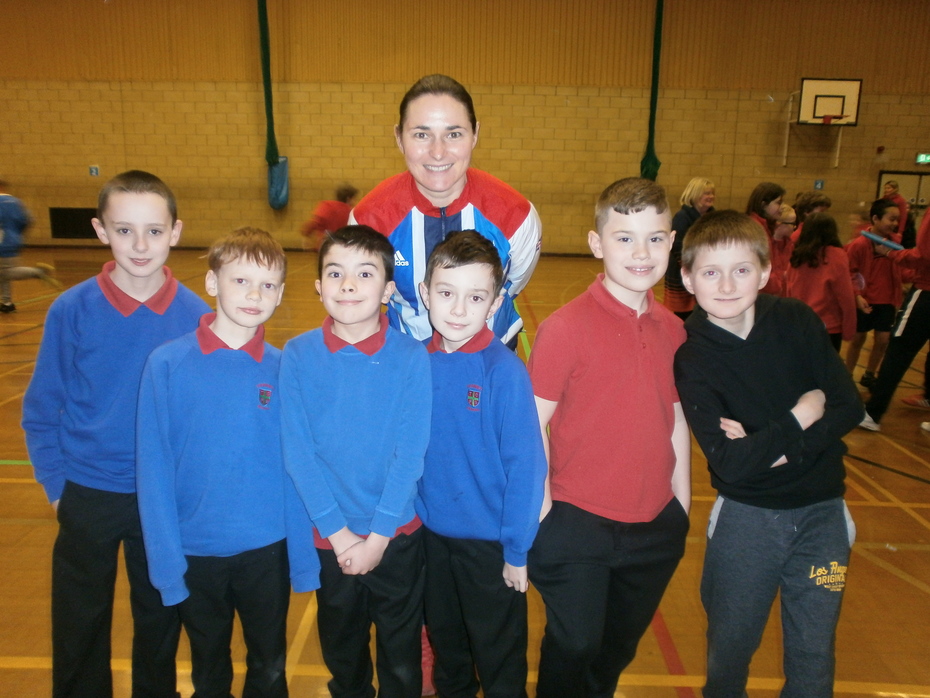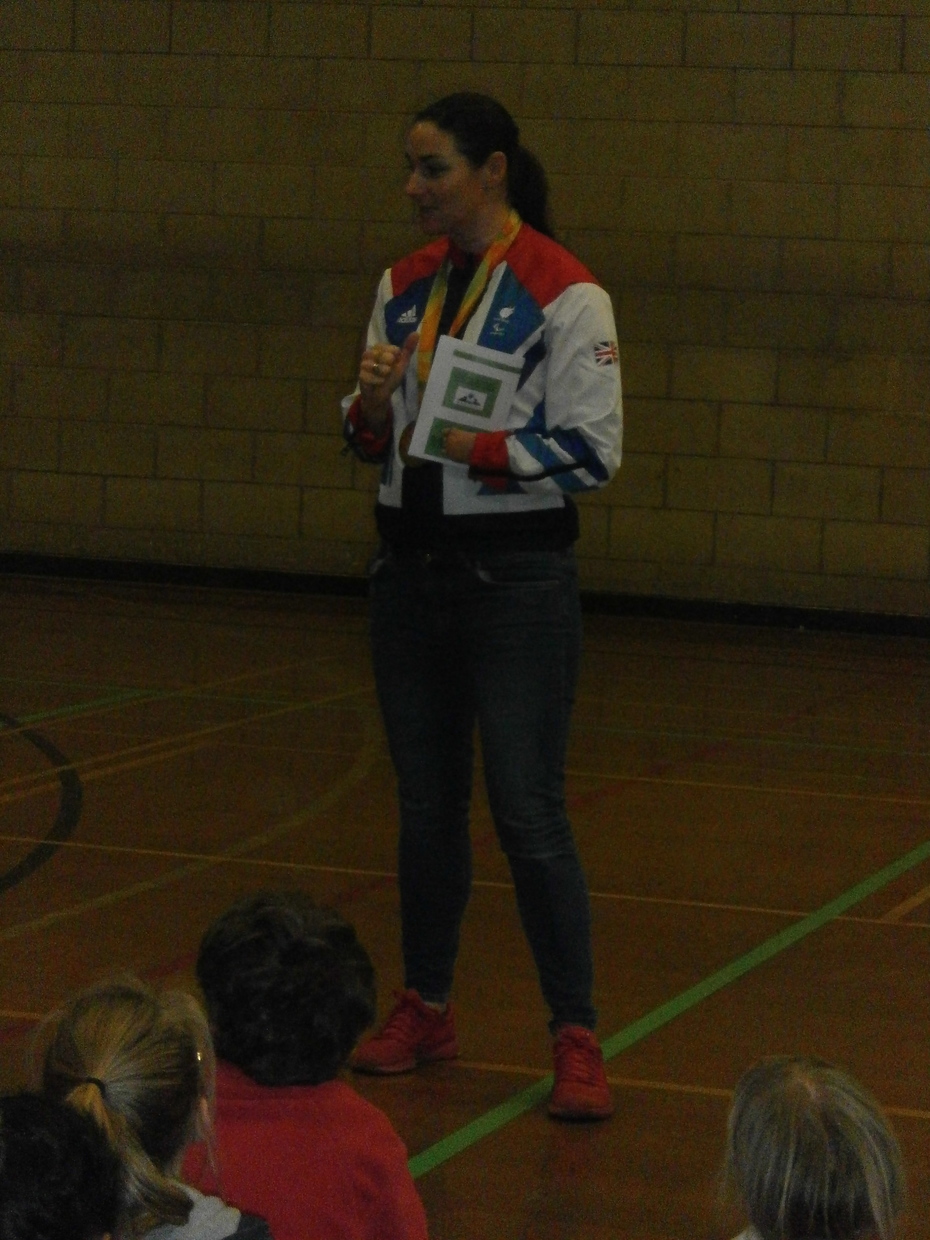 On 30th of January the whole school had an exciting day taking part in an escape- room style maths challenge. We worked in teams to solve puzzles and crack codes.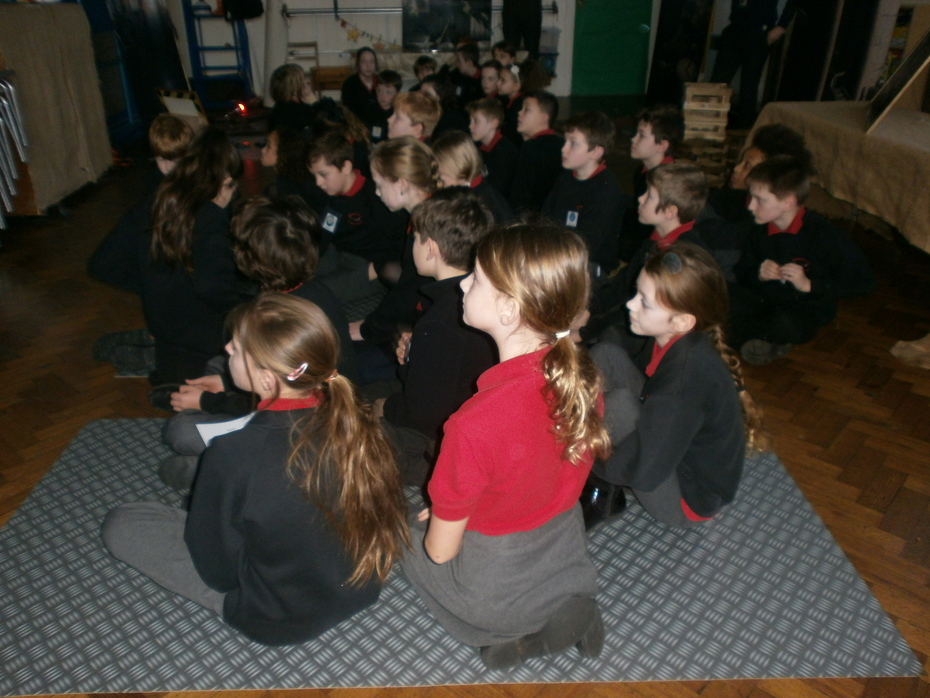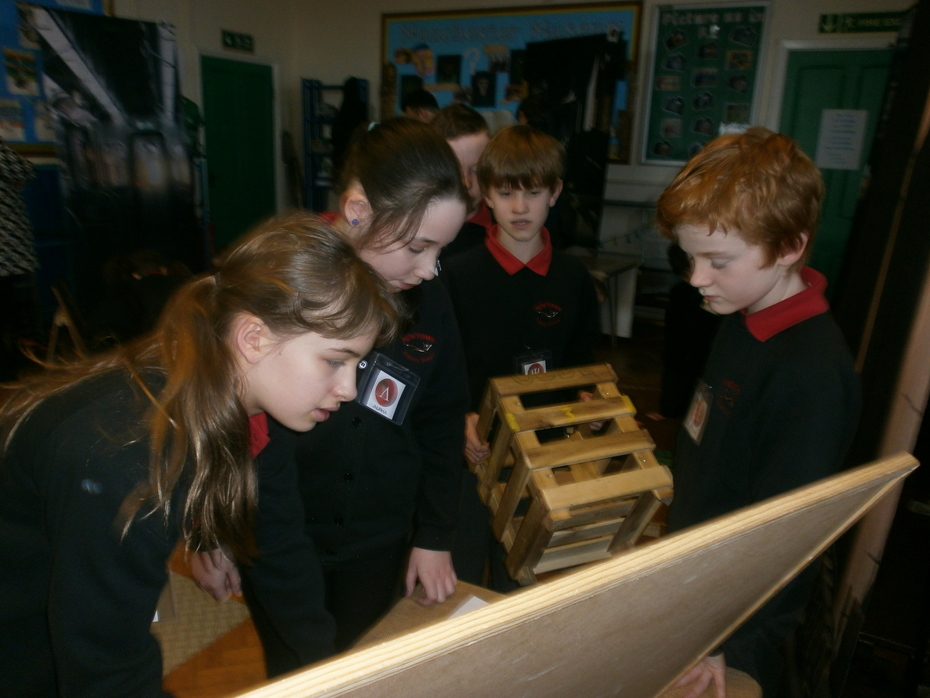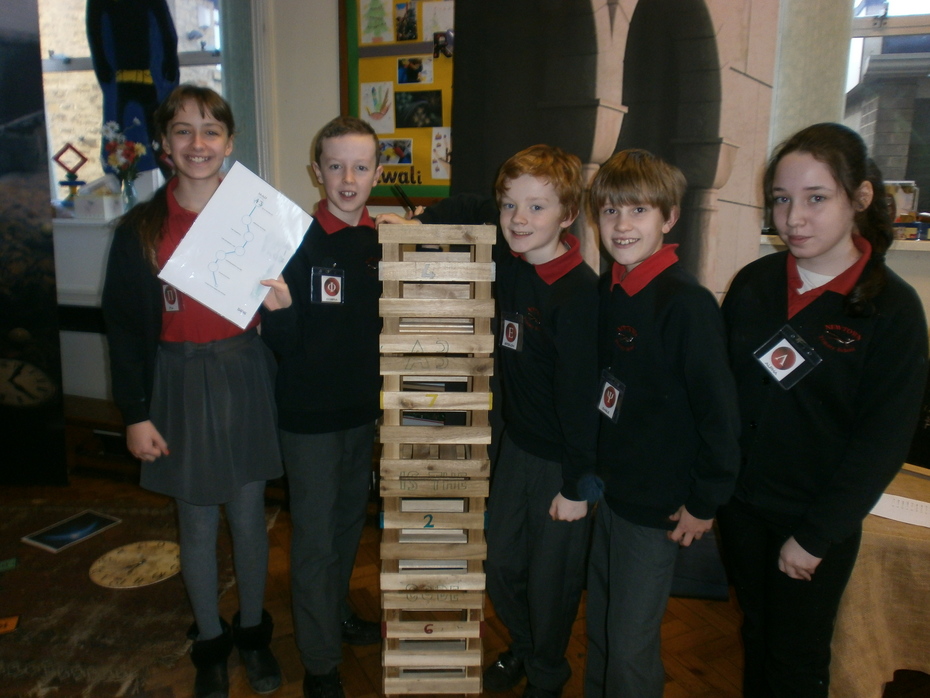 On the 23rd of January children from Class 2 and 3 went to Manchester Arena to take part in the Young Voices 2018 concert. There were over 5,000 children singing and dancing in the choir. We had an amazing time and I'm sure the children will remember it for a long time!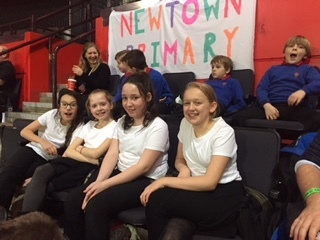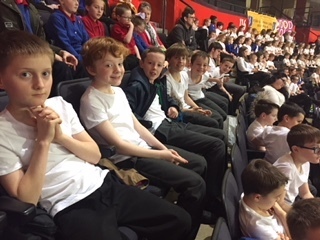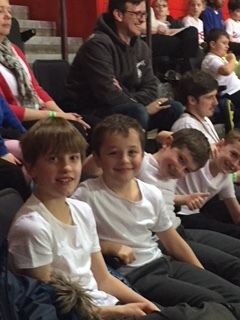 Welcome to a new school year! Attached is the information letter for the new term. New term letter
Our science topic is 'Light'. We have made some fun glasses and are going to write instructions for them.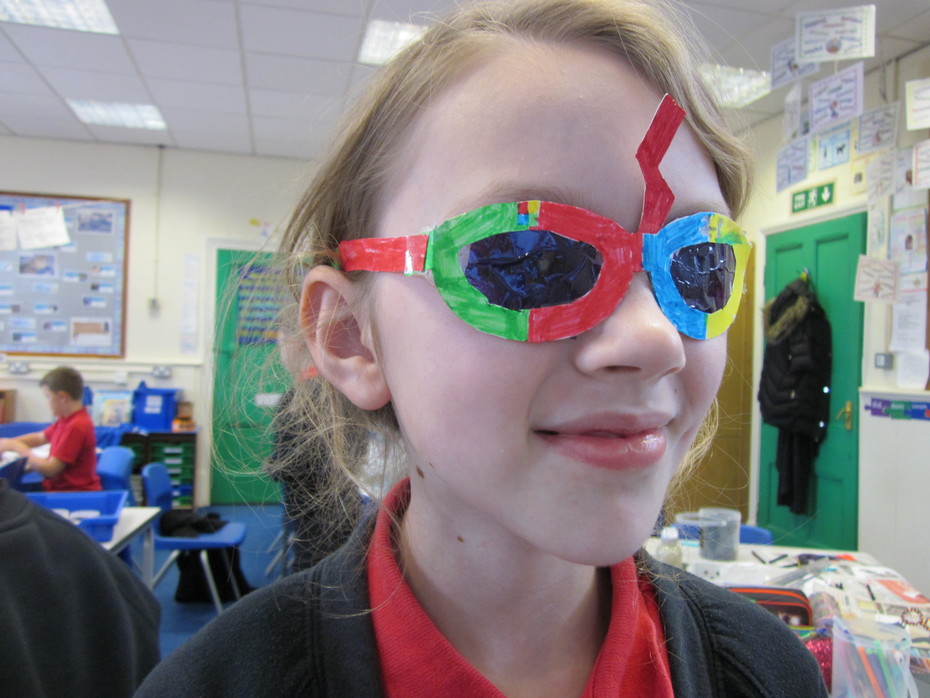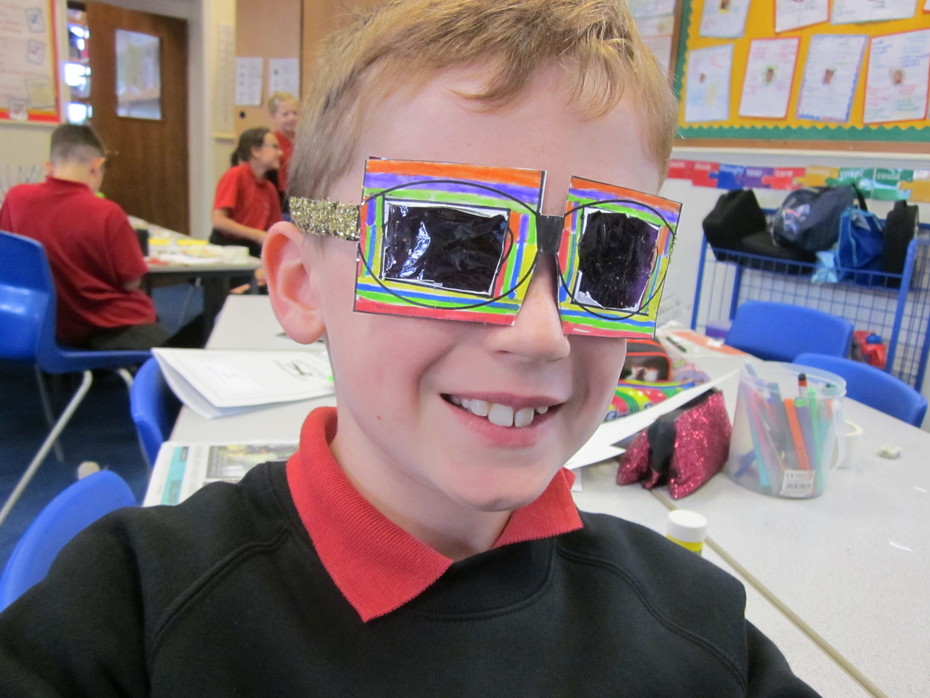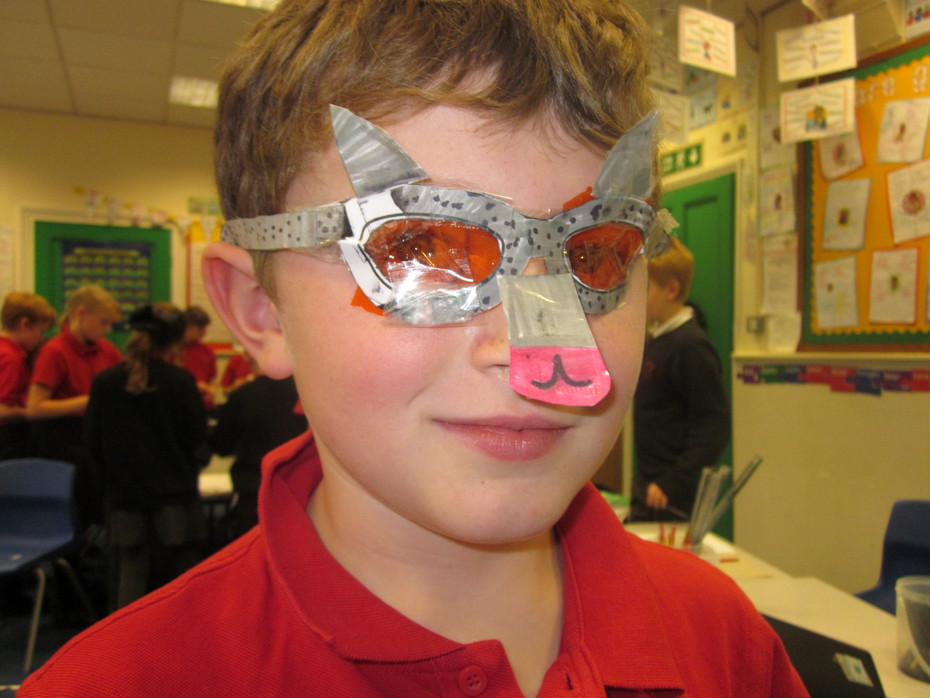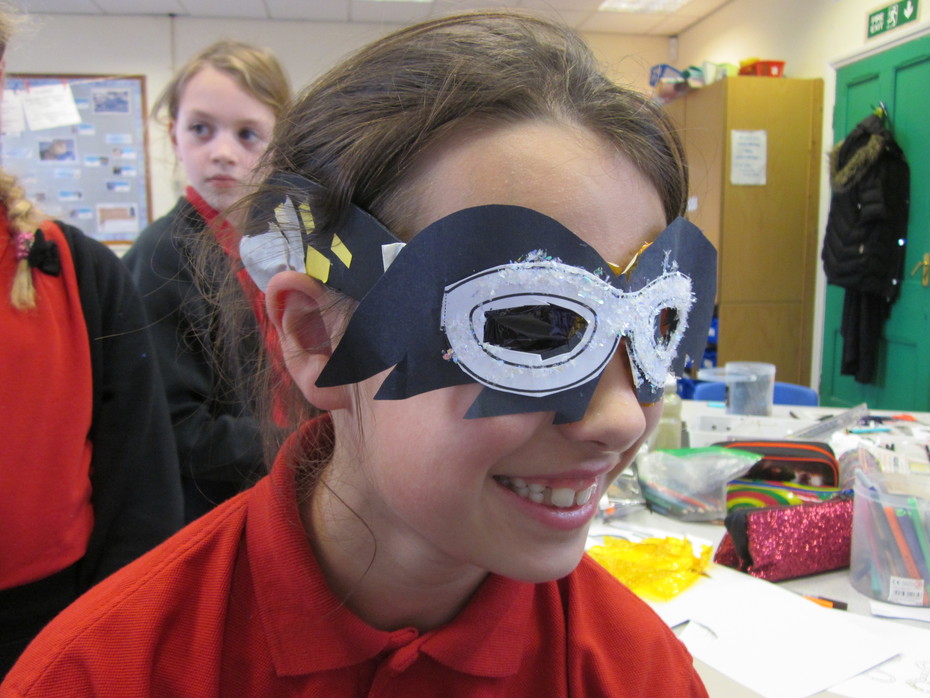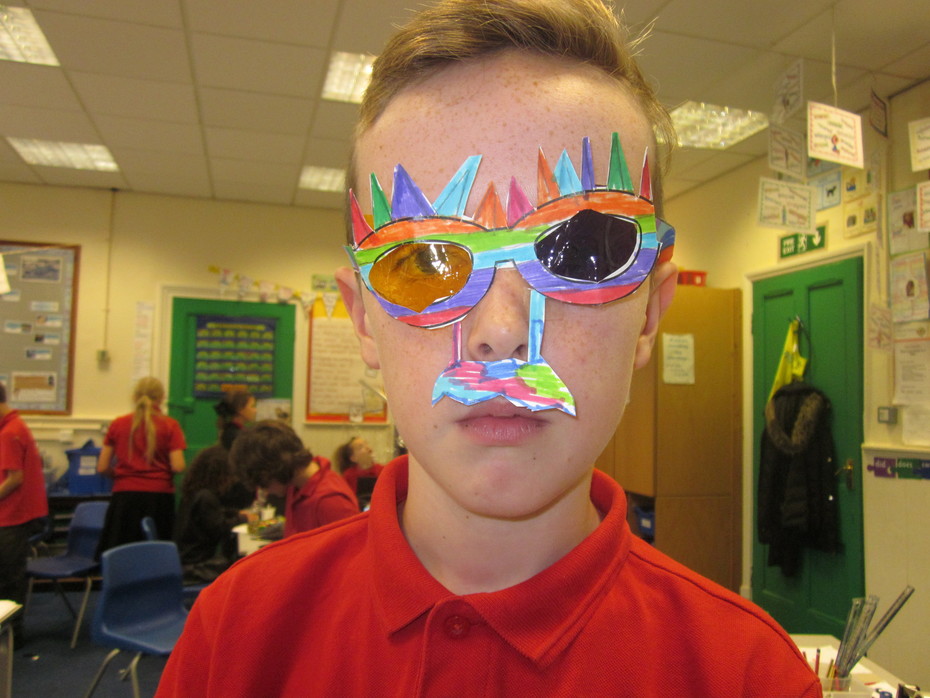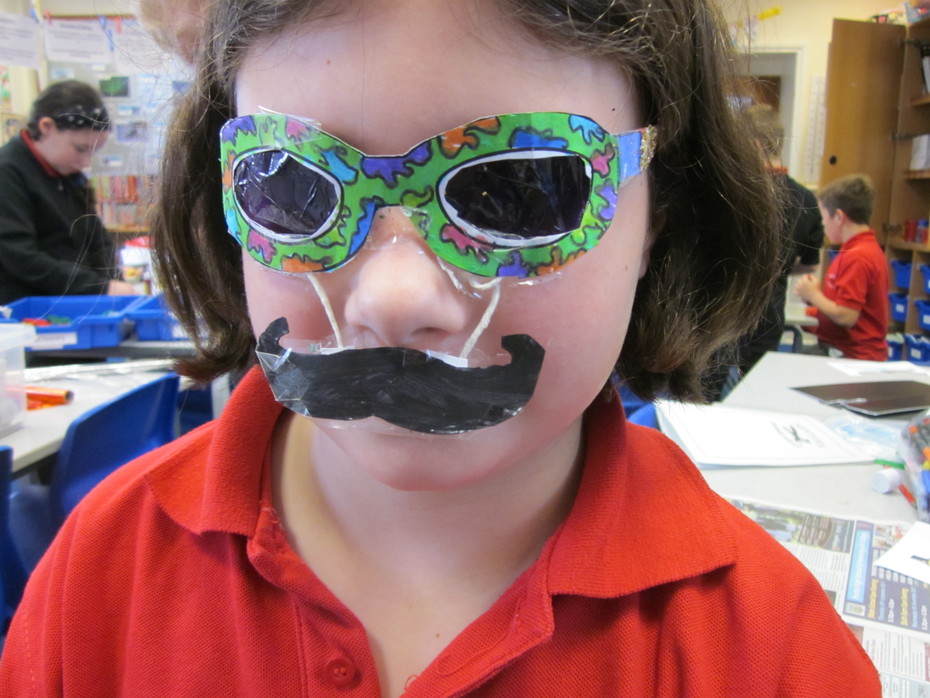 One of our parents is trained as a Forest School teacher. She kindly volunteered to come into school and ran two lovely sessions in our wild garden where the children made bracelets, mini shelters and explored our wild garden environment.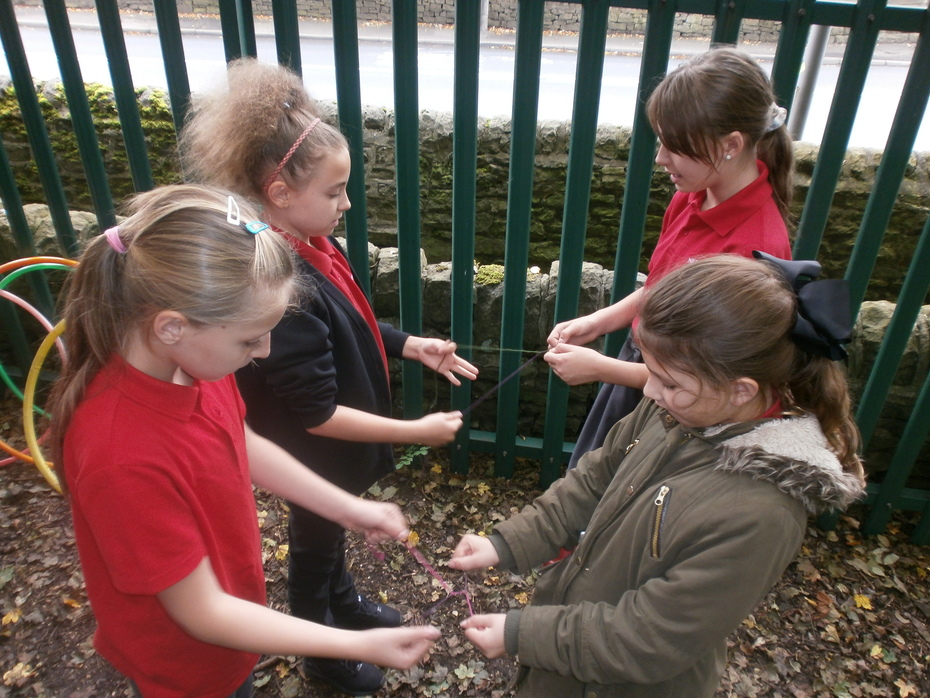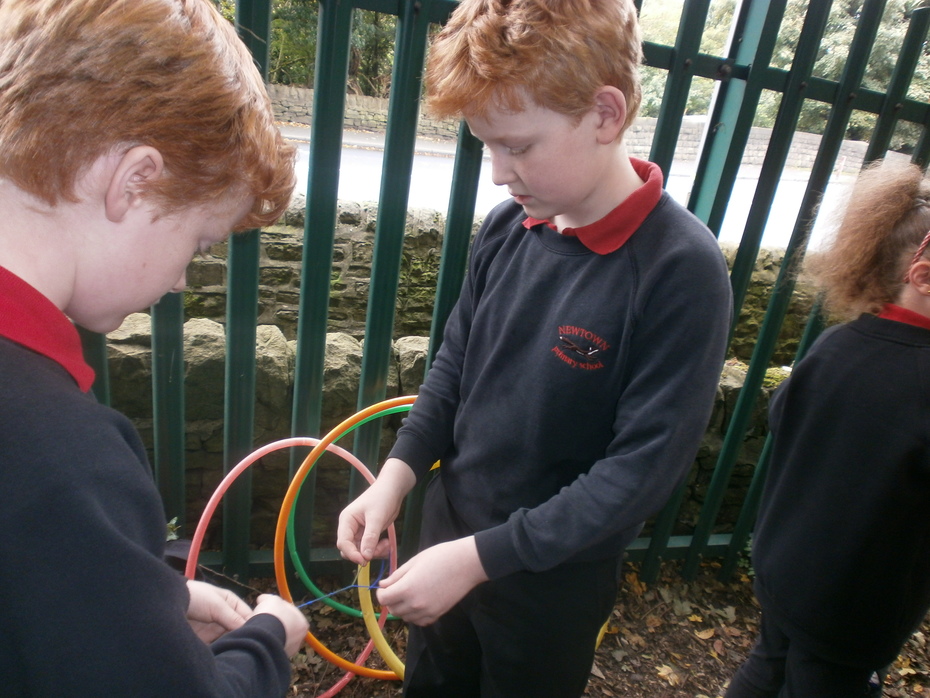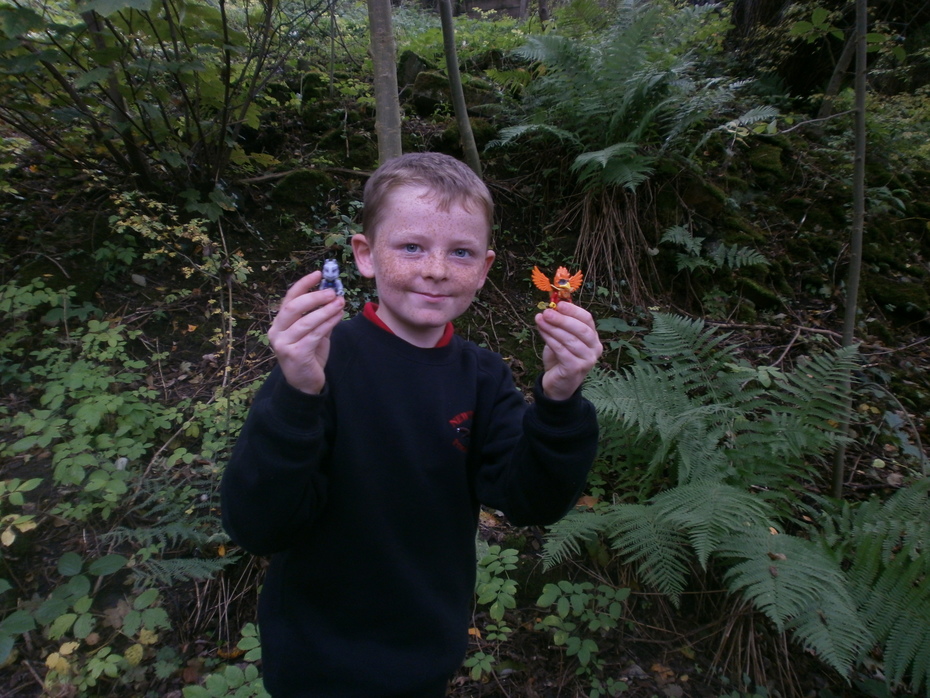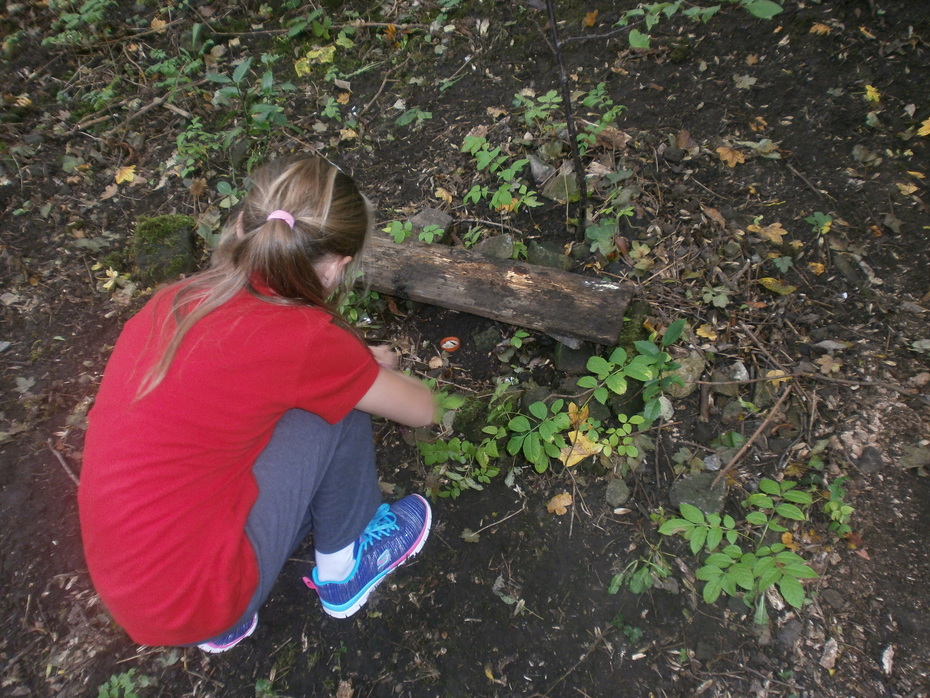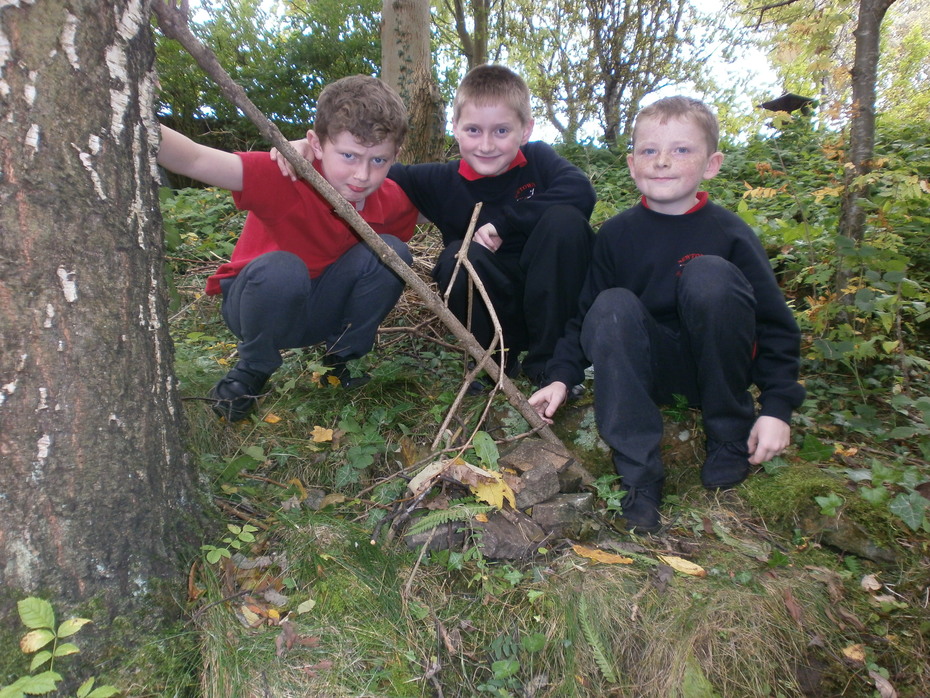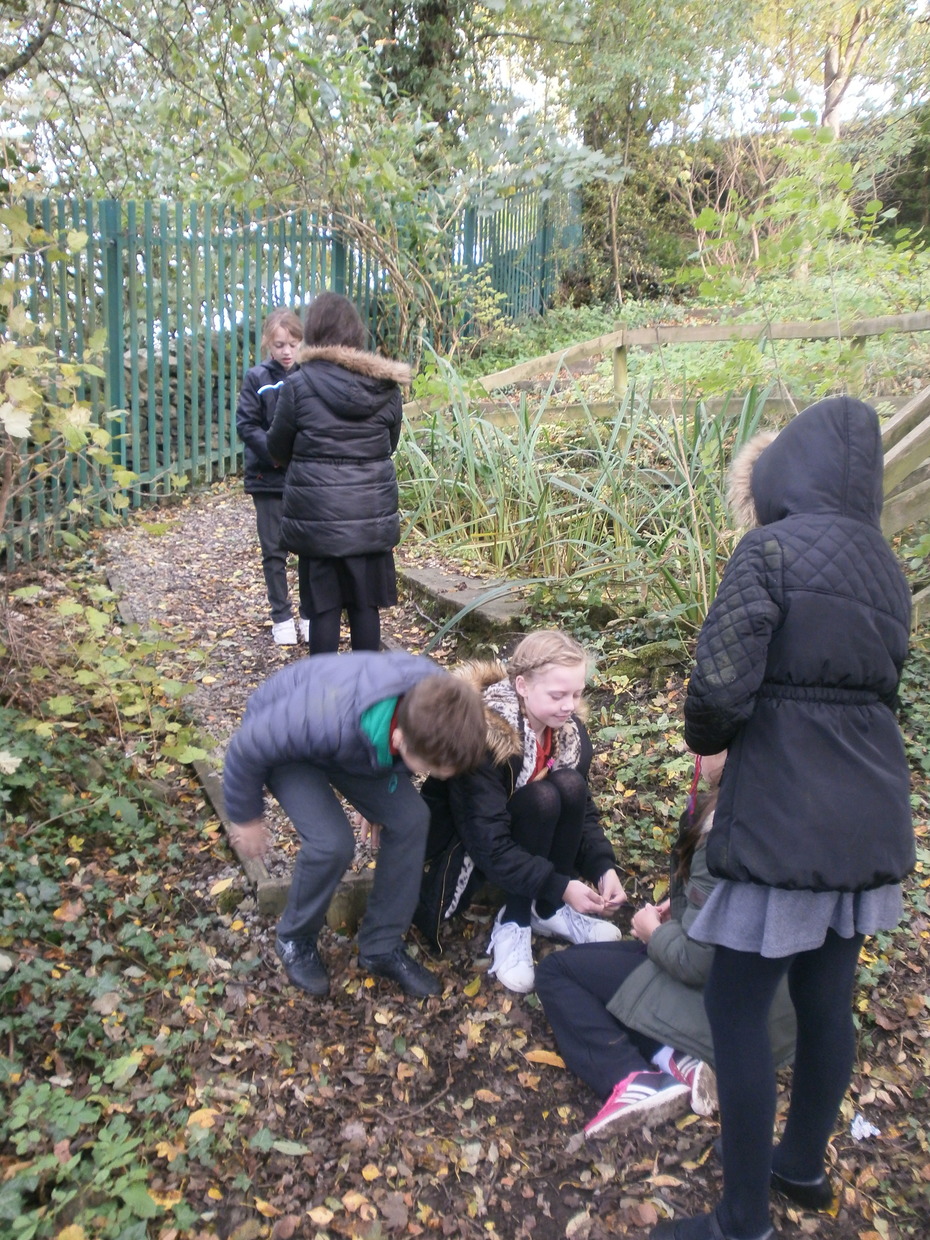 2016-17
Our highlight of the end of term is our annual school play. This year KS2 are performing 'The Amazing Adventures of Superstan!'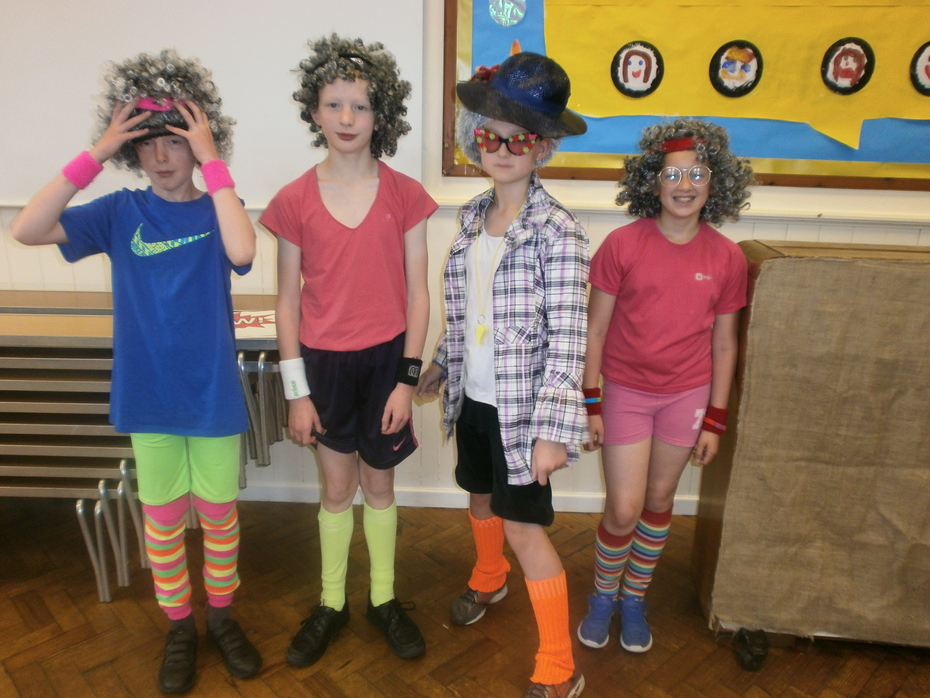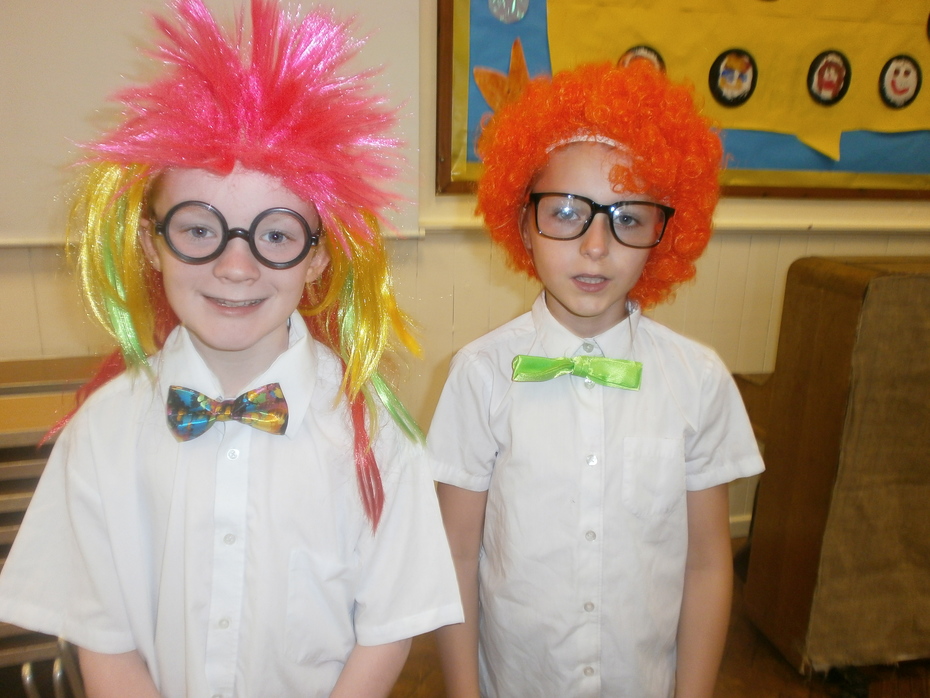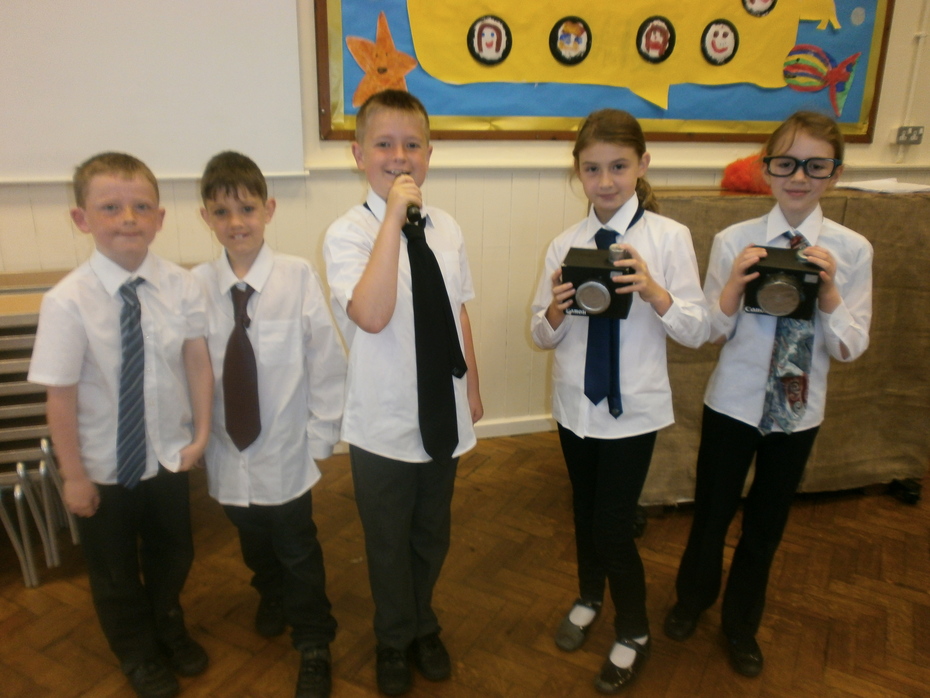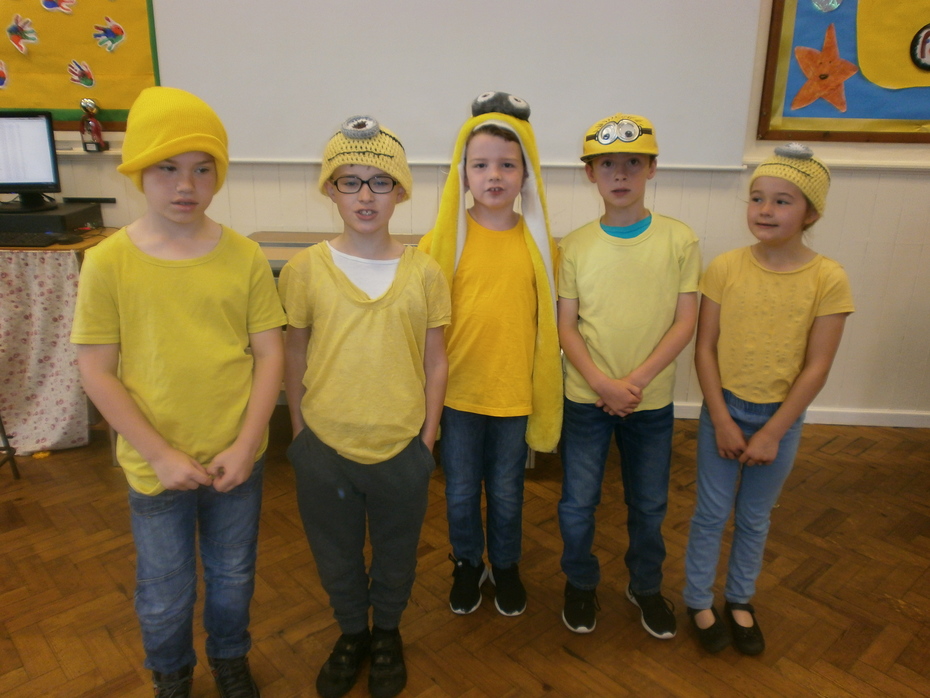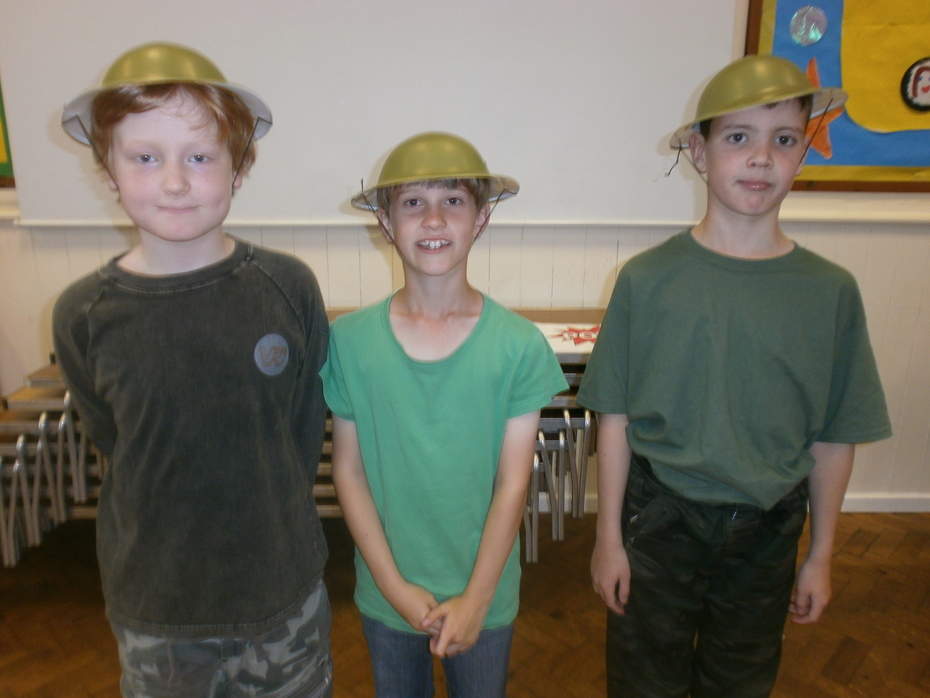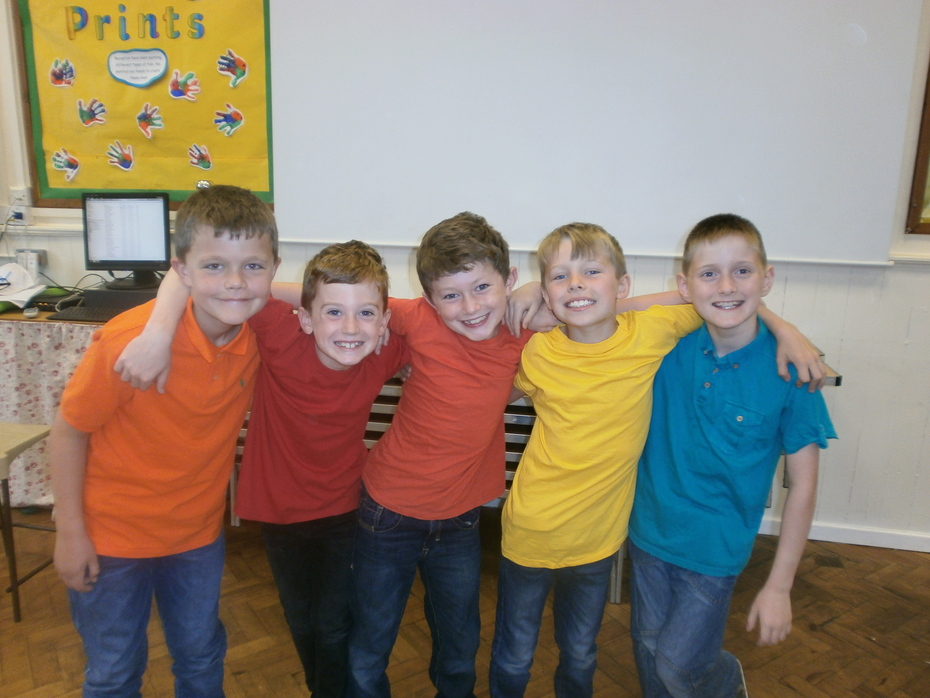 The topic for our Summer term is Anglo- Saxons.
We visited Tatton Park for an Anglo- Saxon day. We wore cloaks fastened with the badges we made. We made Anglo- Saxon bread and learned how to use a shield. It was lots of fun!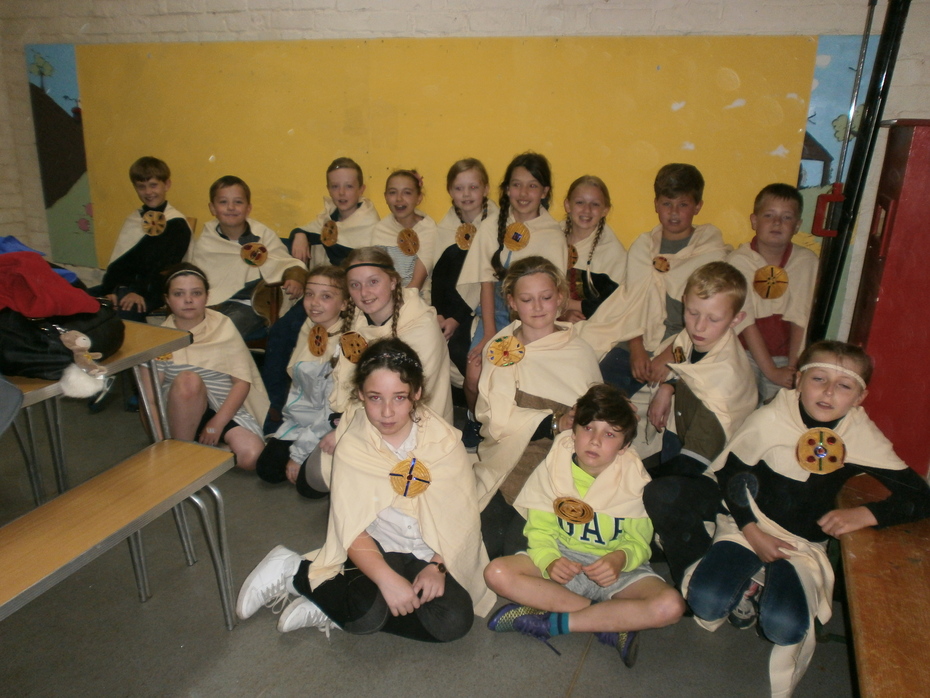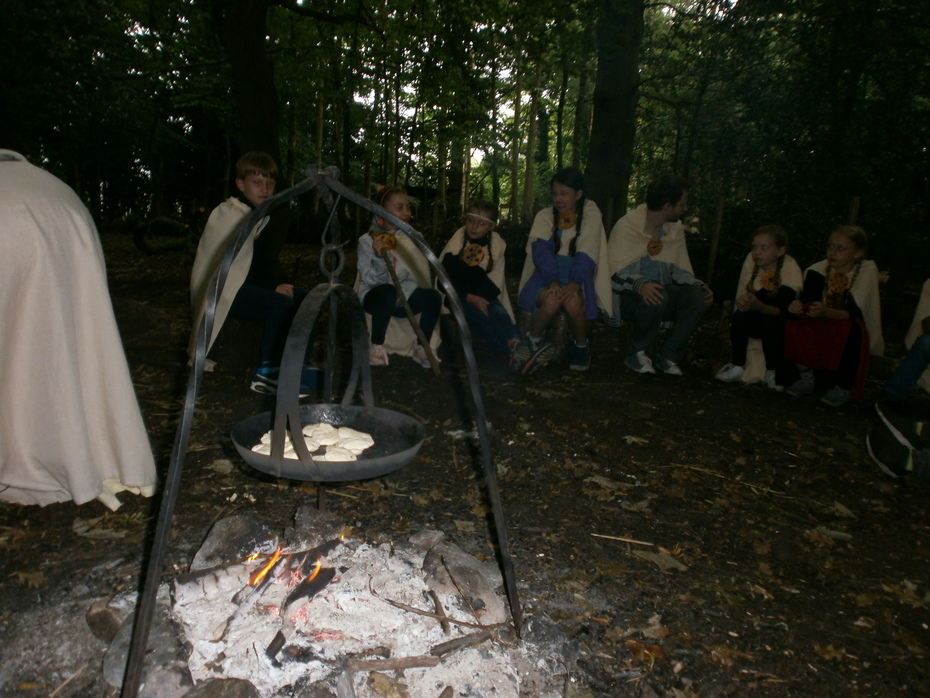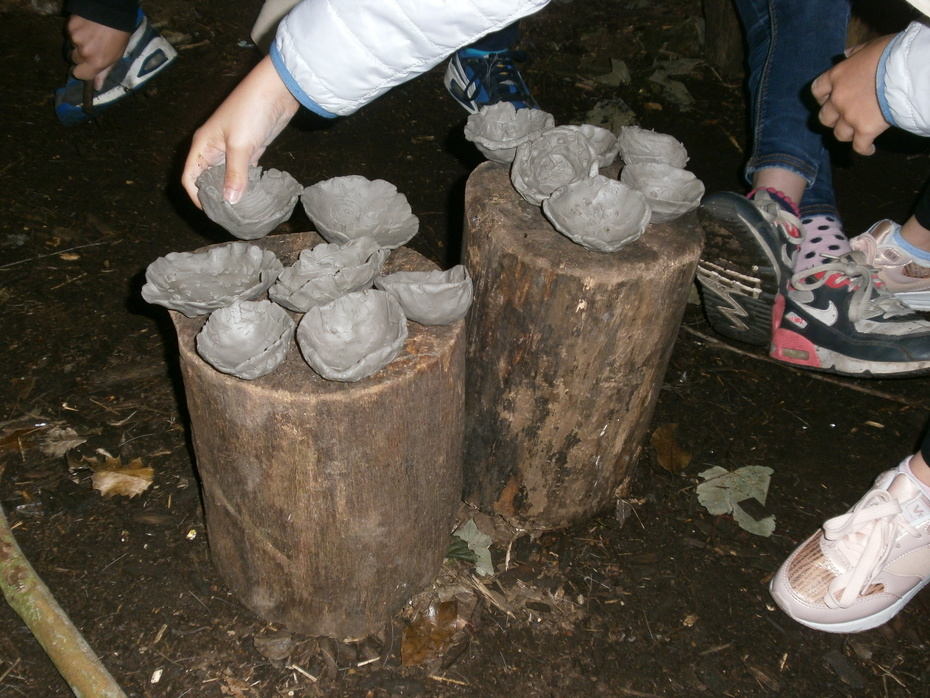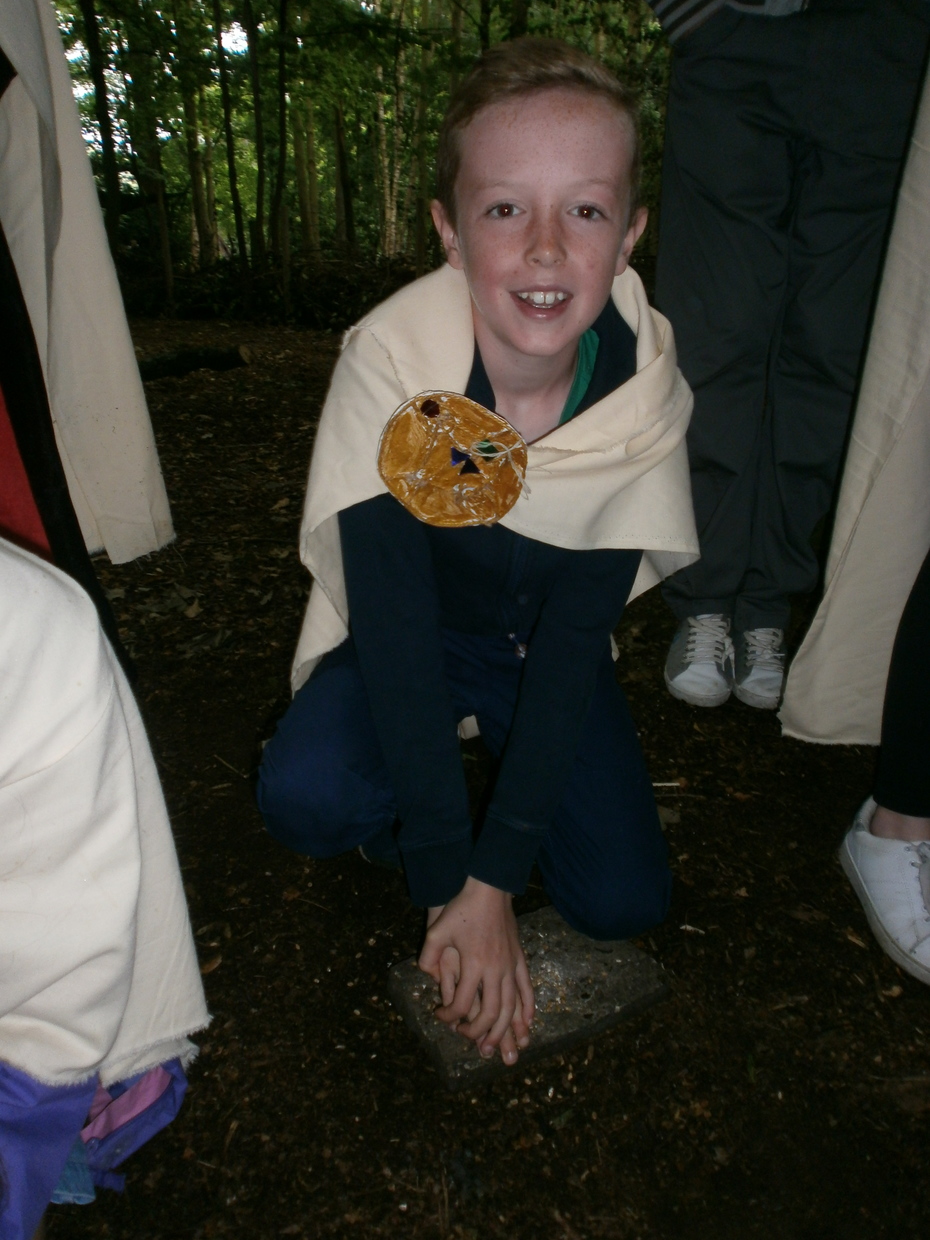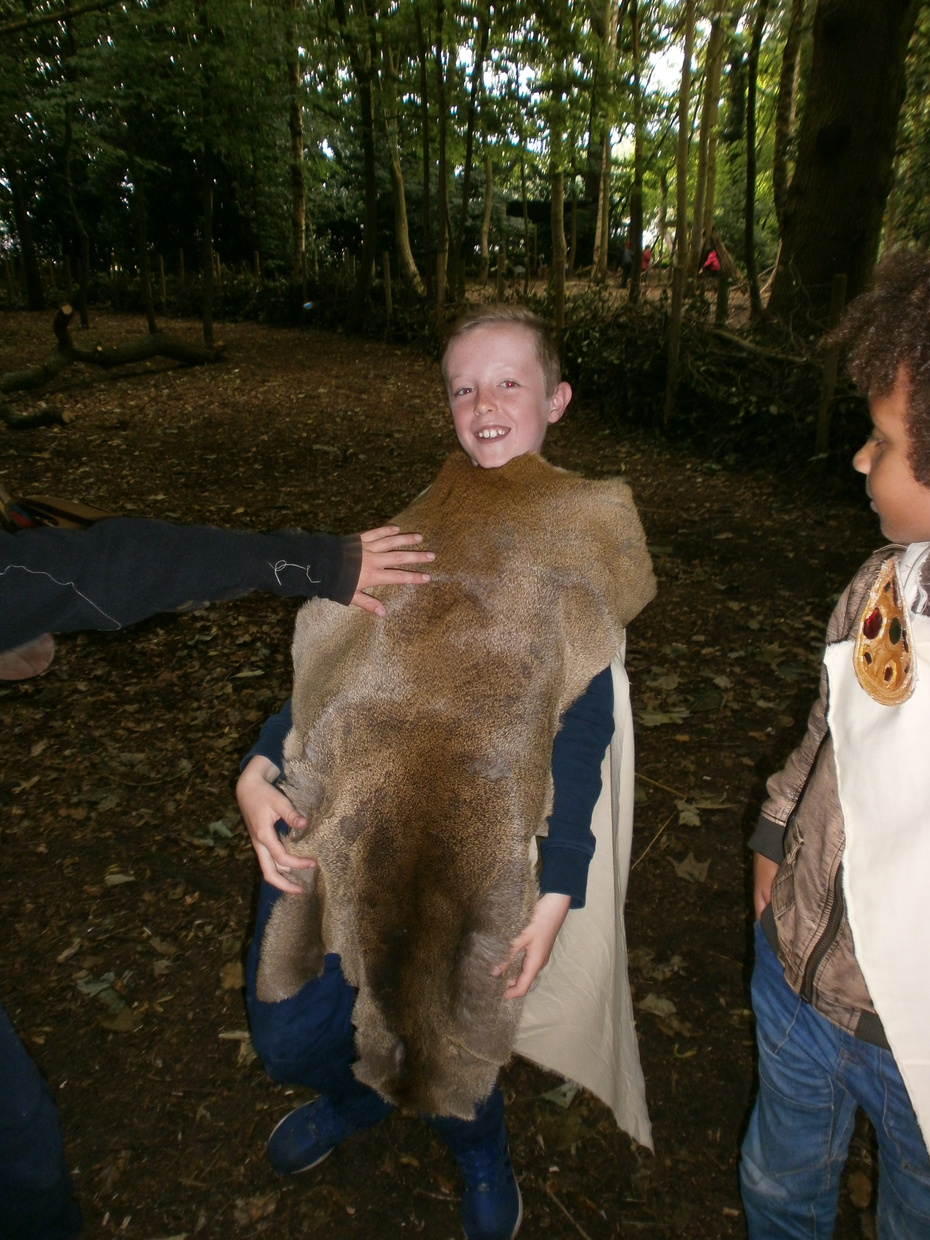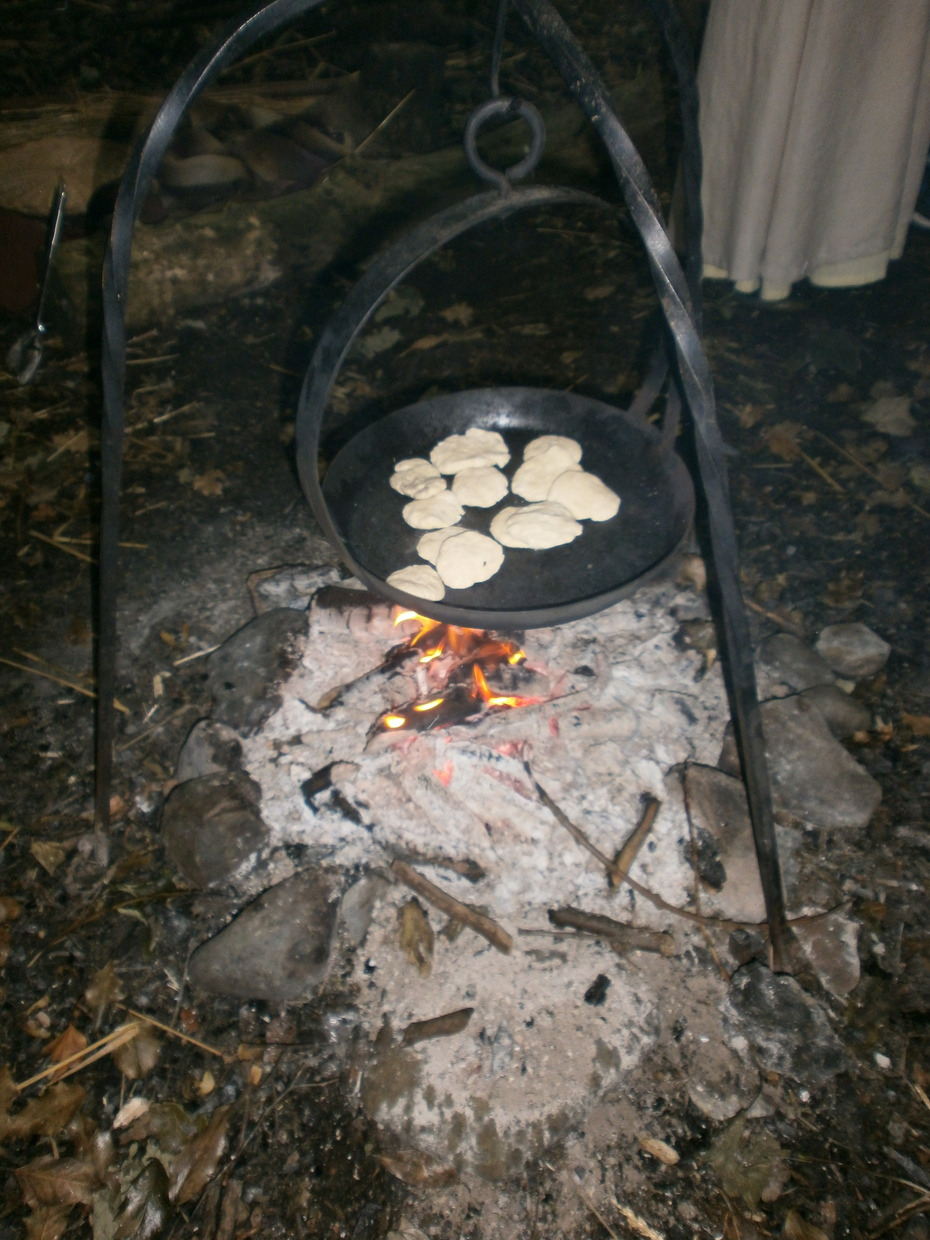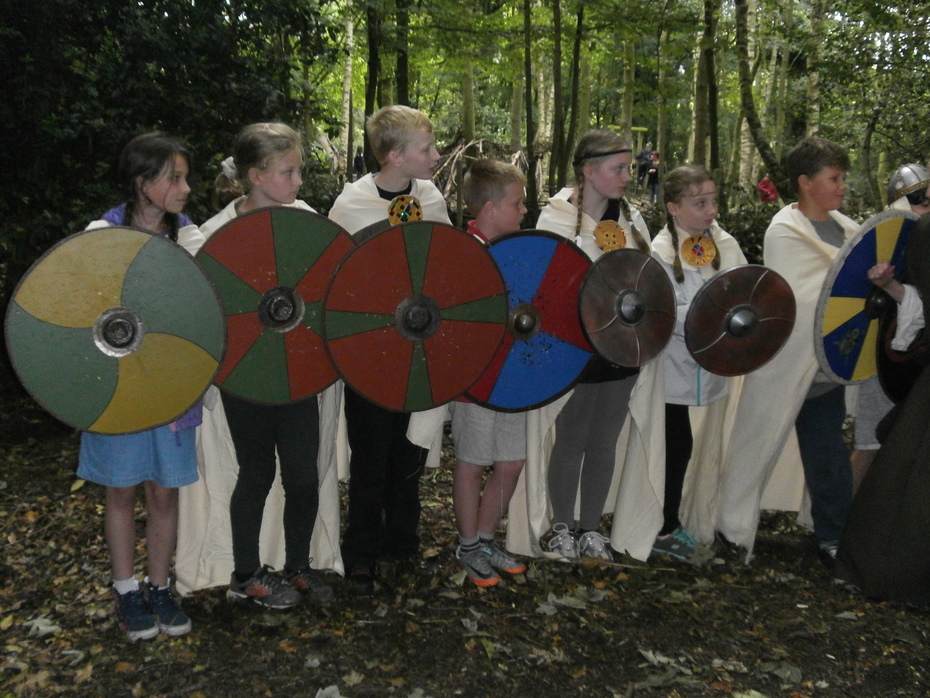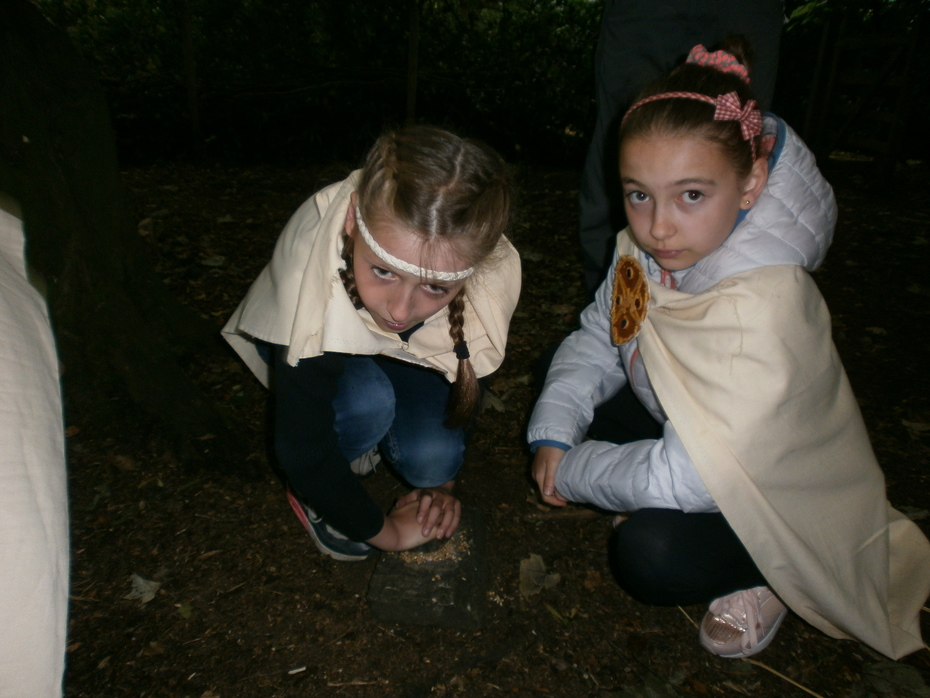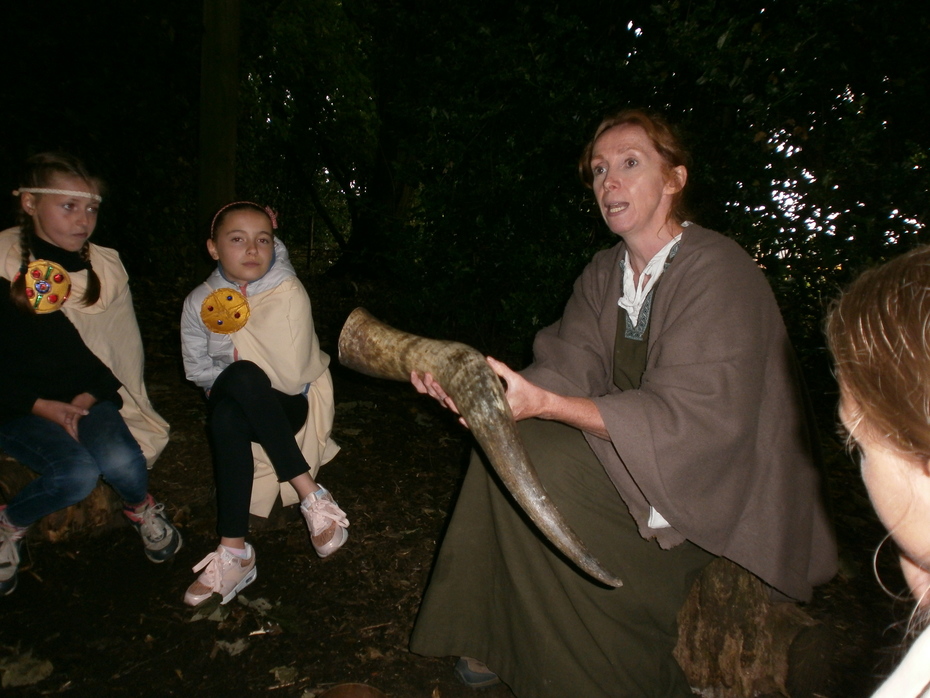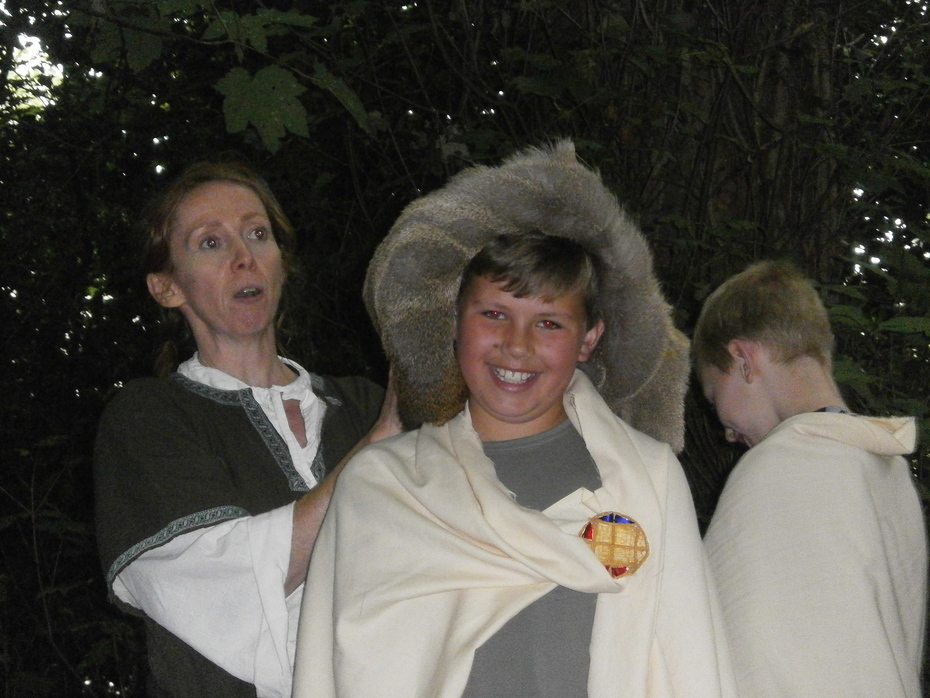 We have made fearsome Anglo-Saxon warrior collages:
Our annual visit to Whitehall was a success. The children really benefitted from time away from home to be independent and develop team work. We shared the hall with Thornsett and Hayfield schools which enabled the children to mix with those they will be meeting at secondary school.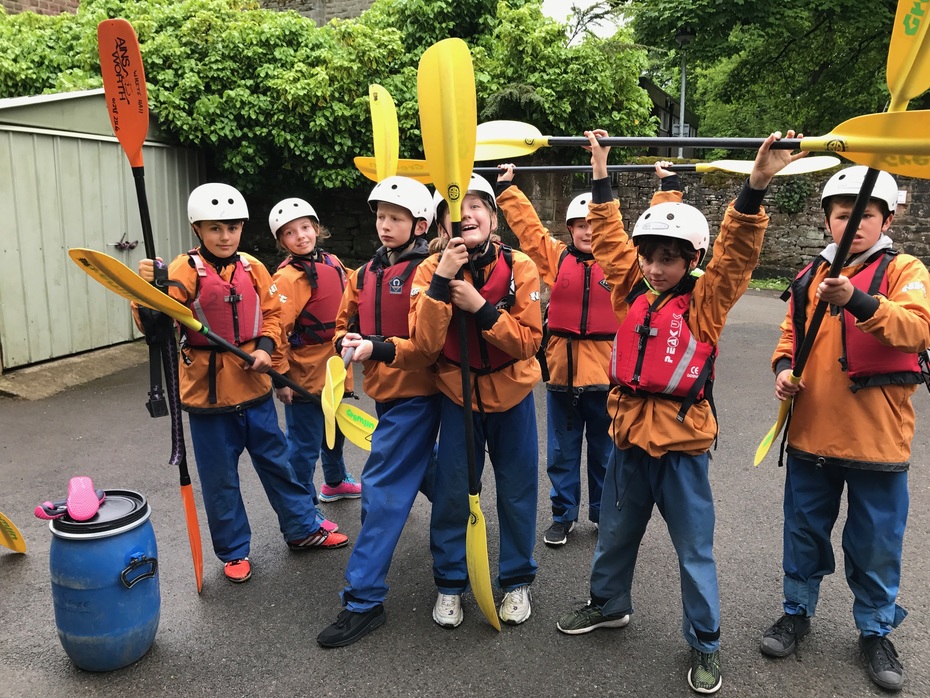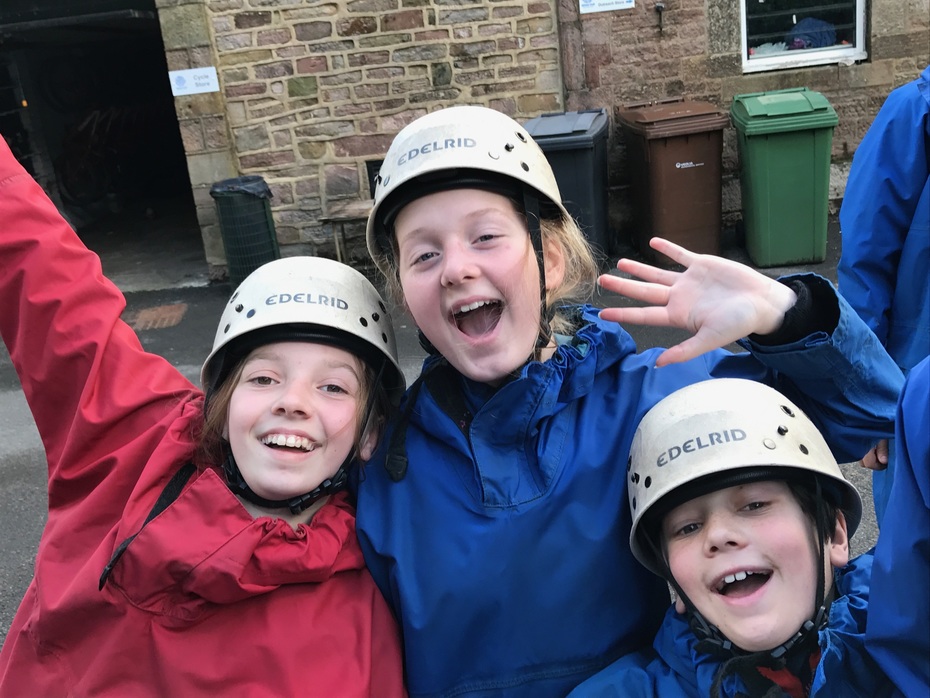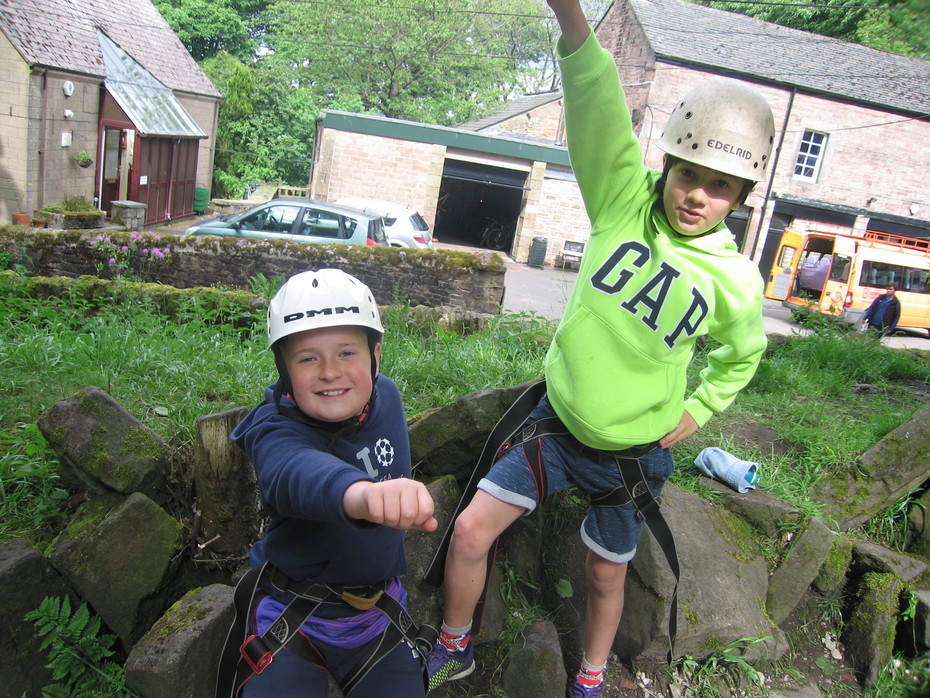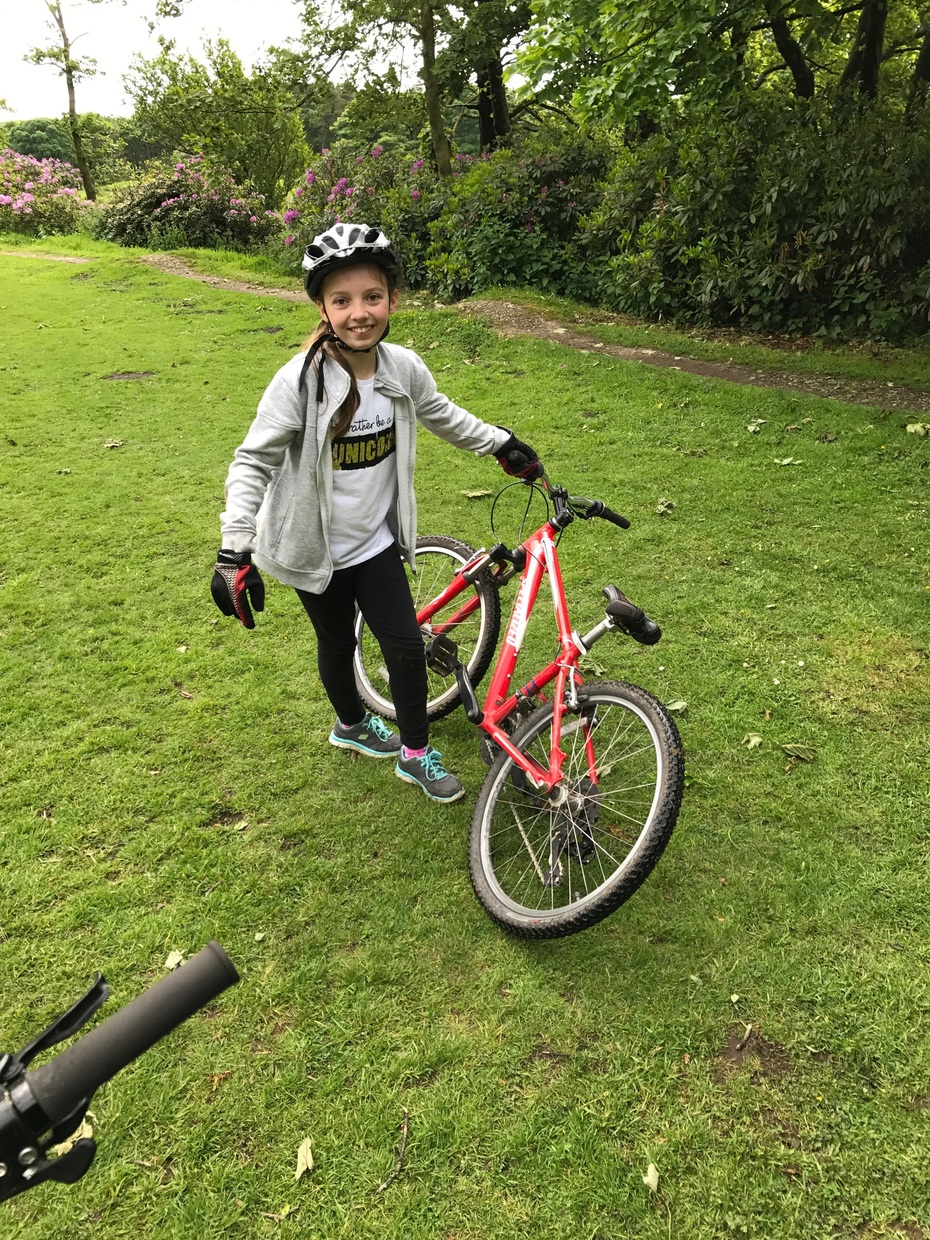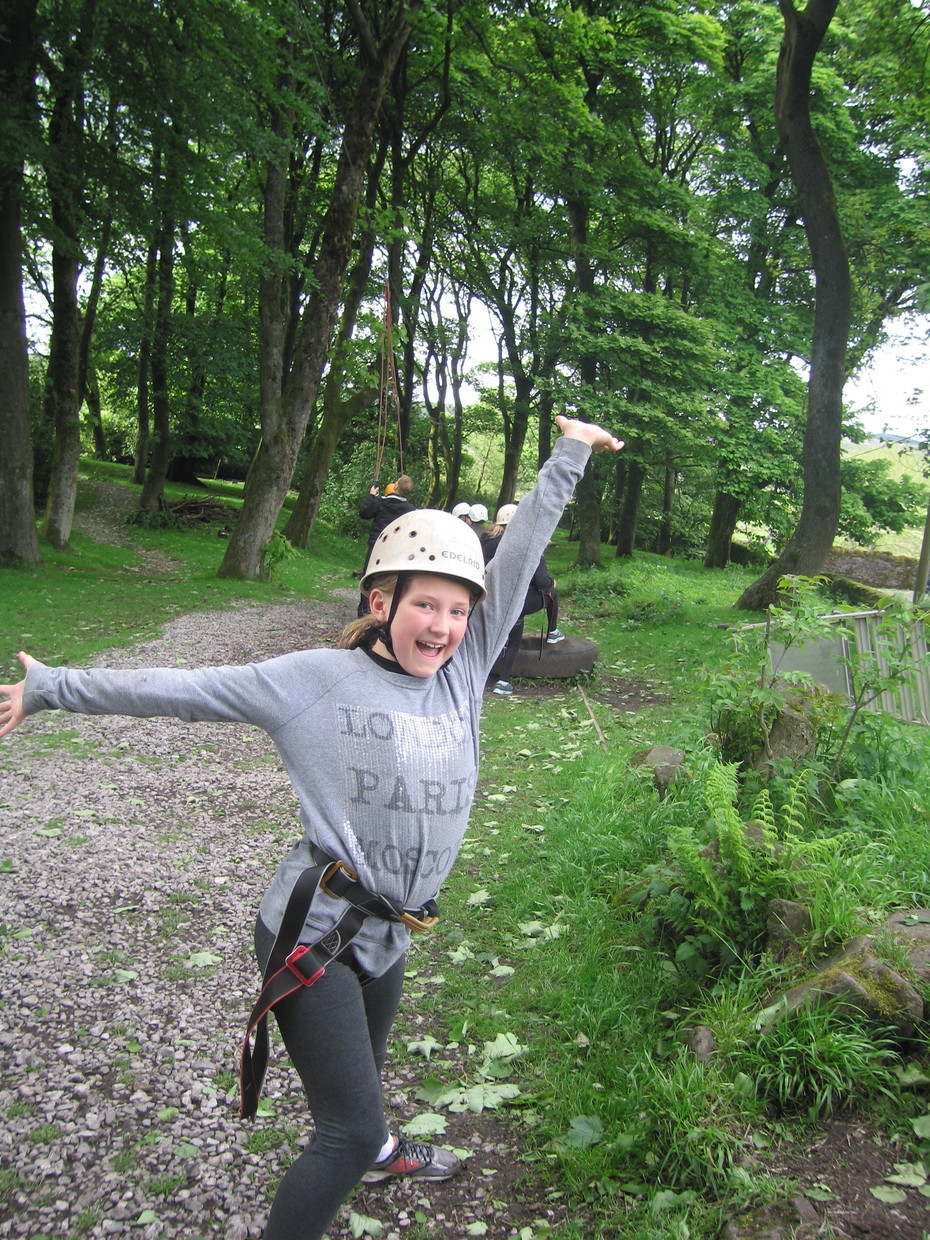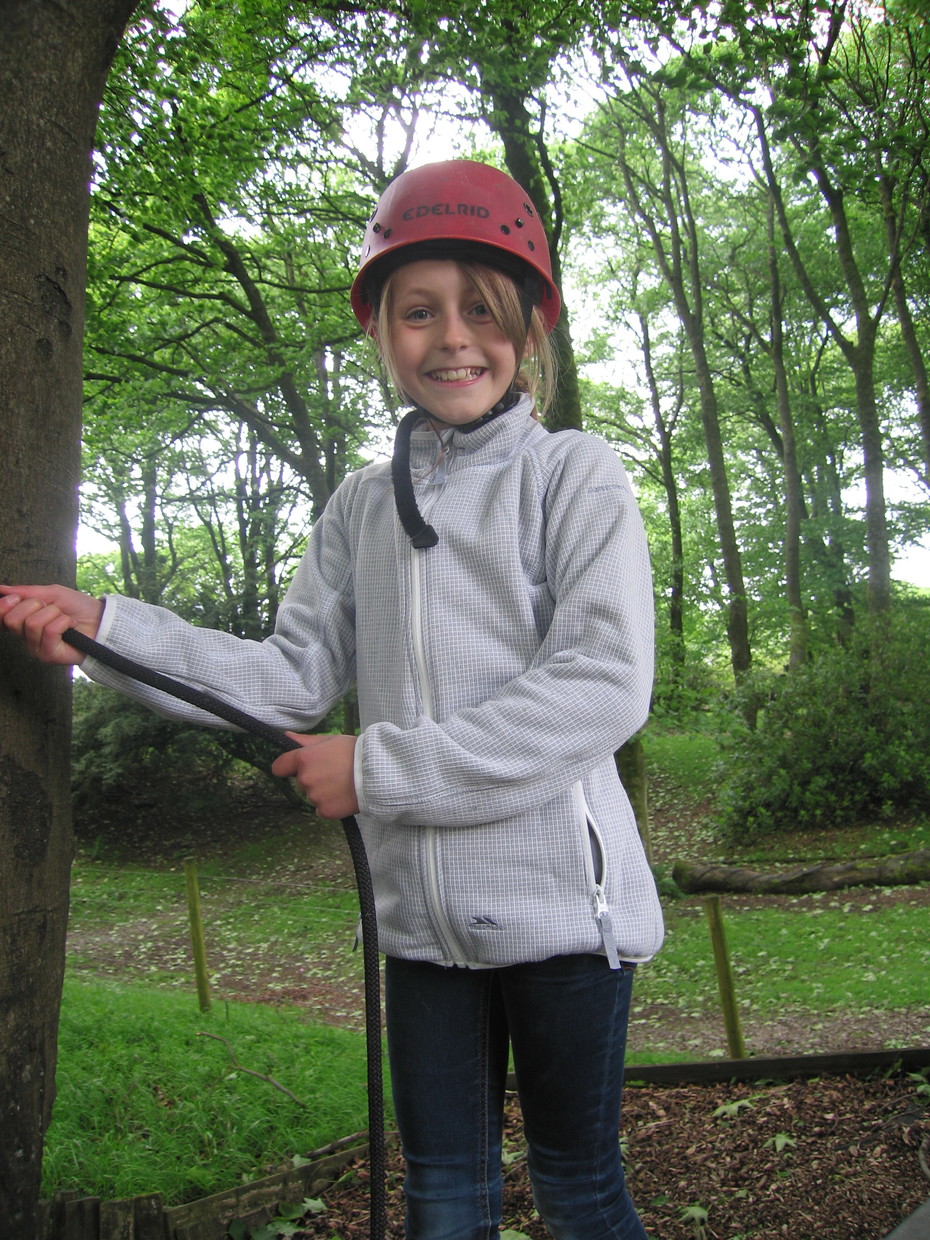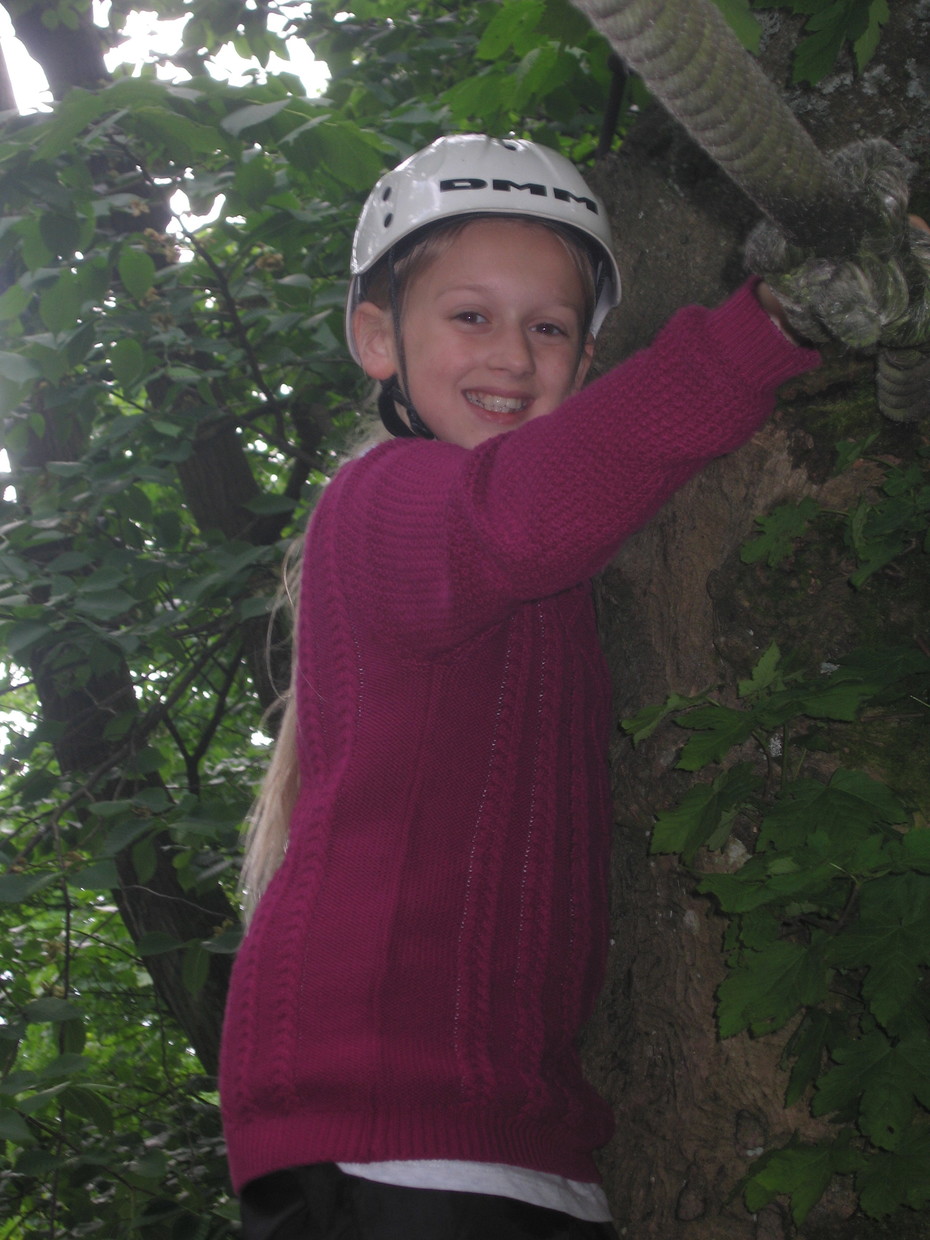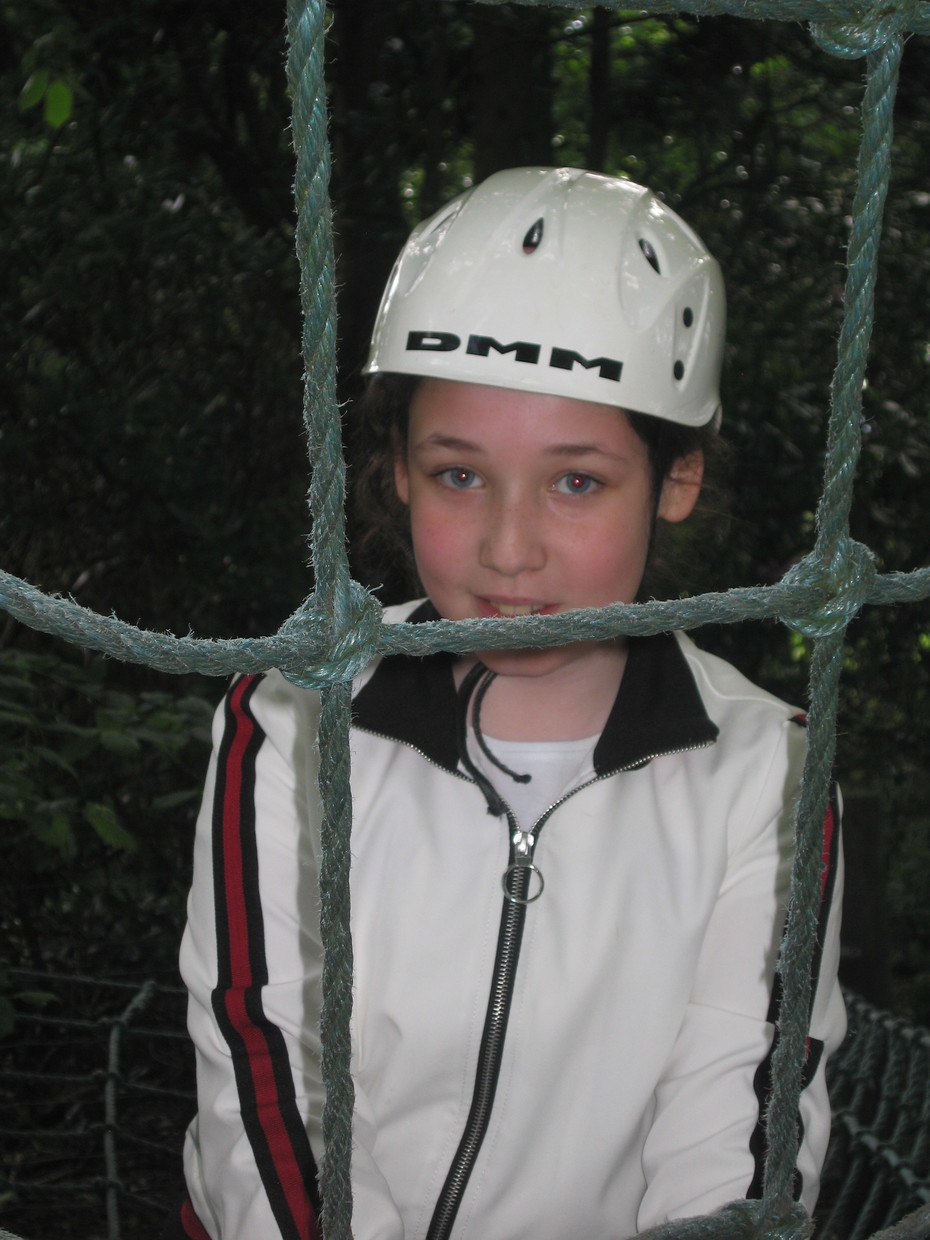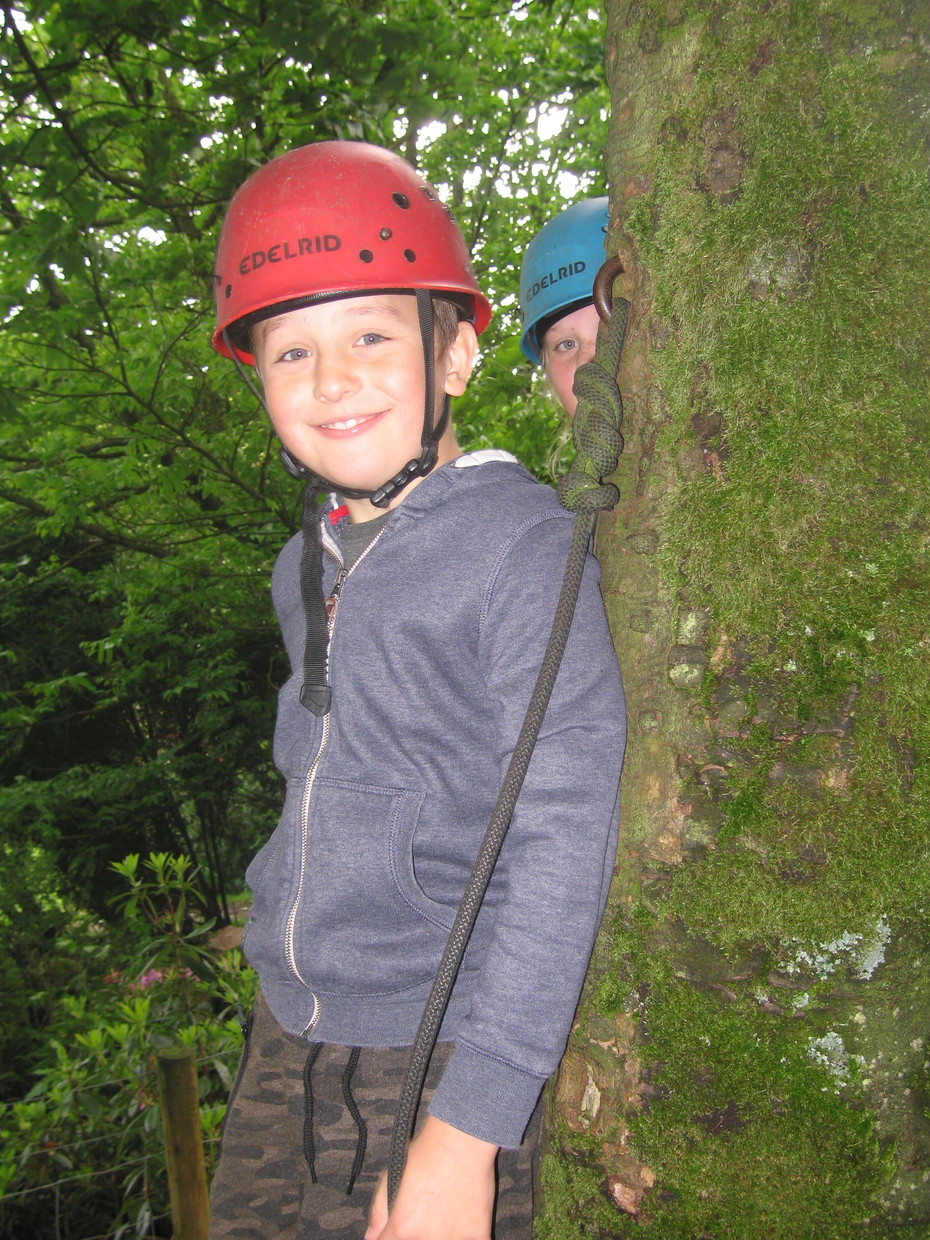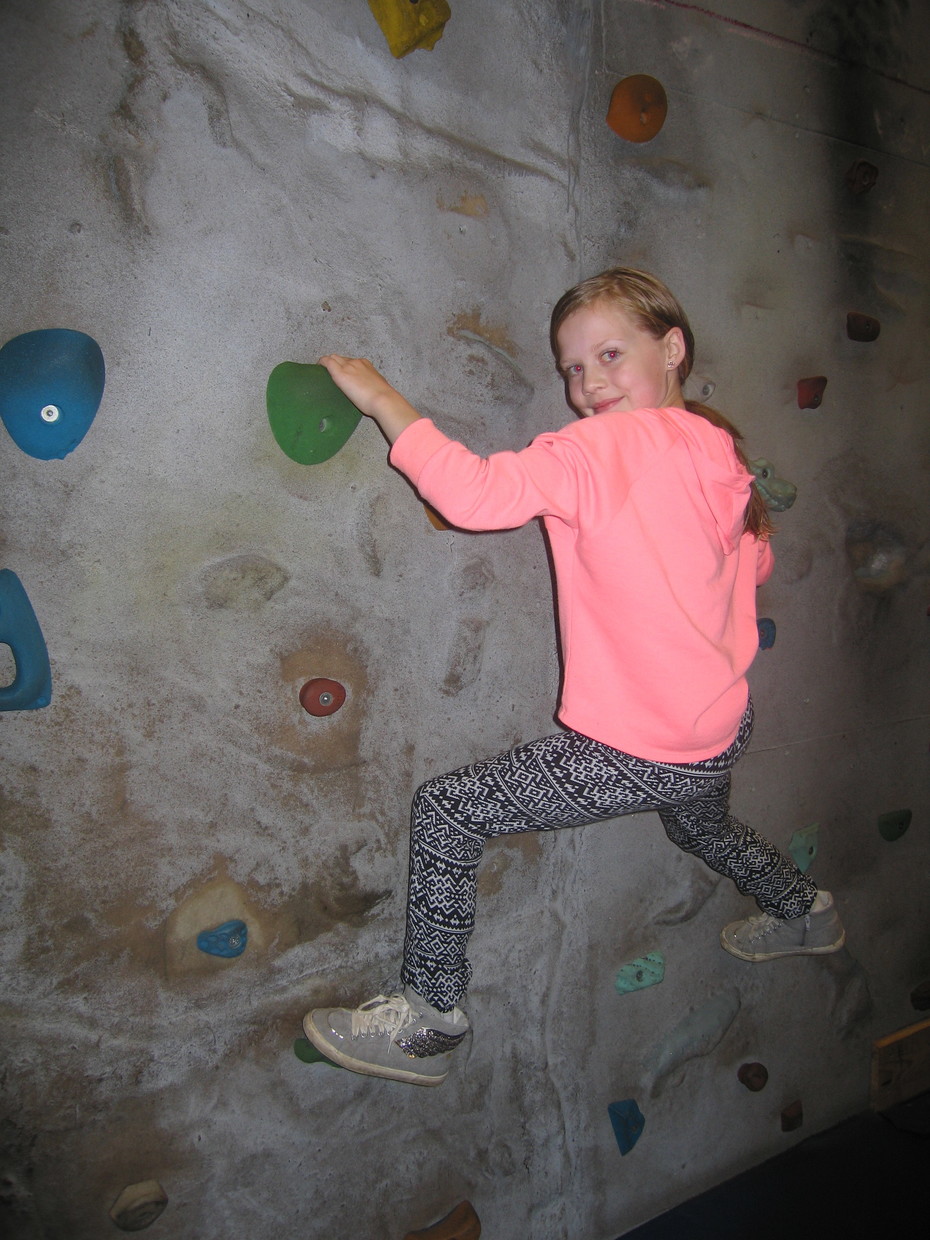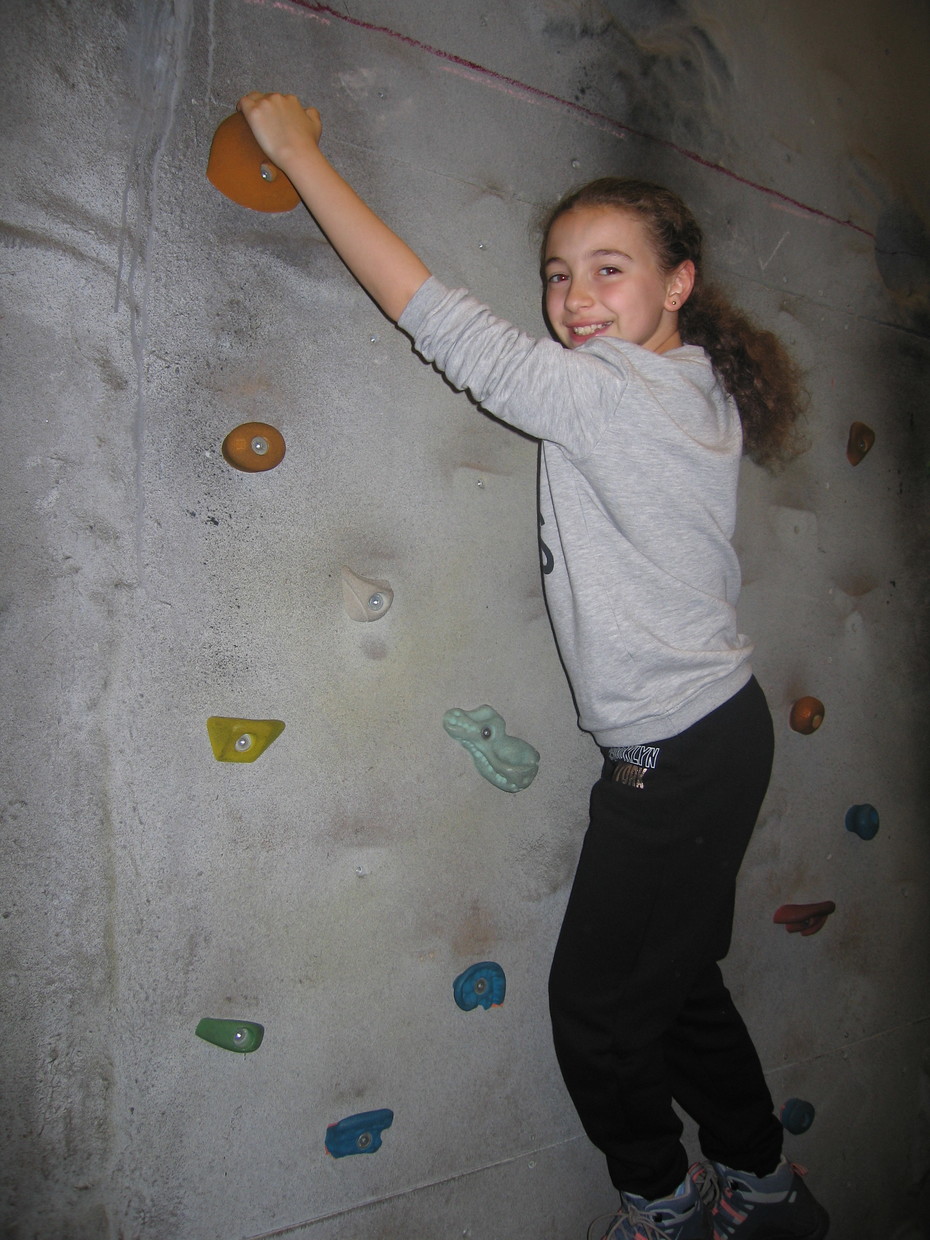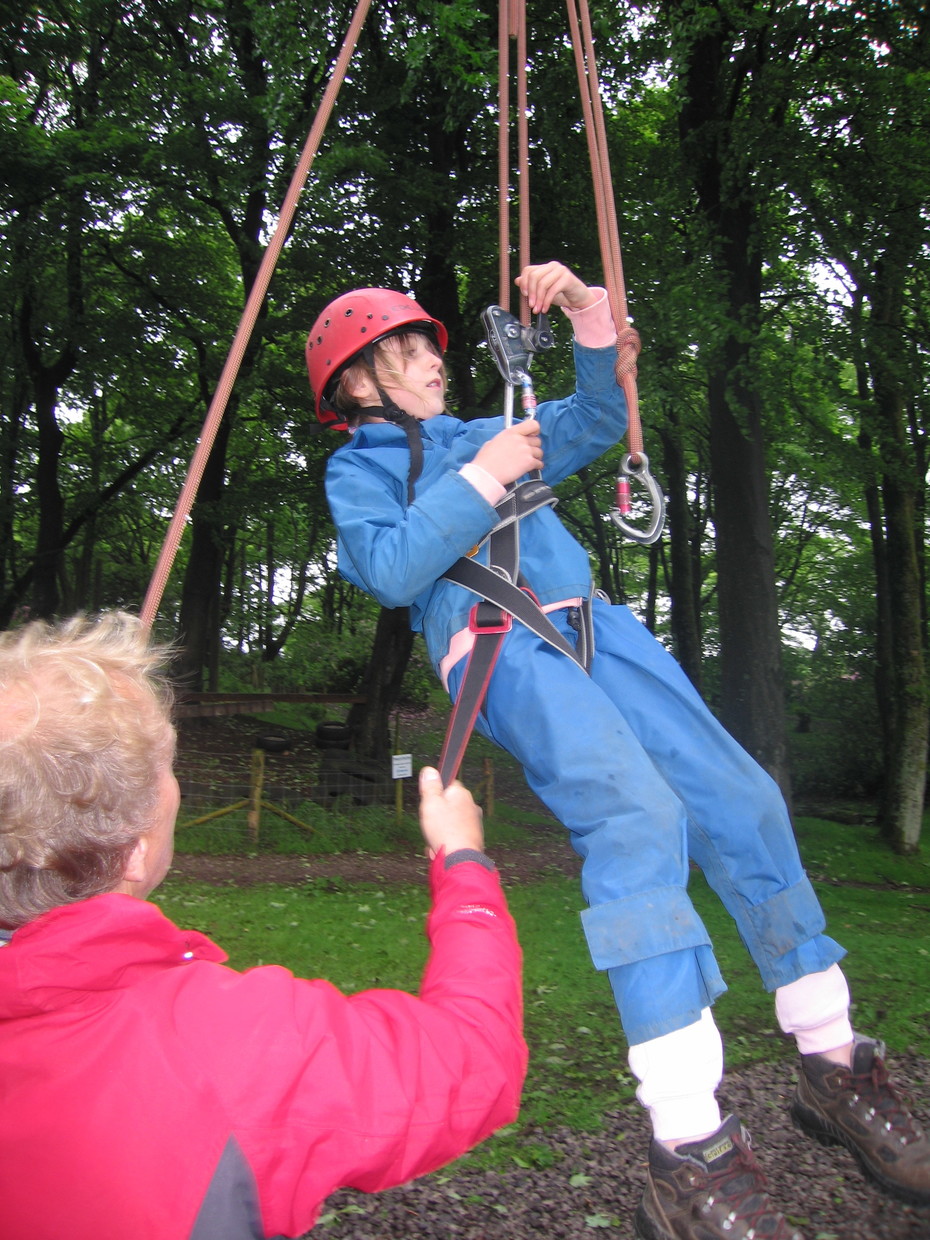 The topic for our Spring term was Mountains. Here are some of the things we have done:
We are enjoying visits from Dr Irving who is a parent and a governor. He has a lot of knowledge about mountains which he has been sharing with us!
Spring Term:
6th April
Today we had a visit from 'Loudmouth' as part of our ongoing Safeguarding education. The workshop focussed on different kinds of bullying and what the children can do if they feel they are being bullied or see bullying happening.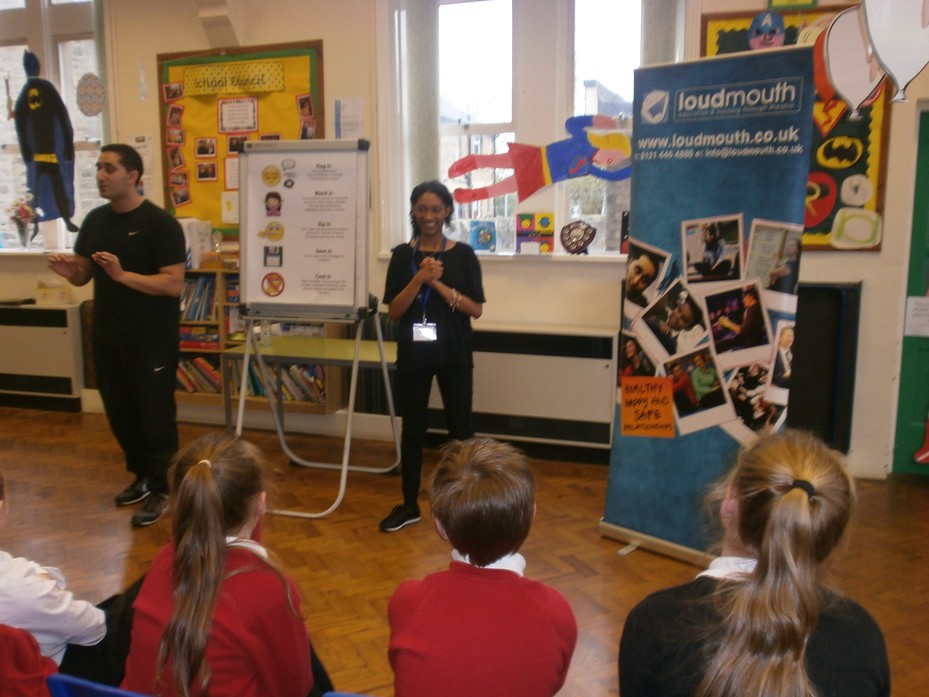 5th April
It was our exciting Easter eggstravaganza. Egg decorating competition in the morning and House Easter themed activities in the afternoon. Here are some of our egg models: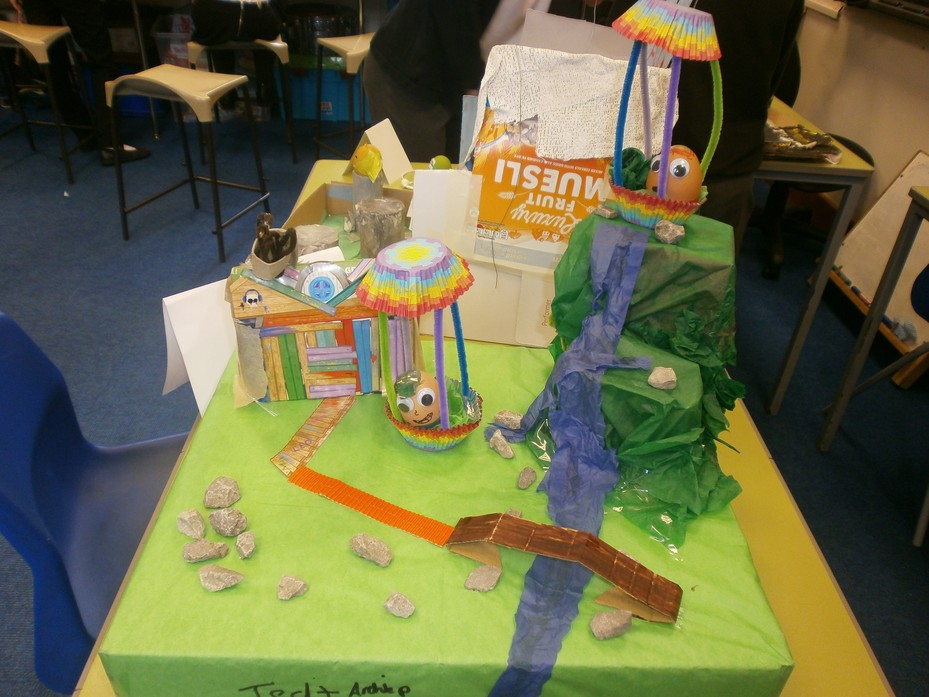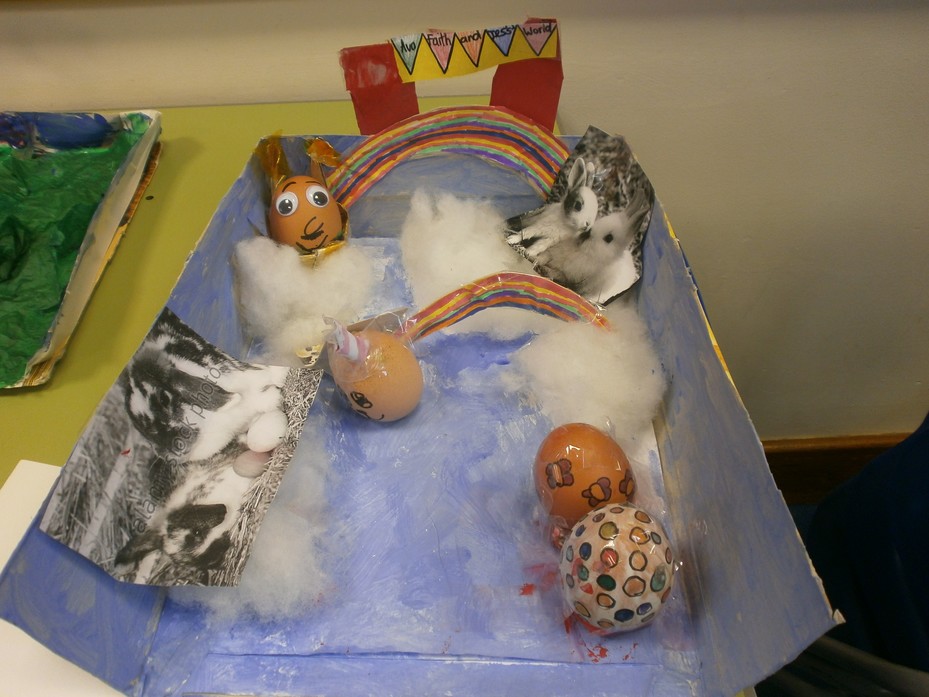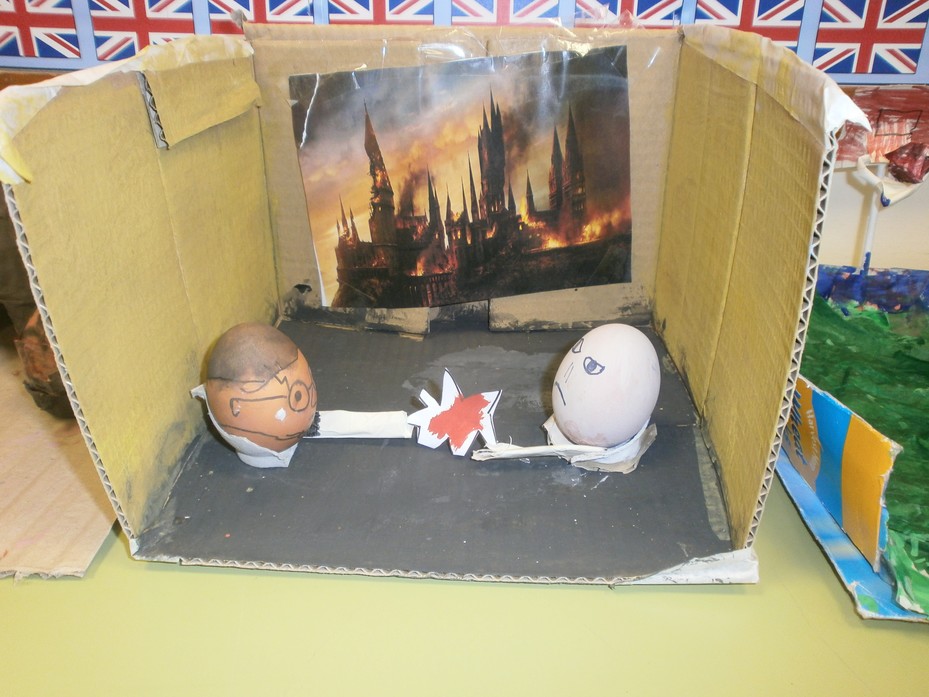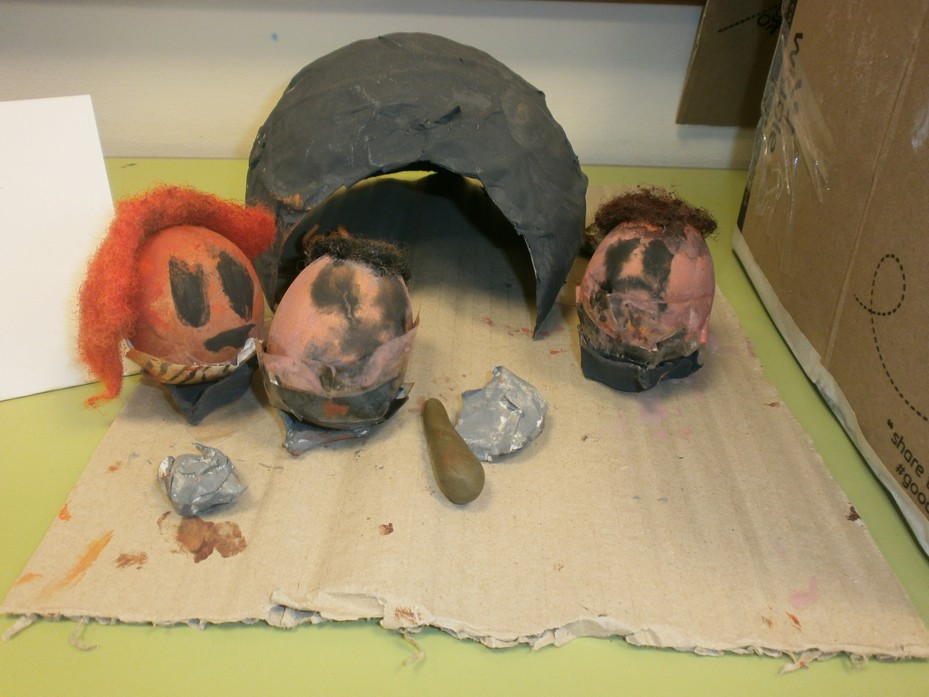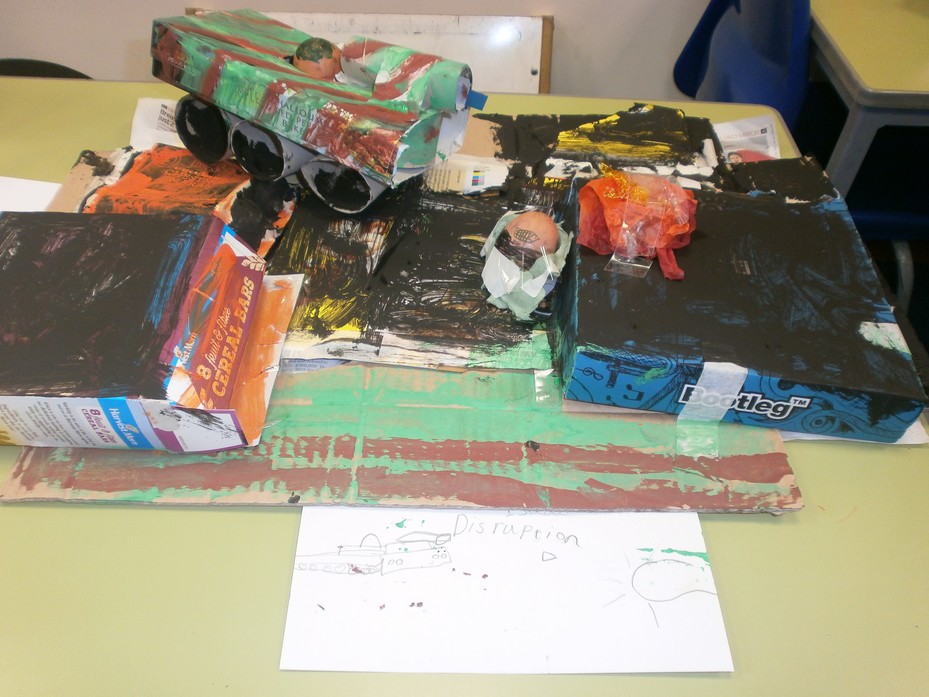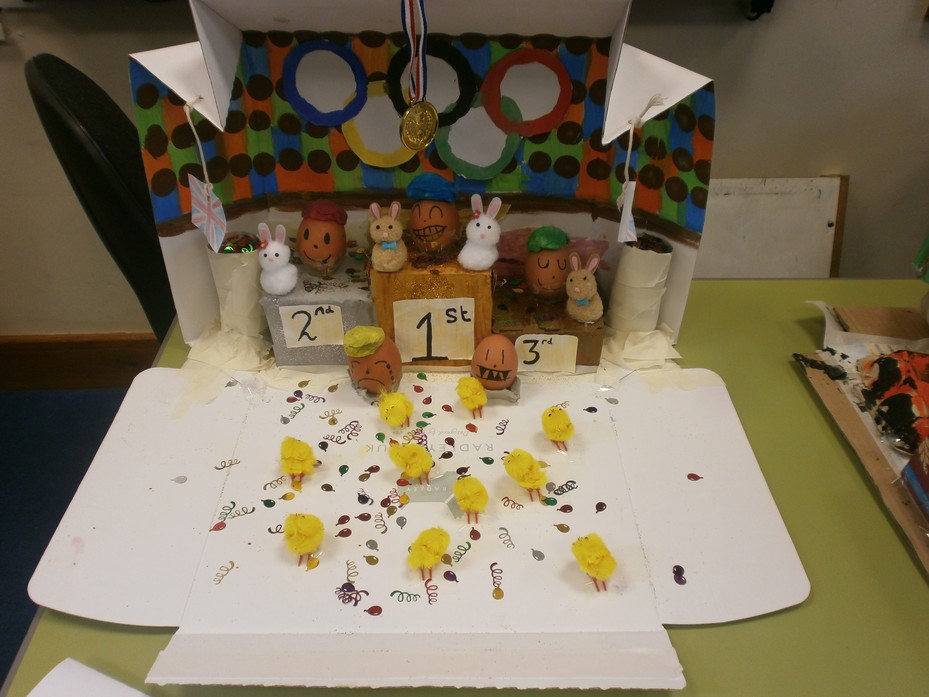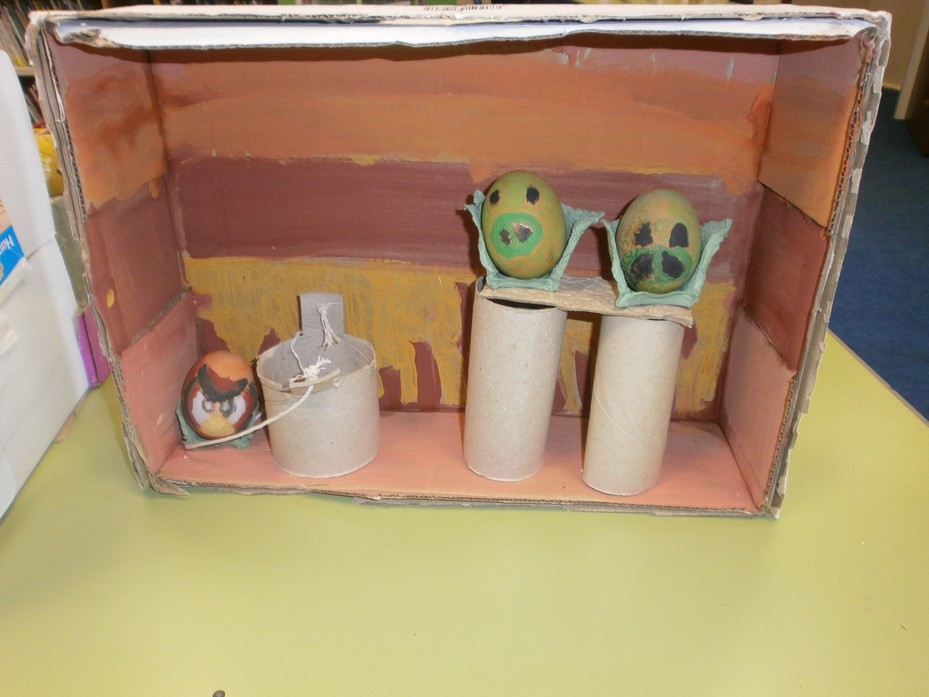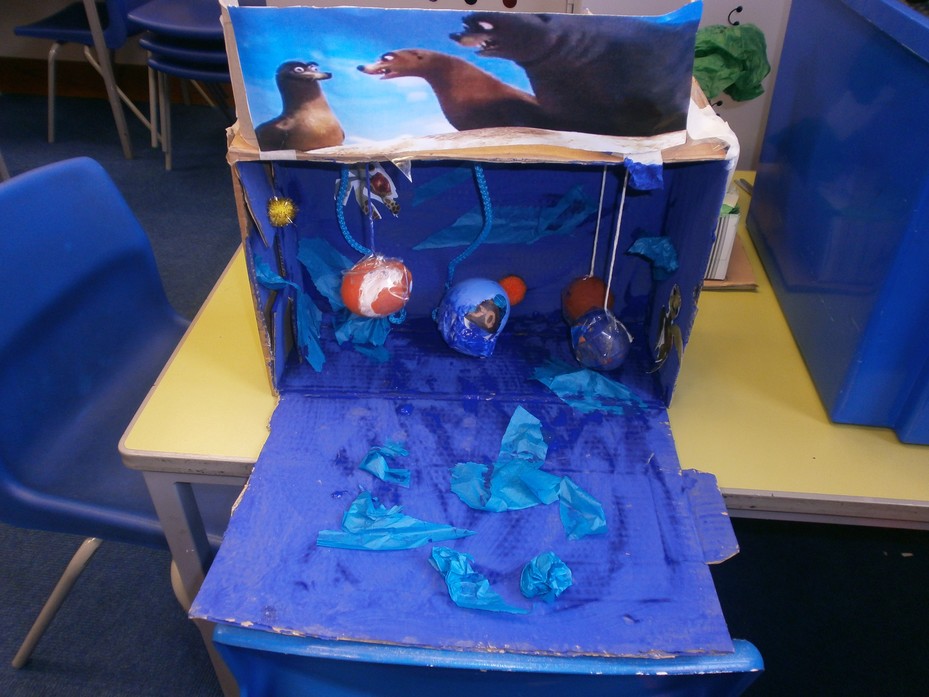 We have been working on a TASC activity to make a mountain scene. Here are some of our models: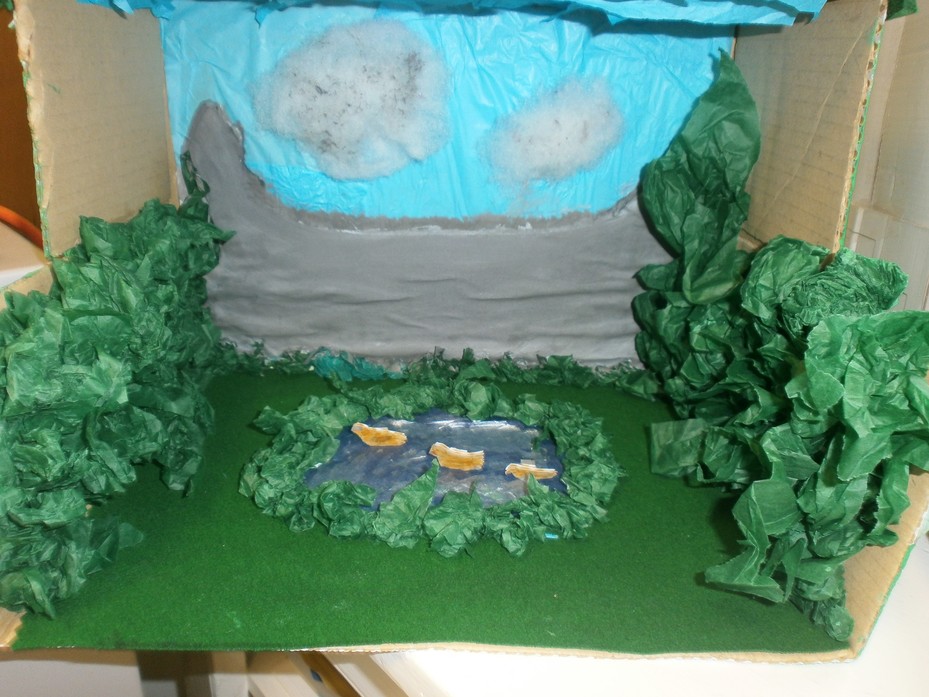 Wednesday 29th March. Mr Kirkman is working in our class at the moment. He showed the children how to make origami birds this afternoon. It was really tricky!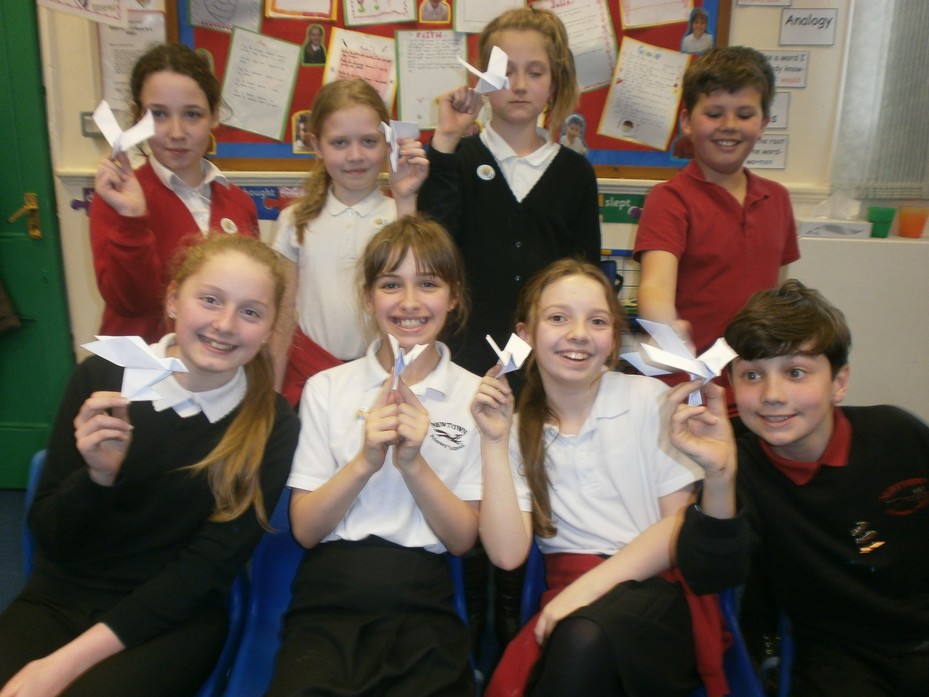 Wednesday 22nd March. Some of our Year 5 children took part in the PEGS High 5 Netball tournament. They played really well together as a team and are through to the next round!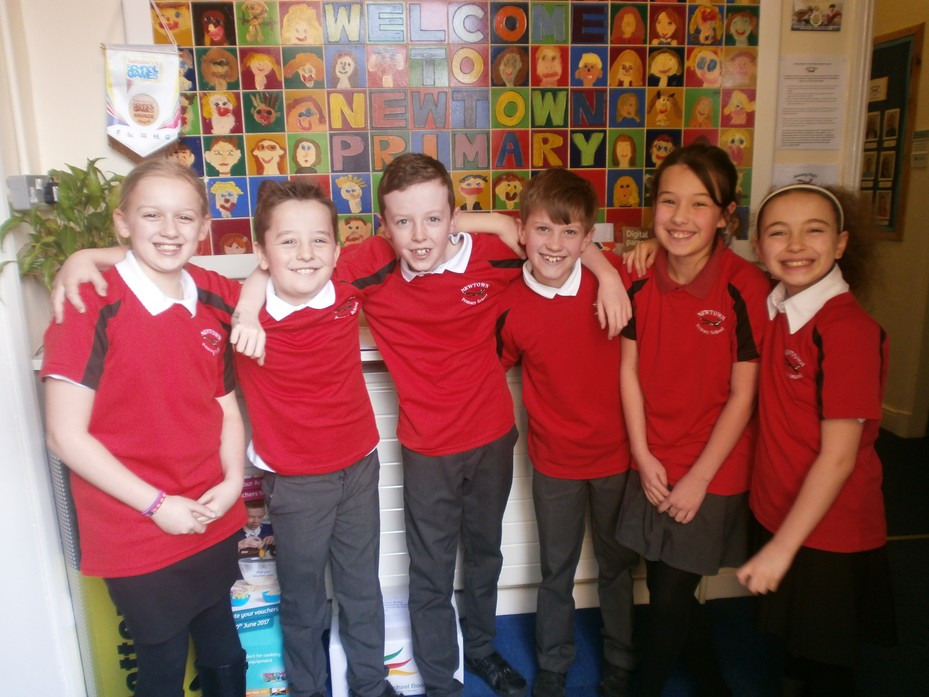 Wednesday 8th March
We had visitors this afternoon who led an anti- smoking workshop. This gave the children lots of information about smoking and its effects. It also equipped the children with strategies to help with saying no to cigarettes.
March. We are working on an exciting joint project with Class 3 from Thornsett Primary School where Mr Parry is also Headteacher. We are working towards taking part in the ''Bloodhound' rocket car competition.
Our first meeting was at Newtown where the children got to know each other by taking in a 'Who Dunnit?' style challenge.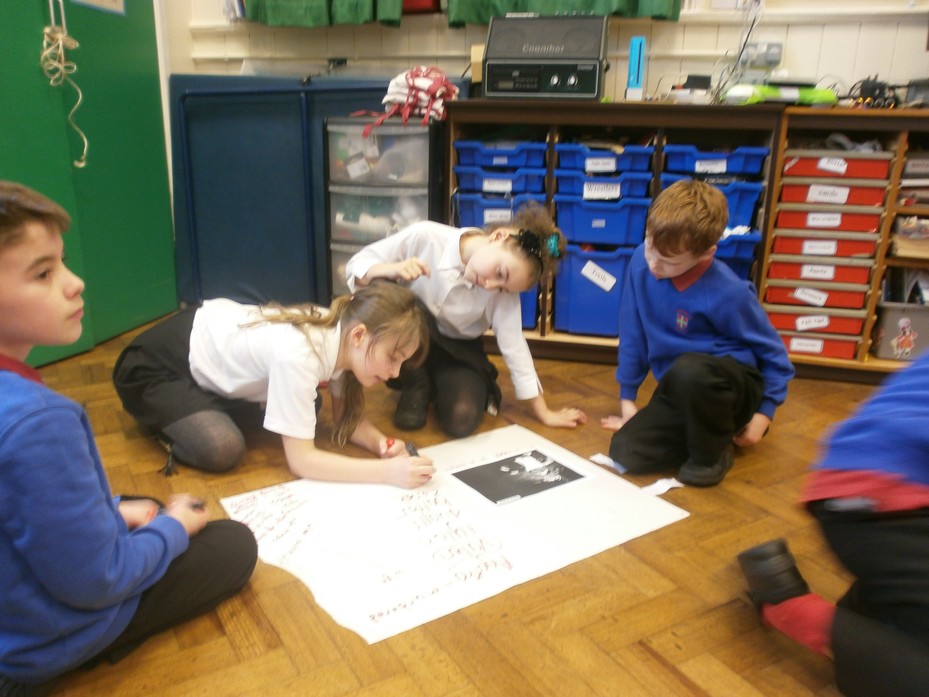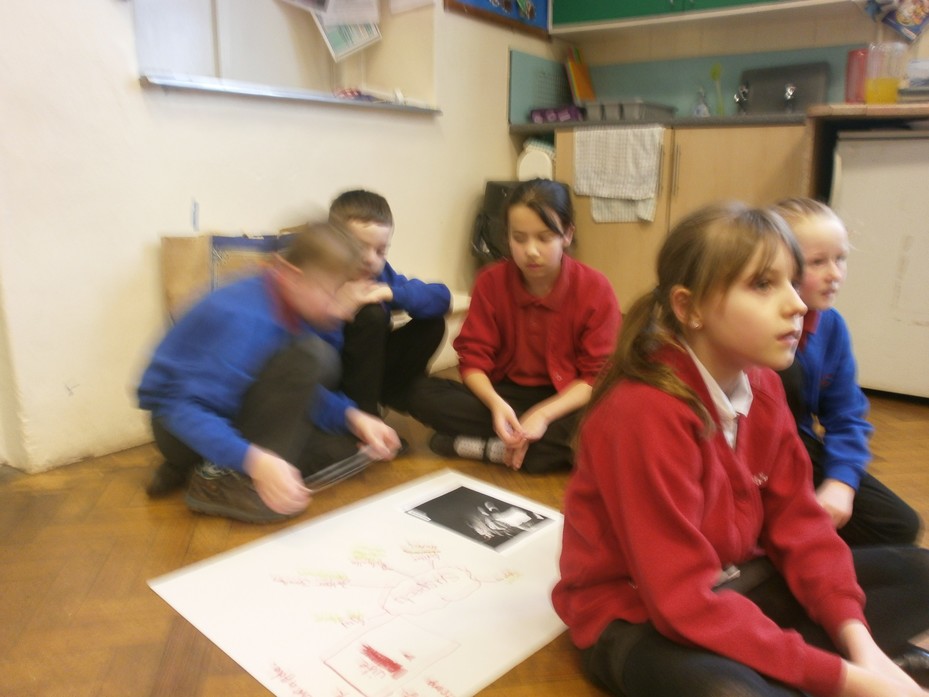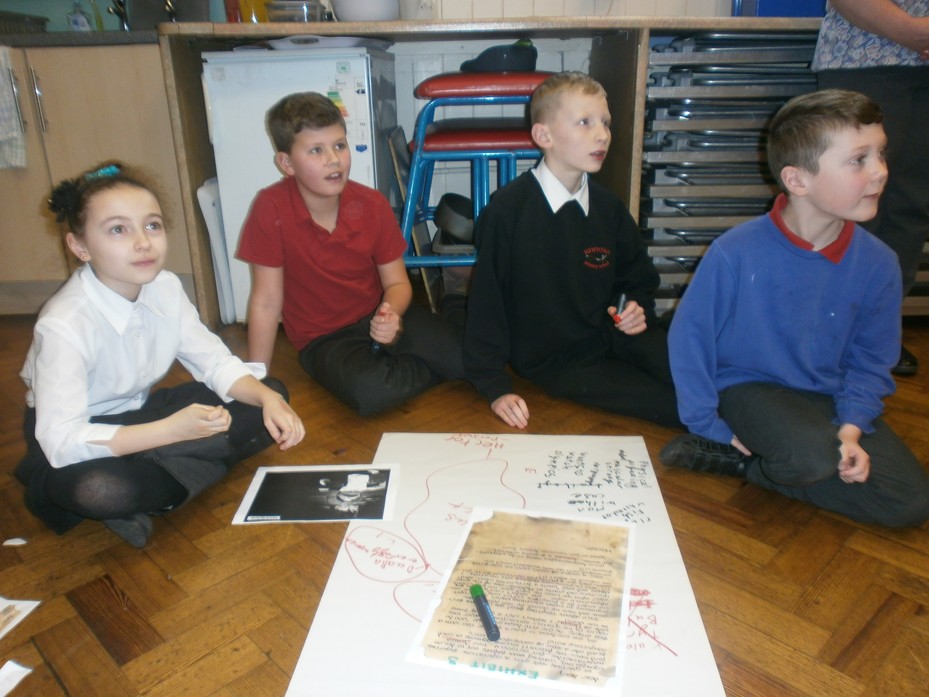 Our second meeting on Thursday 2nd March was at the Adult Education Centre in New Mills. We worked in groups to investigate aerodynamics, designed cars and made a prototype. We used lots of maths in different ways today!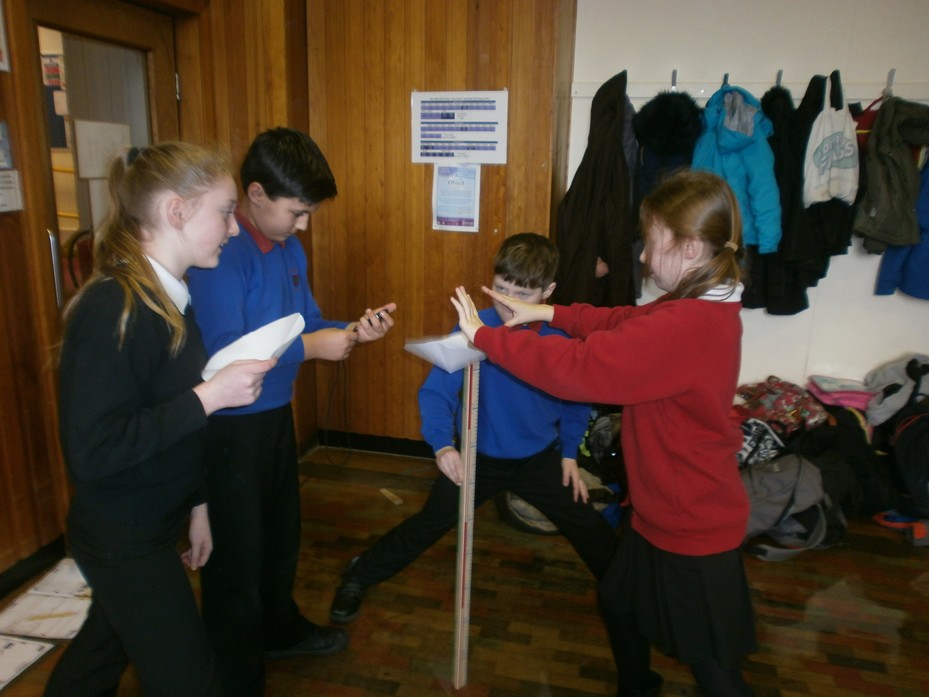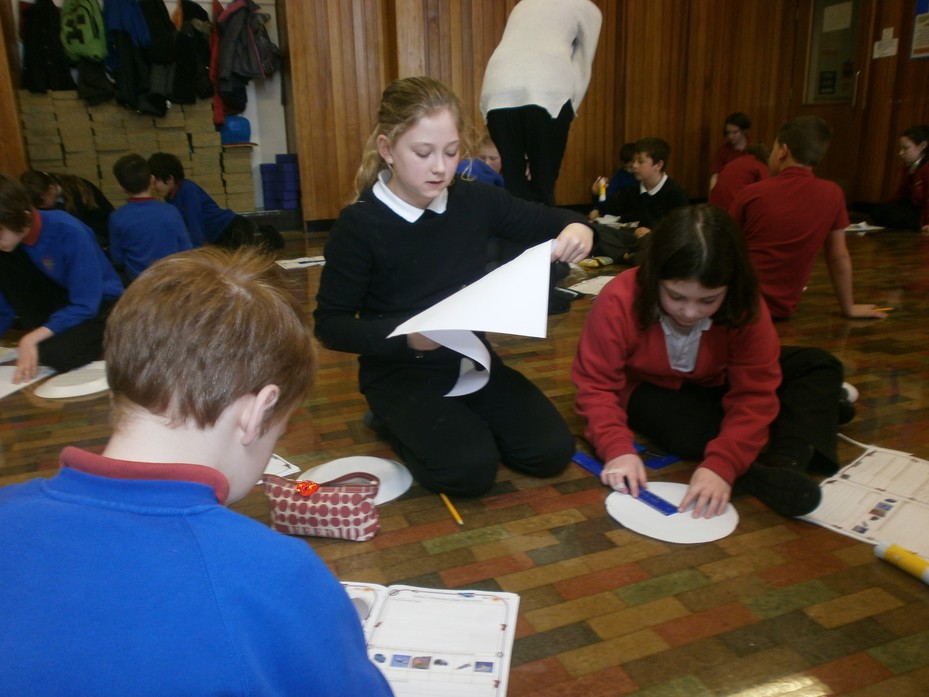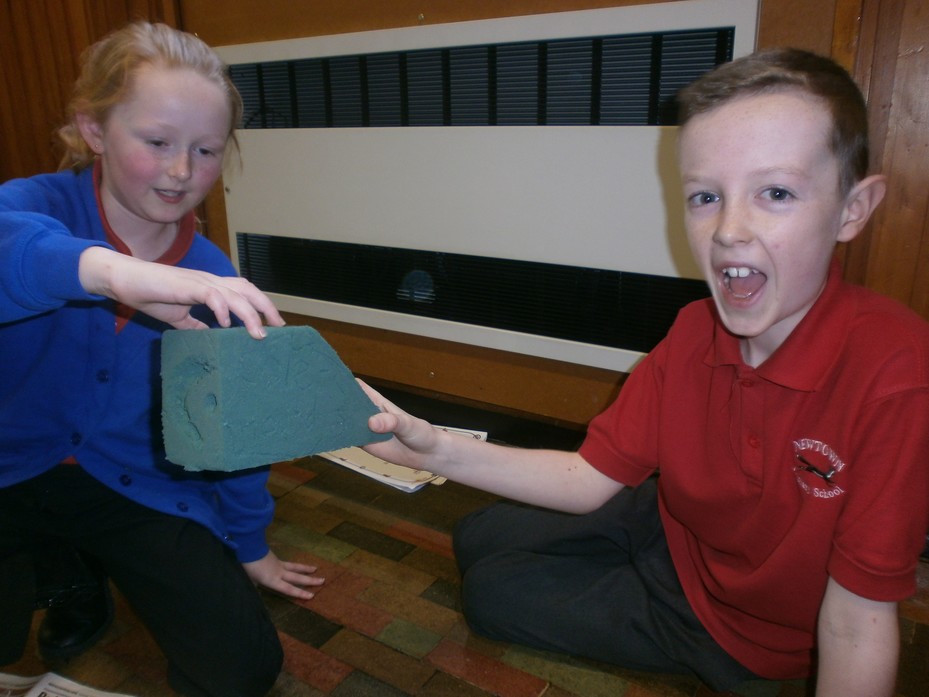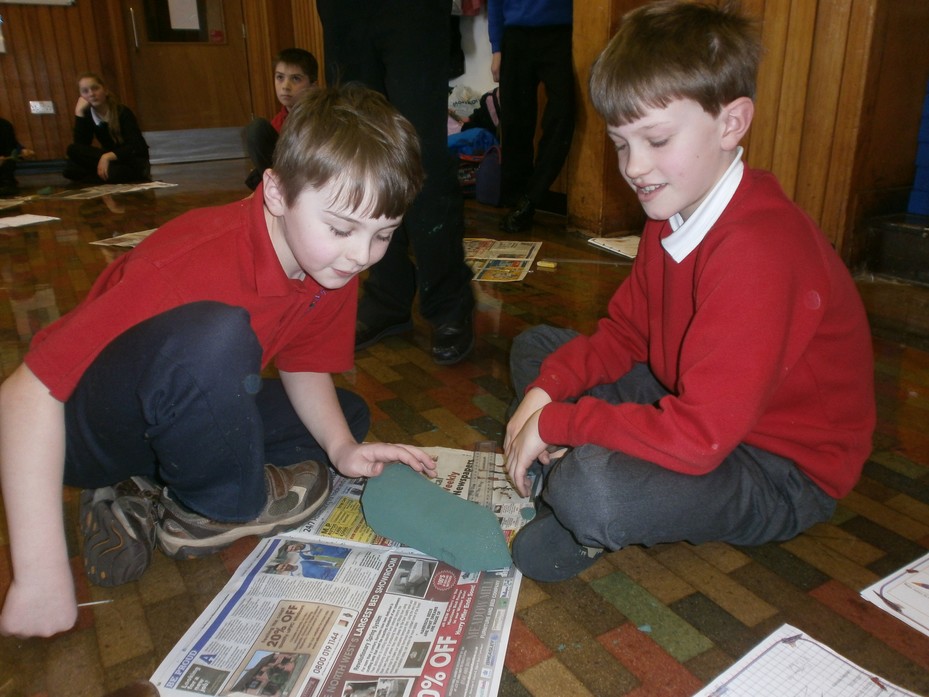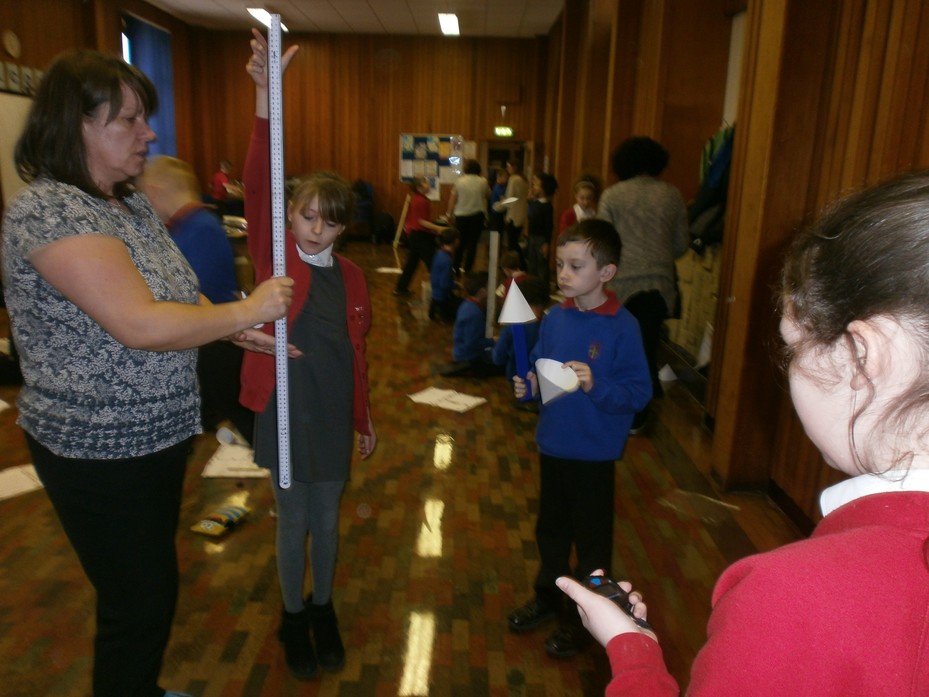 Our third meeting was on Thursday 16th March. We travelled to Stockport College to race our cars with rockets powering them. The army were there to supervise it safely. We had a winner from our two schools who were thrilled that their aerodynamic design worked so well!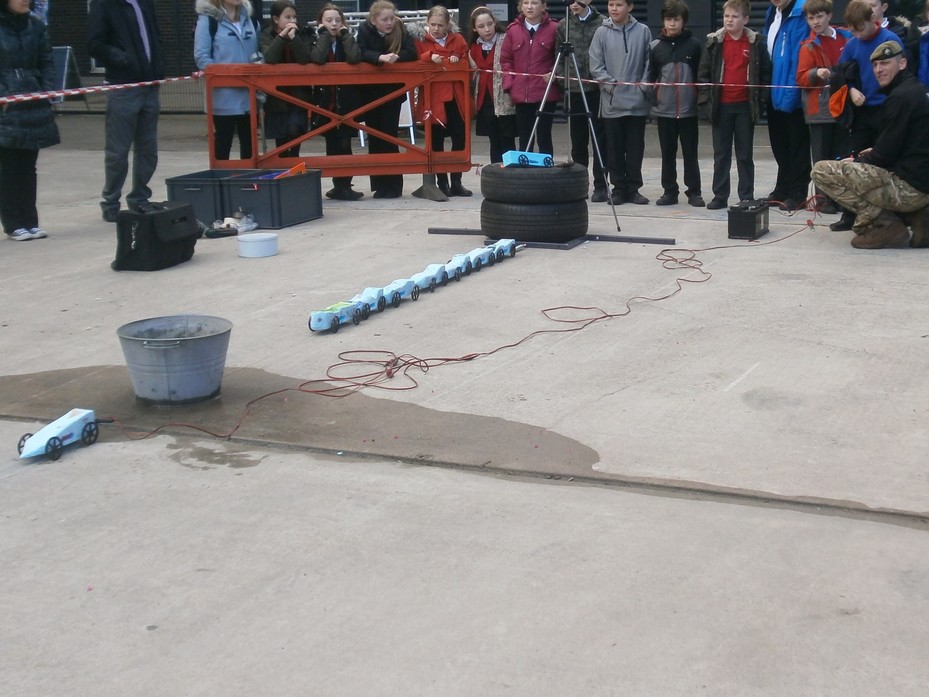 1st March. Derbyshire Music Partnership are creating a Derbyshire song entitled: 'Best You Can Be.' Young people in the county have been asked to contribute words for the song. We used the poem 'Potential' by Lemn Sissay as inspiration for our own poems. The children used some imaginative and sensitive ideas in the beautiful poems they created which will be sent to the Music Partnership.
Wednesday 22nd February. We had a workshop with Dawn Richardson this afternoon. She was developing the children's skills as leaders and playground buddies. The children had fun inventing their own games and teaching them to the other class members.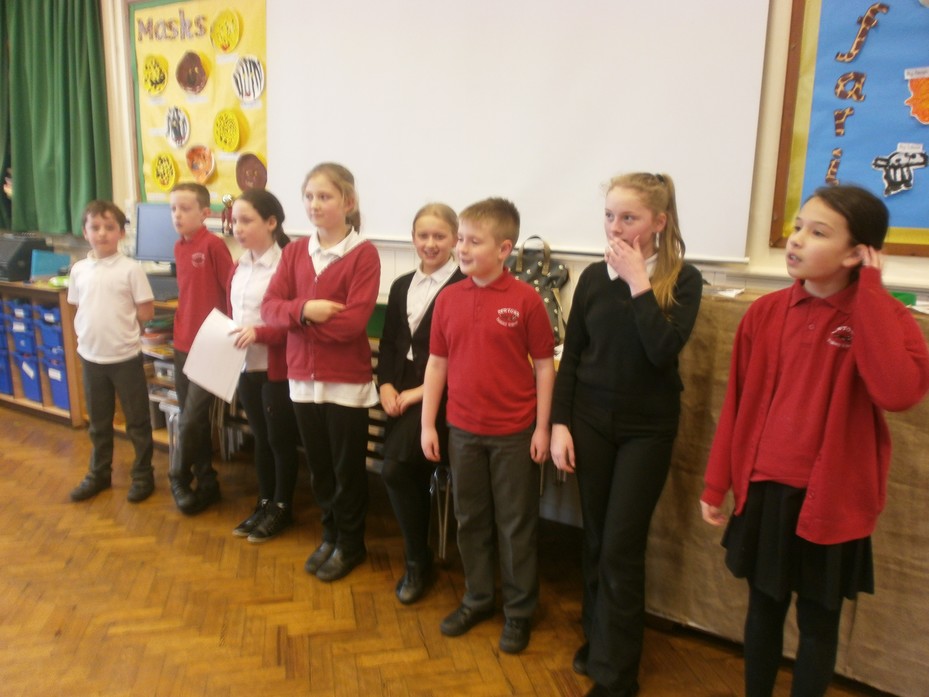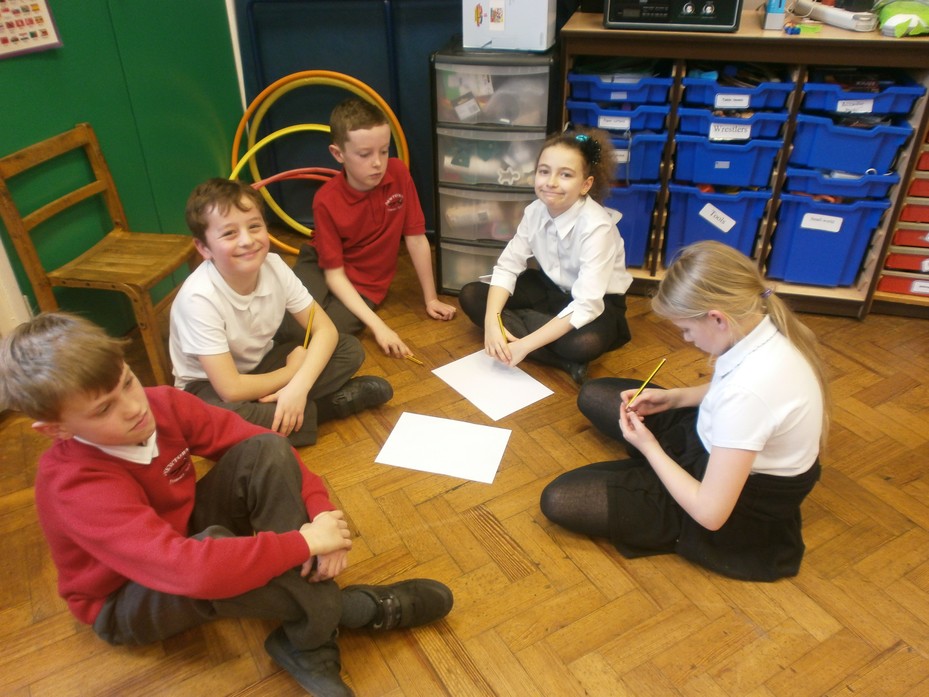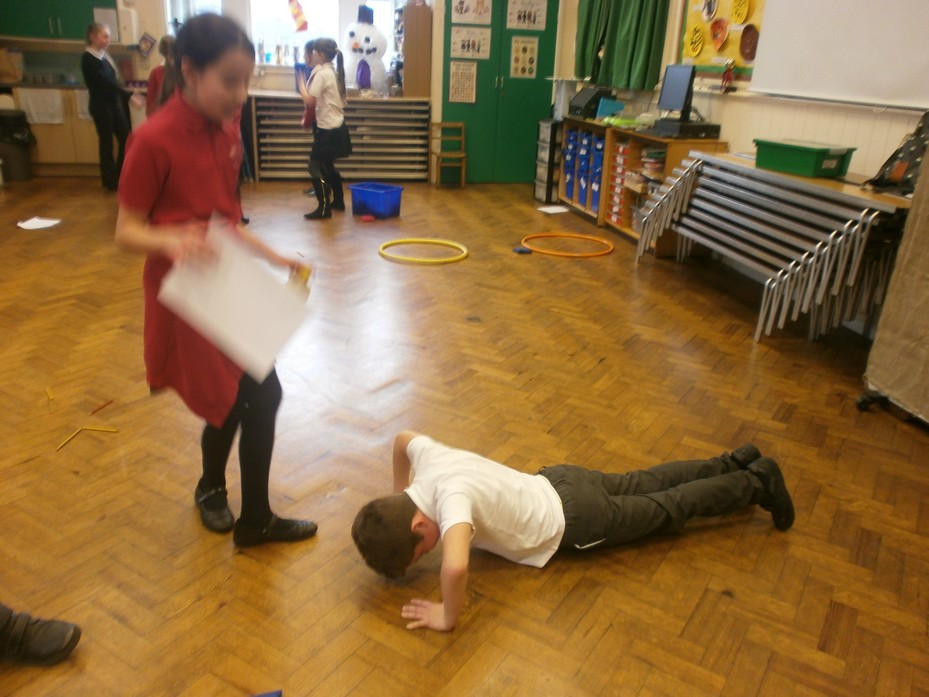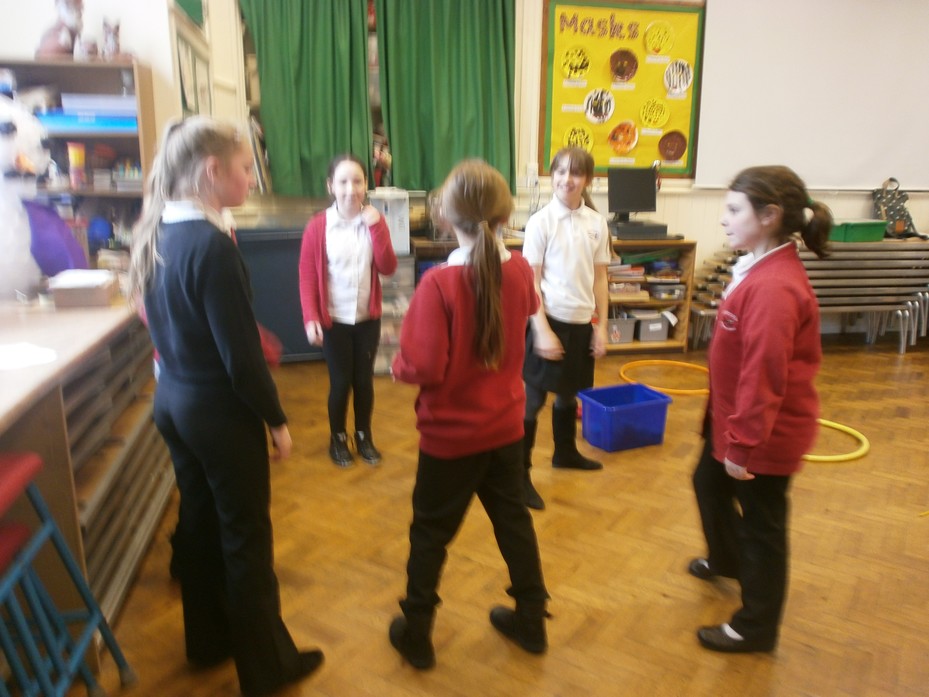 We are focussing on 'Staying Safe Online' in our ICT lessons. This week was Internet Safety Day. We made some board games that showed what we have learned about internet safety and played them with Class Two to share our knowledge.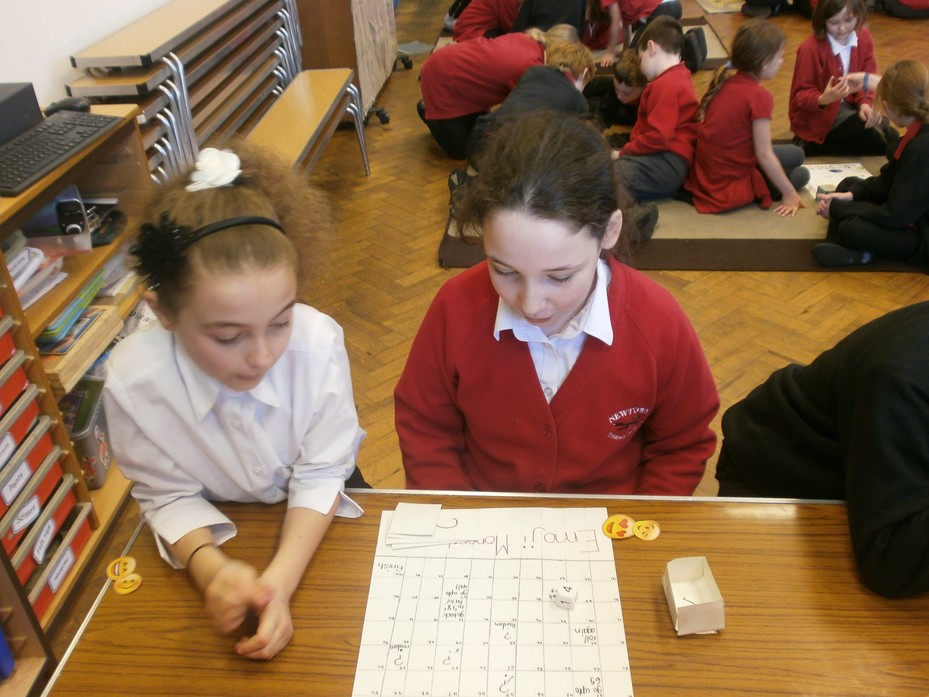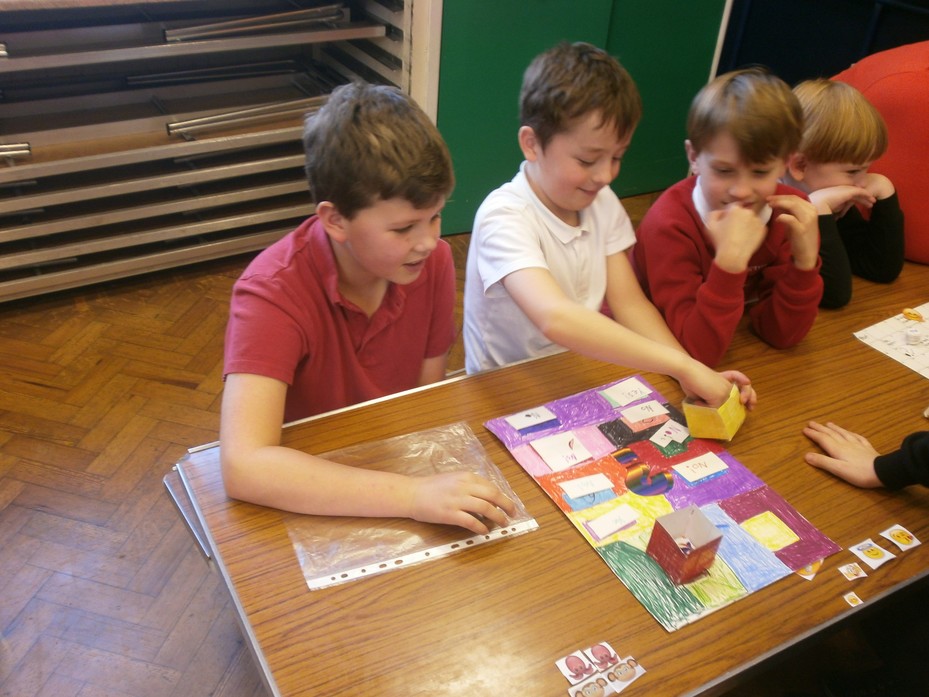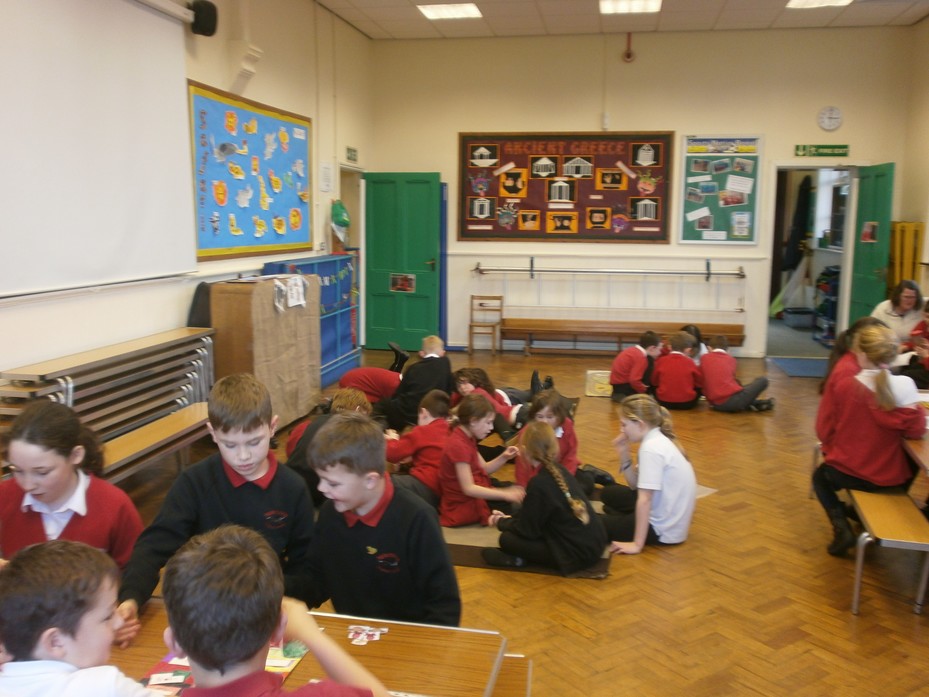 We have been enjoying some boxing lessons using our Sports Premium funding. It is hard work but is showing the children how to improve their fitness.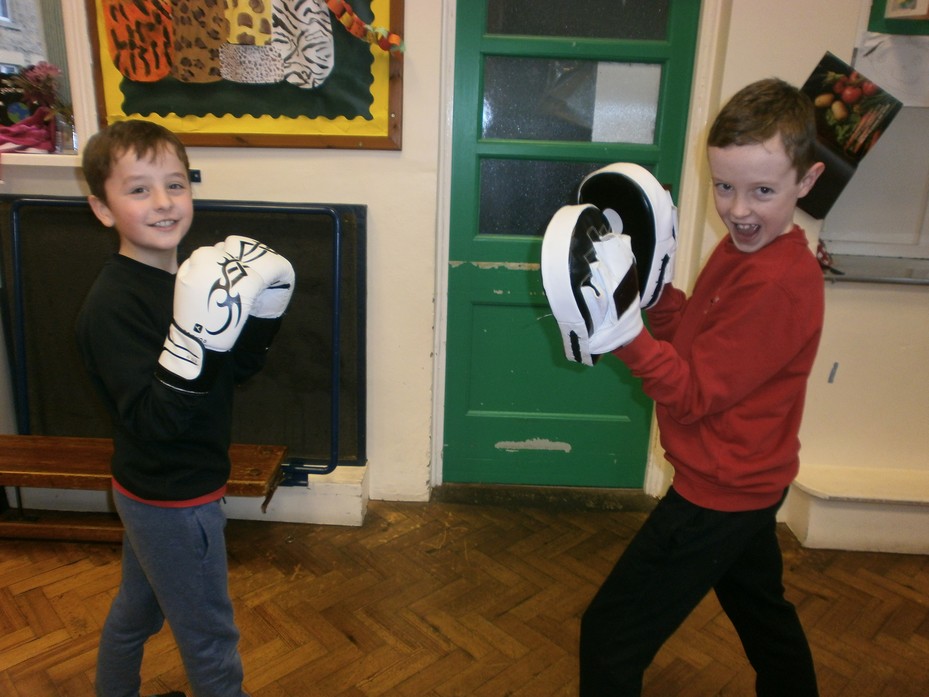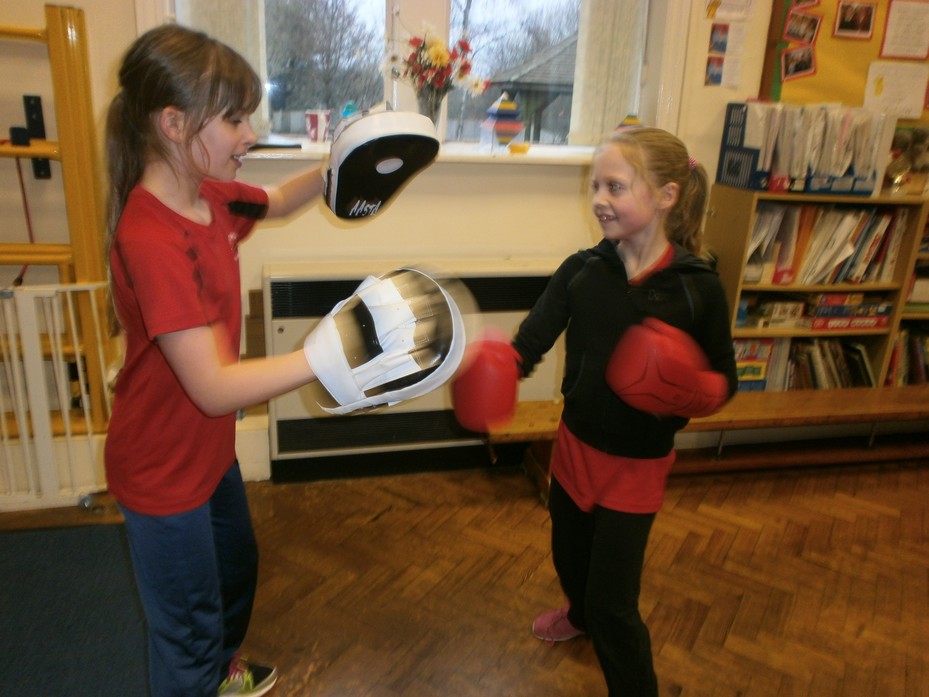 This is our basketball team. We have already won a tournament which we were very pleased about! On Wednesday (1st Feb) we took part in another tournament in the New Mills cluster of schools.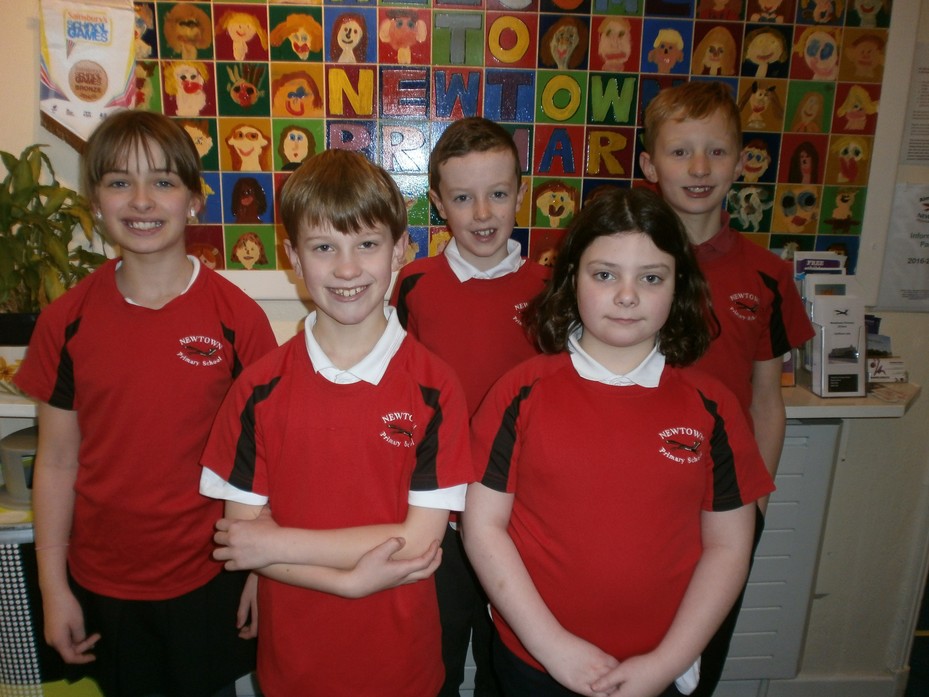 Our Science topic is 'Classification' . We had a fun lesson where we created a branching database for sweets.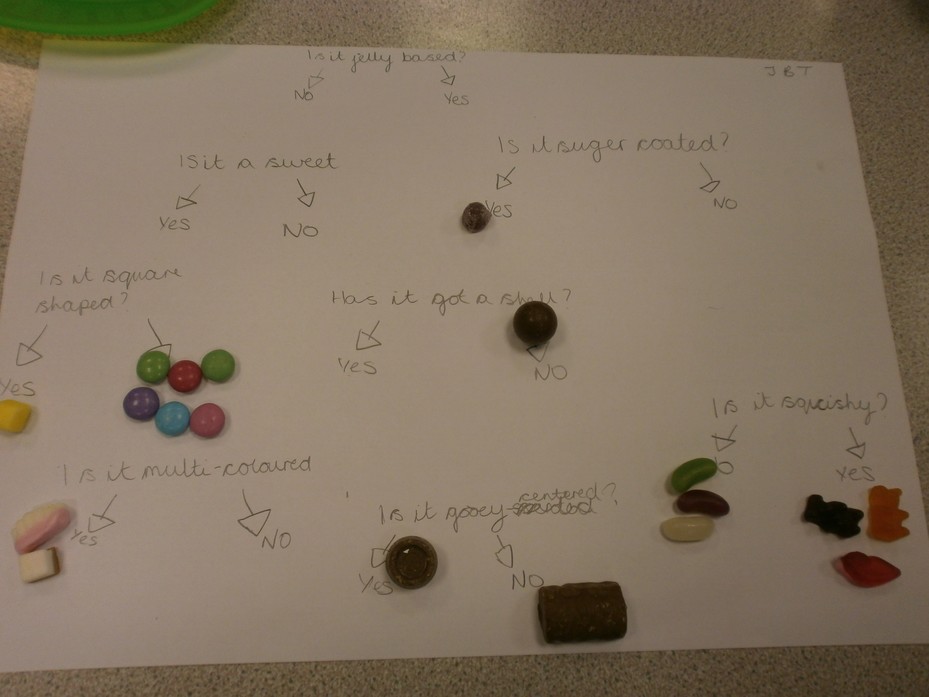 Mountain artwork using photographs as inspiration.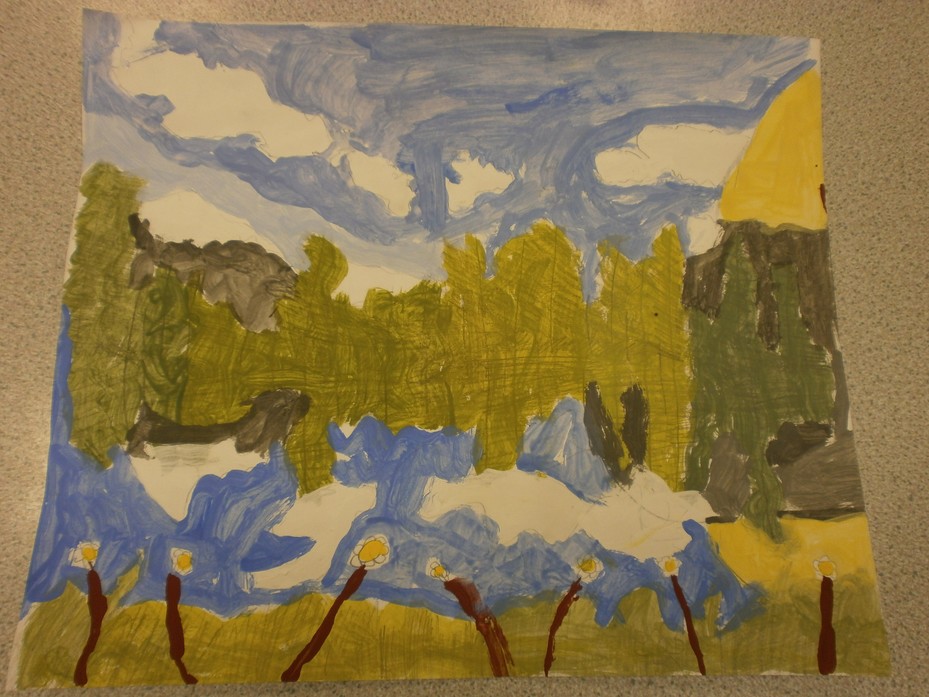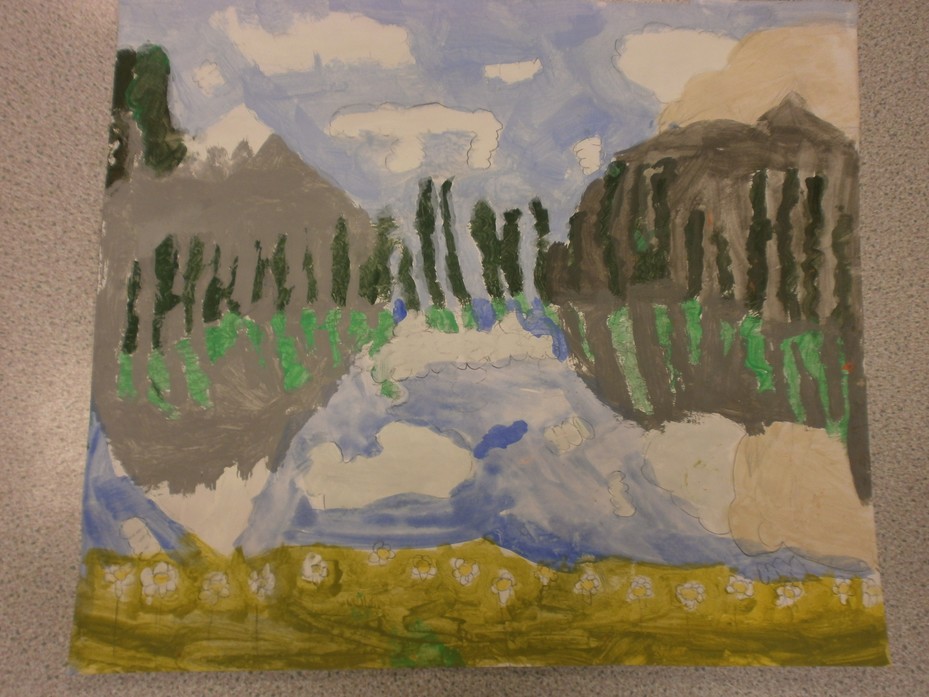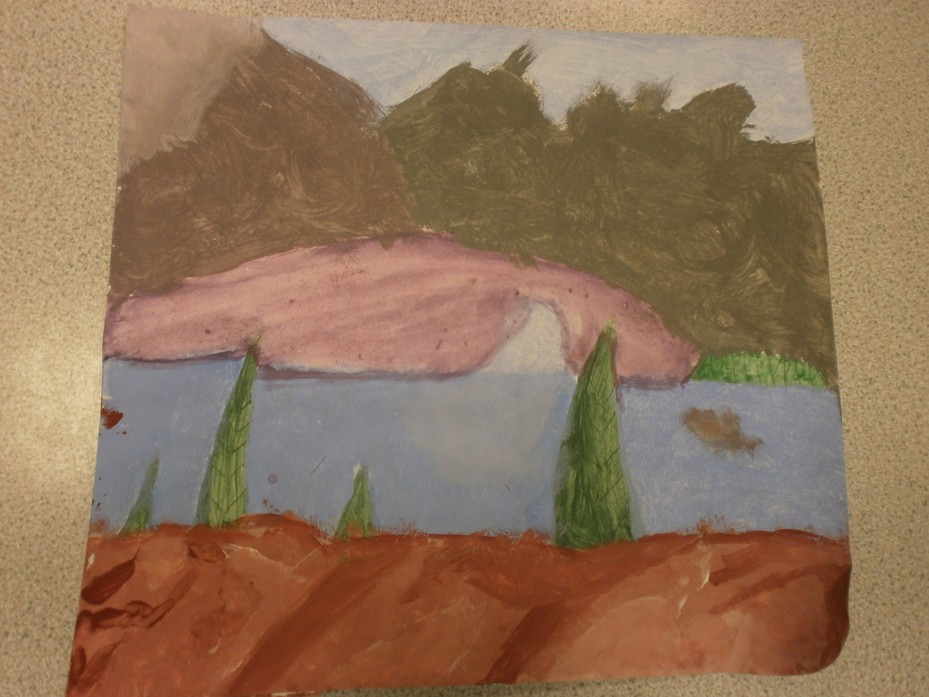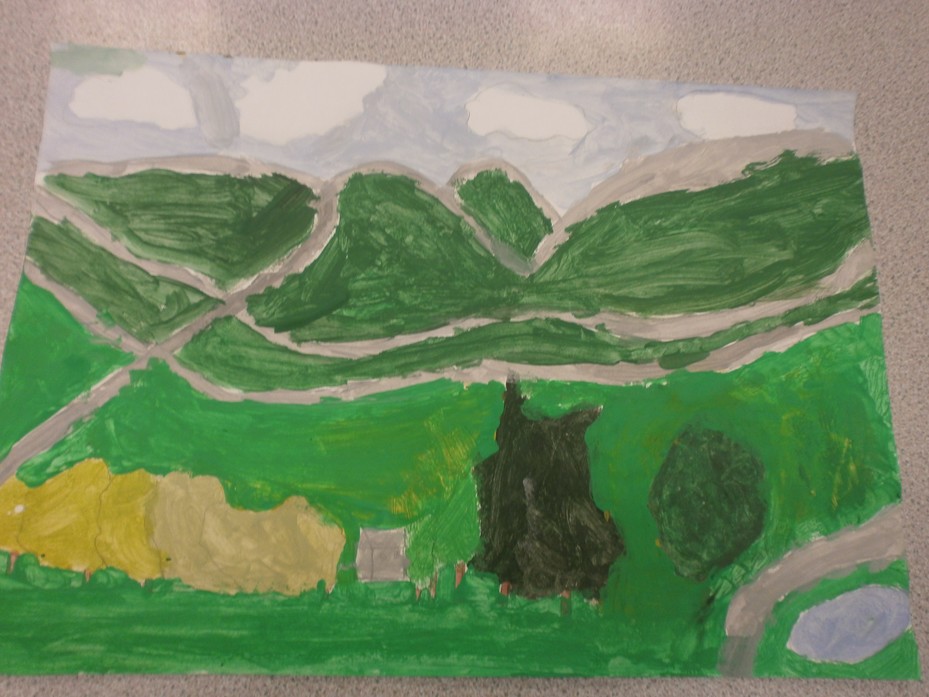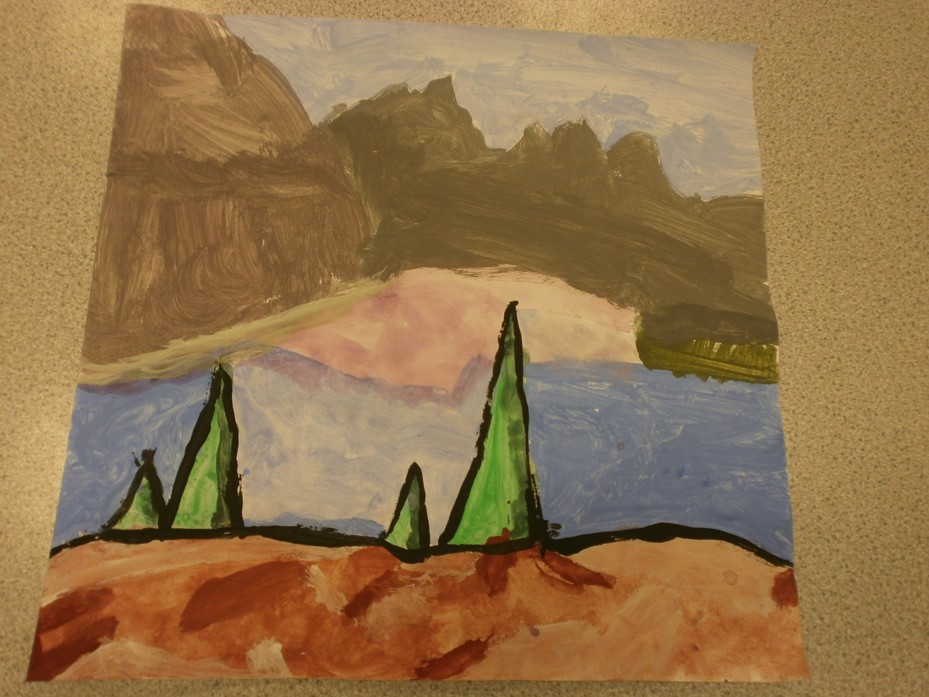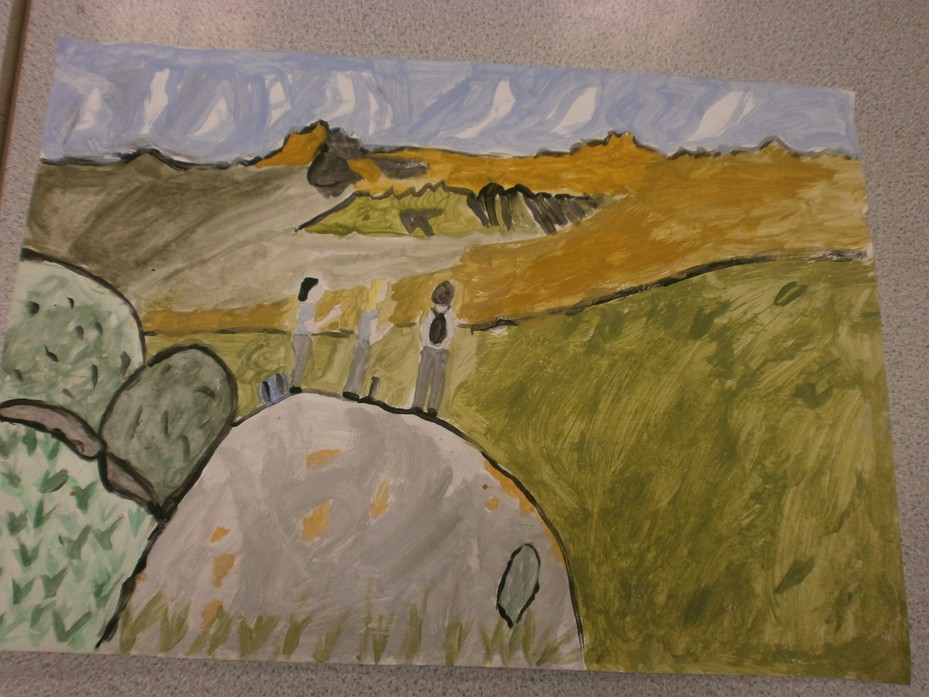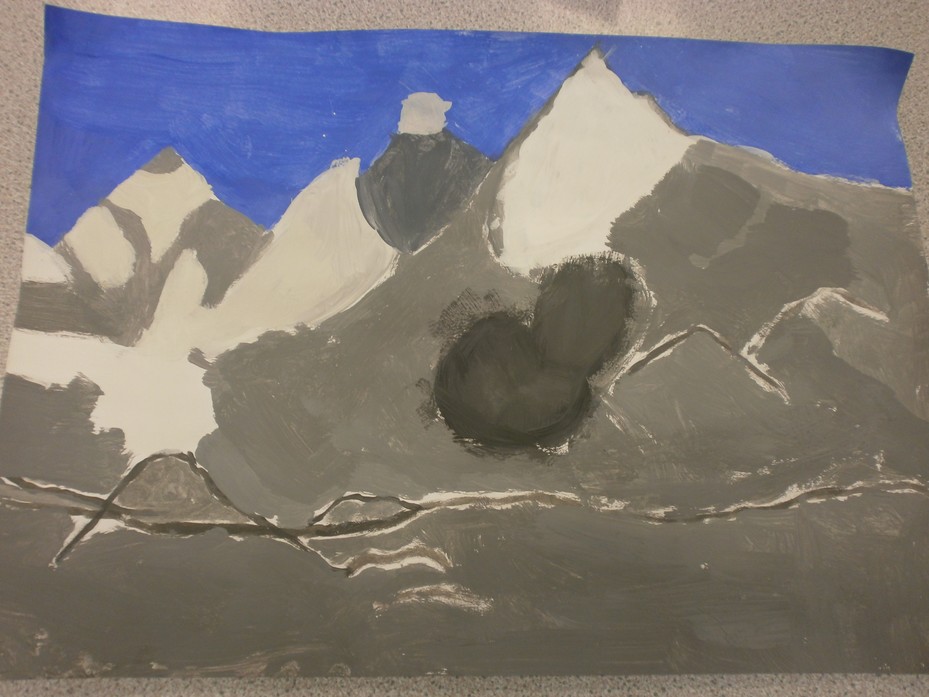 We looked at the art of Craig Muderlak- an American mountaineer and artist. He uses a mix of media to create beautiful images of mountains.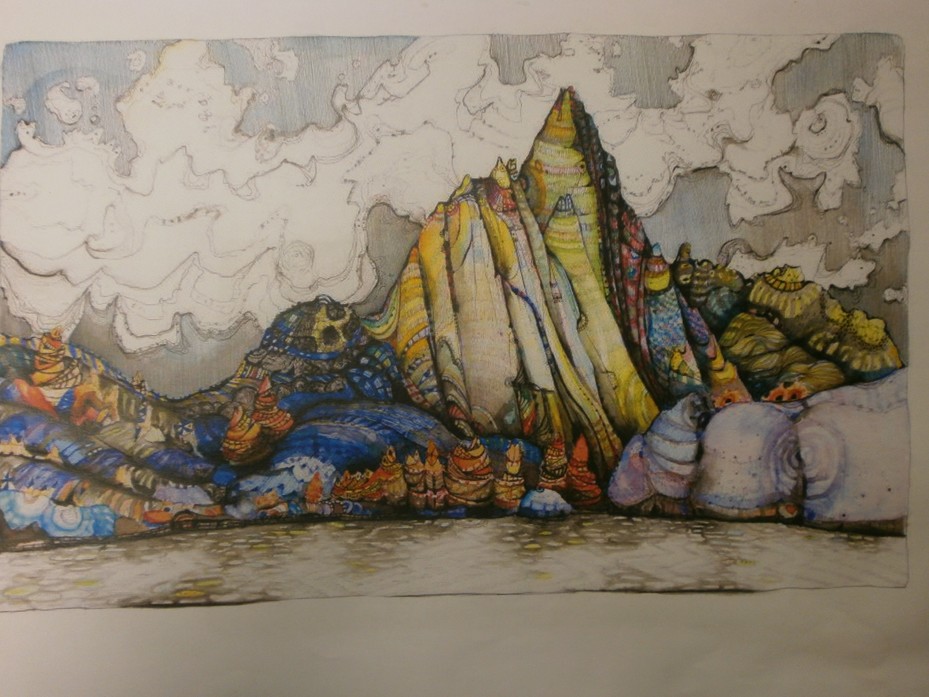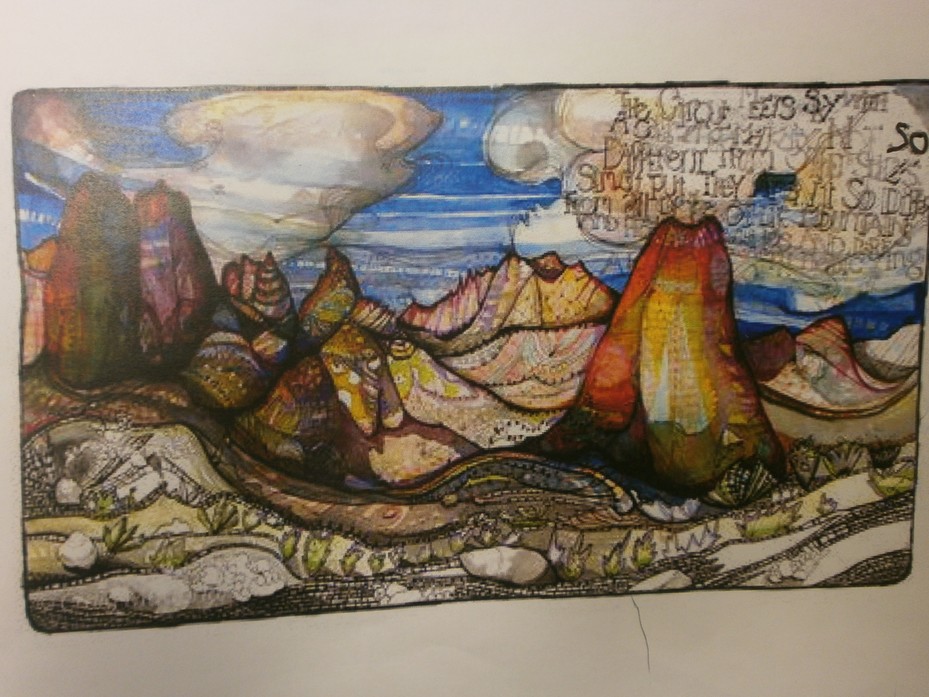 We created our own art using this as an inspiration.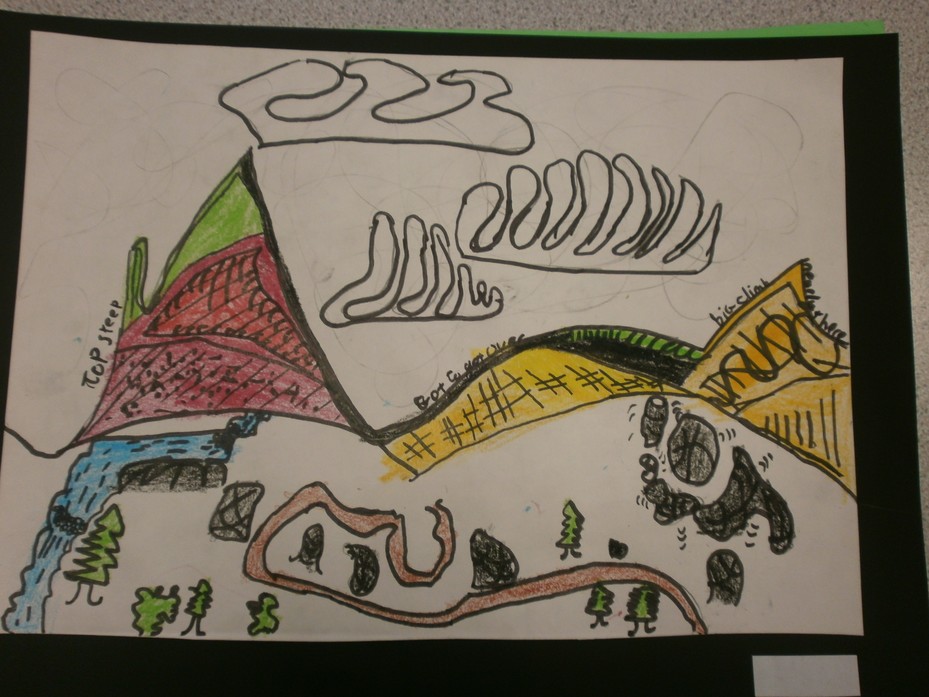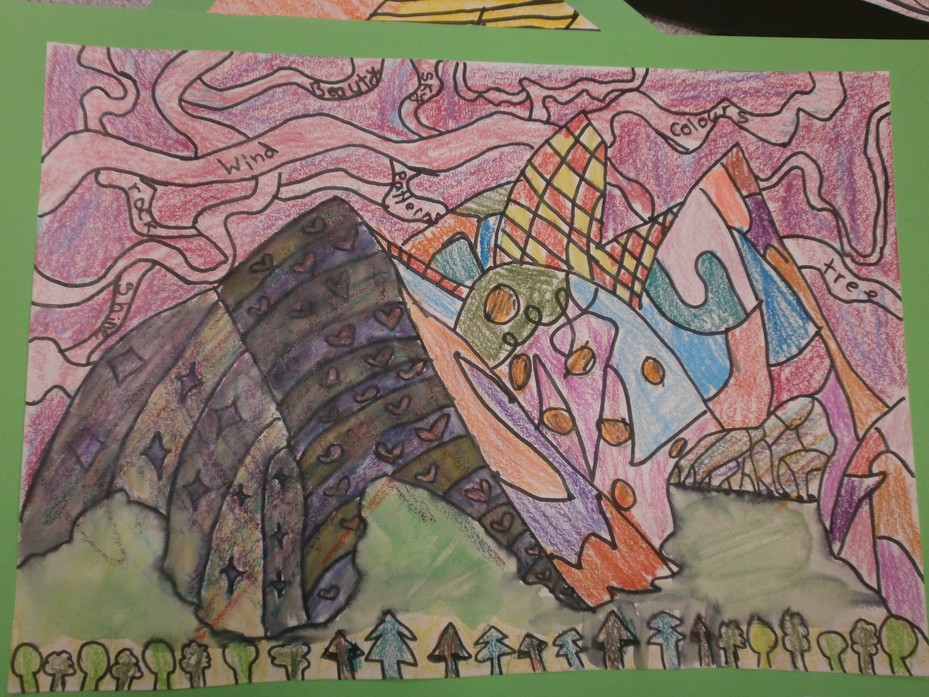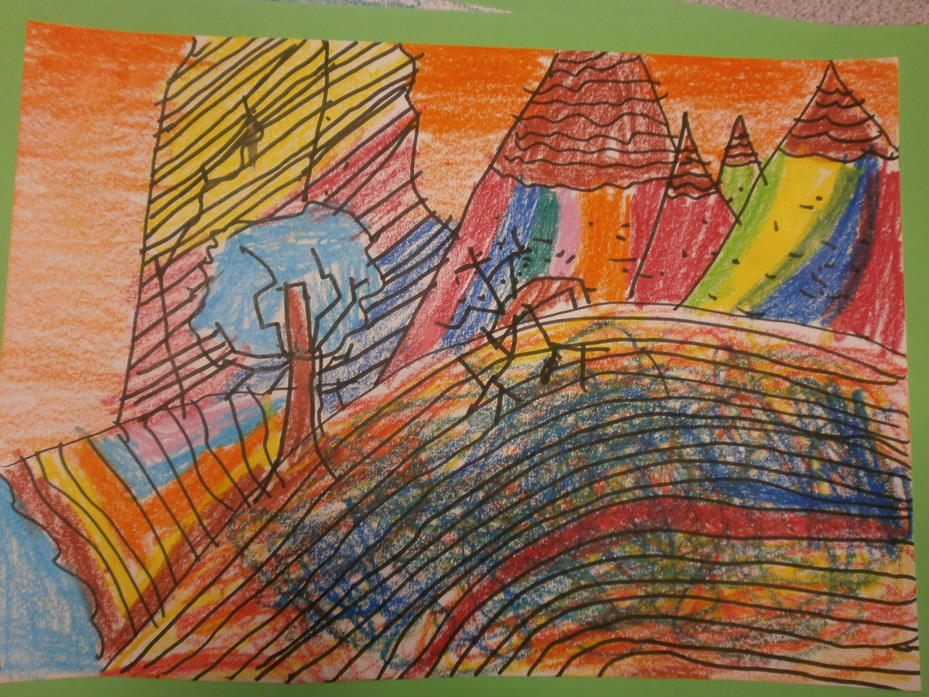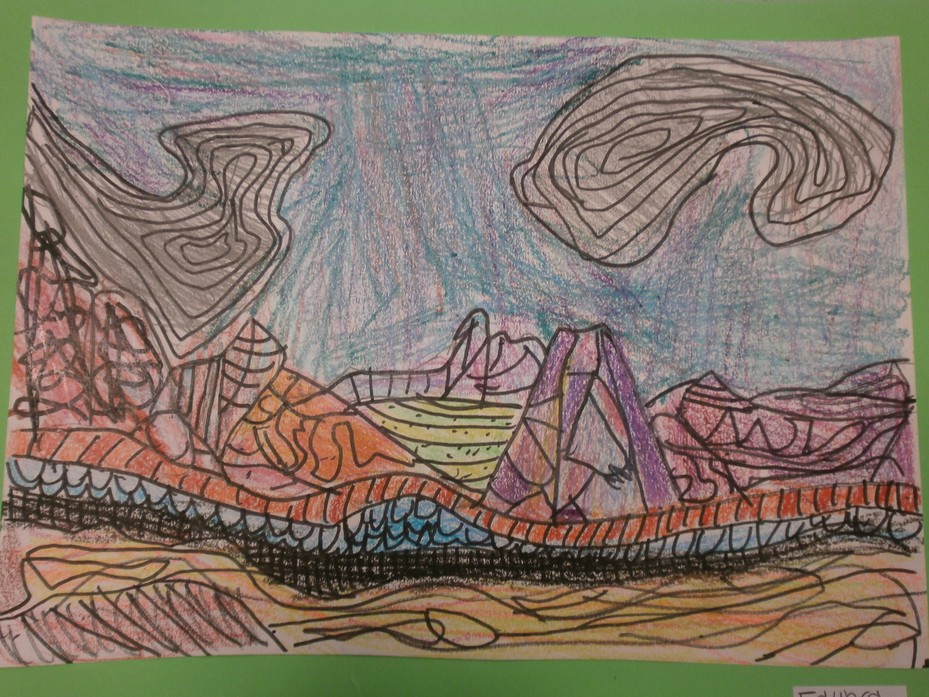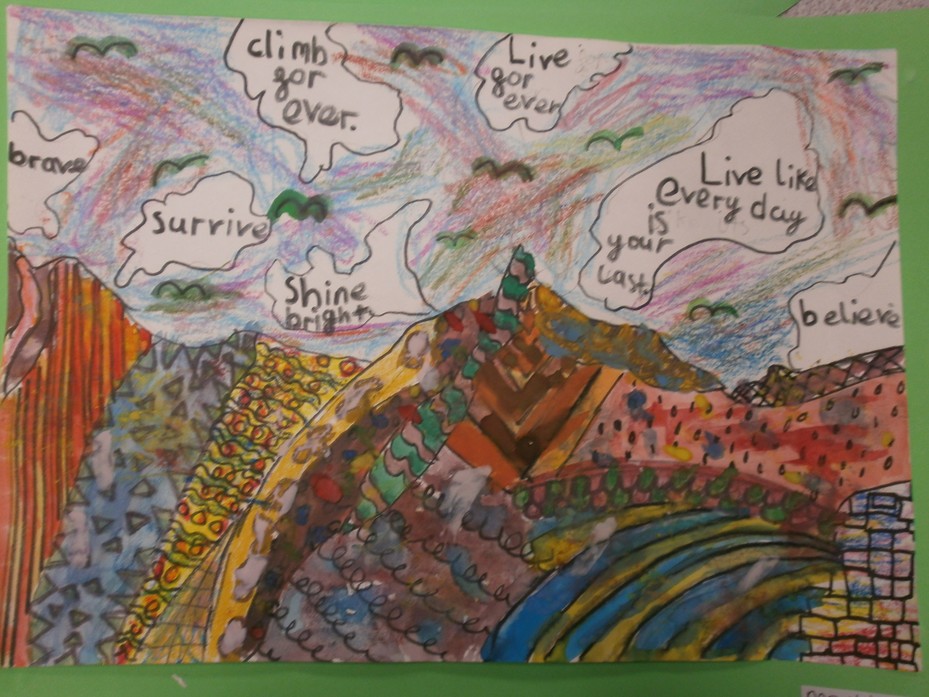 Some of our Year 5 girls made up two dance routines to take part in the New Mills Dance afternoon. Here they are showing the dances in assembly.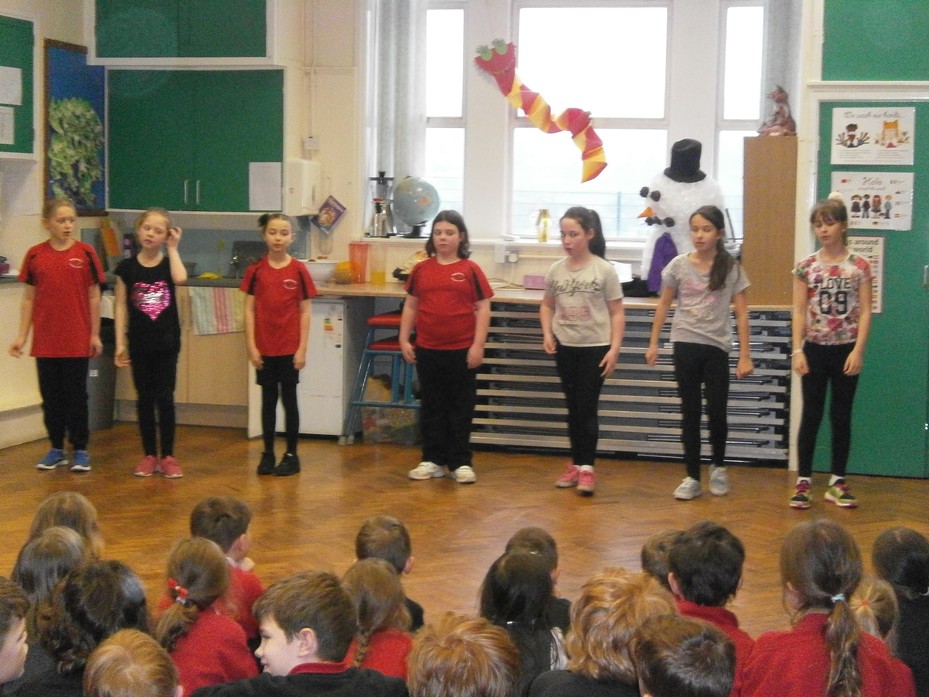 Autumn Term:
The girls' team for the New Mills schools cluster (PEGS) football tournament.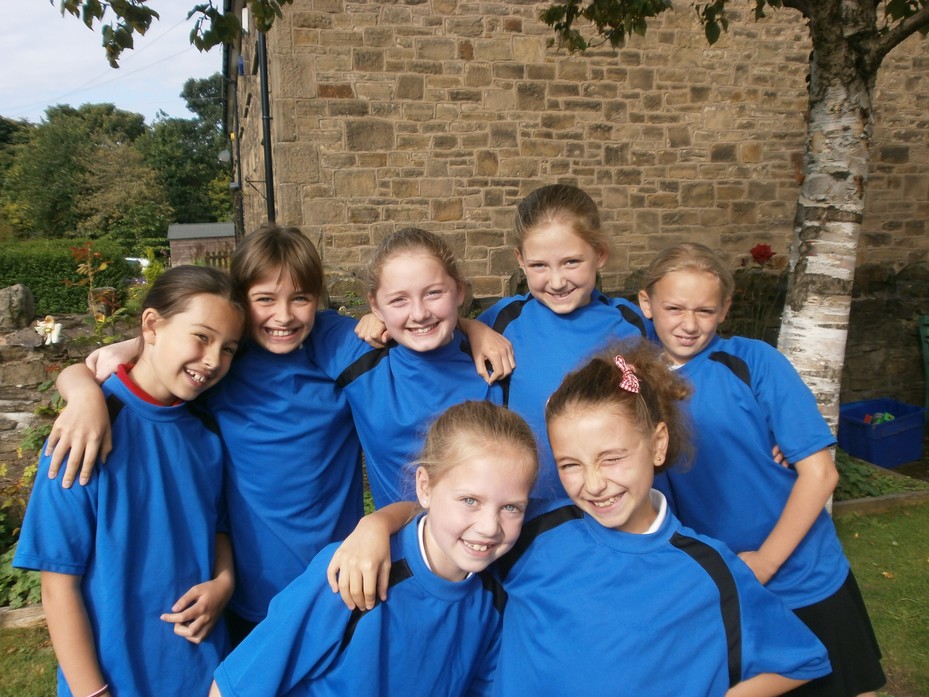 As part of our 'Forces' Science topic, we investigated parachutes.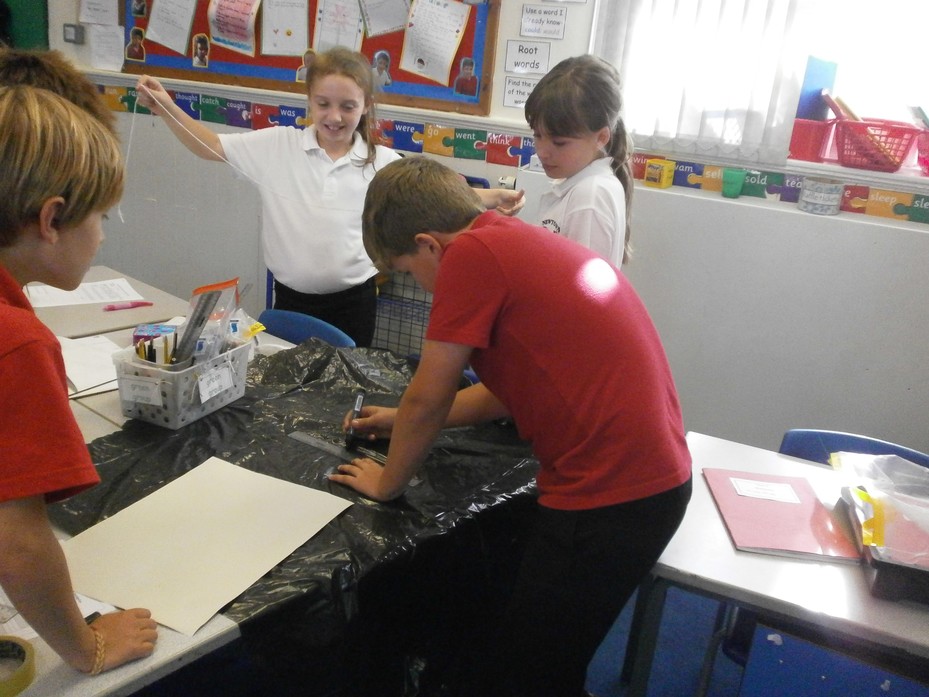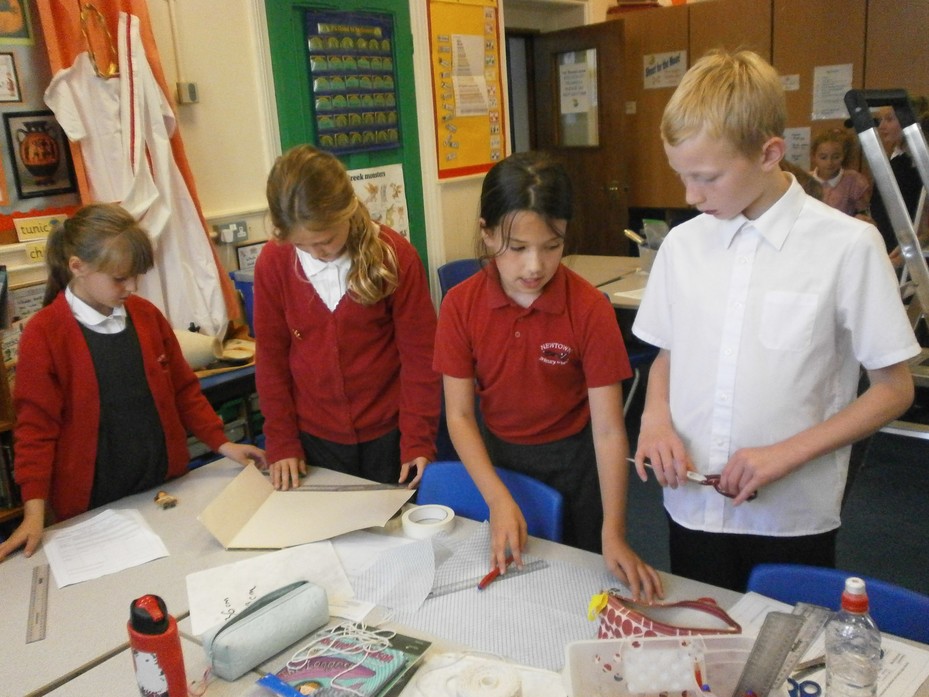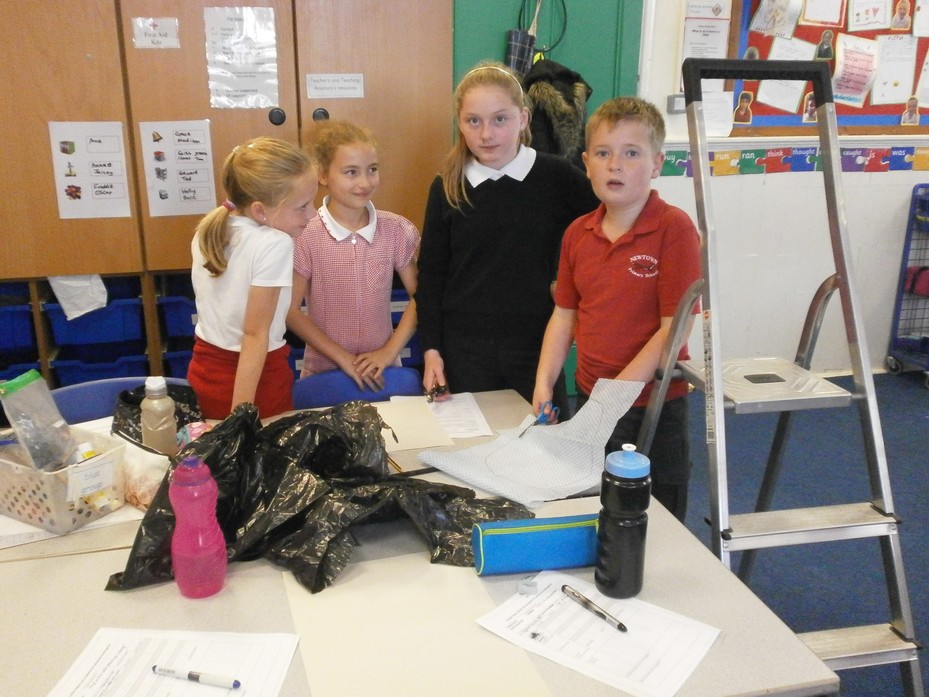 We investigated upthrust by making boats. We had a challenge to see how many marbles we could fit in a boat.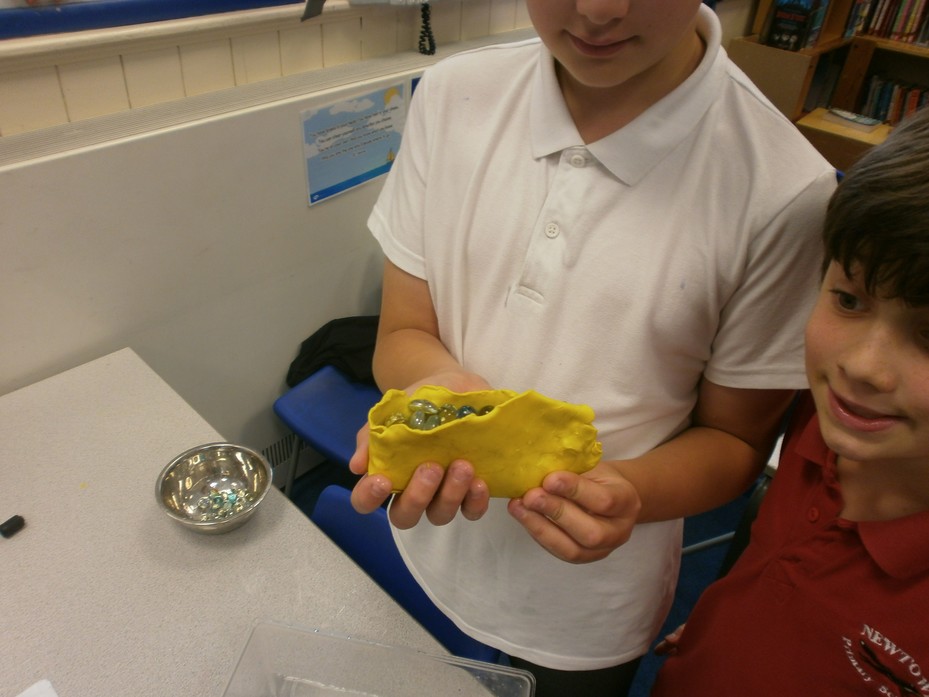 We learned about levers by making see-saws.